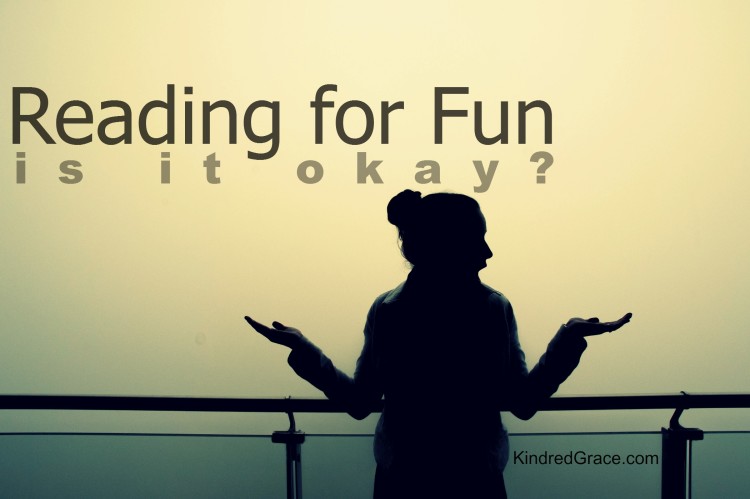 Reading had become a chore. As odd as it sounds, that's what happened. I had spent the majority of my childhood identifying "reading" as my foremost hobby, I had voraciously devoured multiple books a week, and had routinely won the local library's summer reading program. Somewhere along the way, my default leisure activity switched to movies and TV shows; instead of picking up a book when I had downtime, I started doing anything except read. In retrospect, the switch came sometime after arriving at college and that season of academic pursuits. As the reading assignments piled up (I calculated once that I was assigned more than 250 pages per week — and sometimes that was just one class!), the one hobby I consistently loved became another bullet point on my task list and eventually became a chore instead of a hobby.
In the mix of intelligent friends, self-imposed ideals, and unrealistic expectations, I came to believe that I could only read a book if it were academic, thought-provoking, or instructional. So I didn't read at all. Ever. It was just too much work. Or, if I chose to read something "fun" (definition: non-academic, generally fiction), I would feel guilty. Guilty? Yes, guilty. Guilty that my brain wasn't being used to "full potential," guilty that I was "just" reading a novel, guilty that I wasn't reading a book that I could discuss intellectually at a cocktail party later.
Why do I read? What makes a book worth reading? If I can only read "certain" books, is it out of pride, so I can quote a prestigious book and earn gold stars from my intellectual friends? If I refuse to read novels, am I a "better" person than the reader who enjoys reading for pleasure and not academia? NO and no. Reading for fun is not only okay, it's good.
1. Reading is reading, no matter how intellectual it is.
I can't deny it: after heavy reading in college, my brain has needed a break. Not reading was a good start to that break. Reading novels is a completely valid continuation of that break. Just because it isn't "deep", doesn't mean it isn't helpful. I travel to new worlds, explore new time periods, and embrace new cultures just by opening the pages to a book. I read a novel and evaluate elements of writing and critique styles of communicating. In short, I hone my skill as a wordsmith no matter which book I explore.
2. Learning comes in unexpected ways, even in a novel.
It's odd to realize, but sometimes I glean the most life-impacting, helpful truths straight from modern Christian historical fiction. The sentences might be run-on, the metaphors cliched, and the plot predictable, but God can use a thought, a Scripture, a perspective even in the novel. Did you see that? Even in a novel, God can work in me. And have you noticed what deep truths there are in children's board books? Go look! I might not be reading the biography of a world changer, but I'm reading truths that can change my world.
3. Reading can be a way of rest.
Rest is a biblical ideal. We've all heard how God worked six days to create the earth and then rested. But do we really apply it? I know I don't. Reading fun novels is a form of relaxation for me, but I feel like it's time I ought to be spending more "productively". And there it goes again, that guilt cycle. But, ultimately, reading is productive because it's restful, and I don't have to feel guilty over rest.
I read to enjoy explore the world without leaving my house. I read to gain perspective and remember Truth. I read to relax. Why do you read?