The Truth About Your Biological Clock
You know me inside and out,you know every bone in my body;
You know exactly how I was made, bit by bit,
how I was sculpted from nothing into something.
Like an open book, you watched me grow from conception to birth;
all the stages of my life were spread out before you,
The days of my life all prepared
before I'd even lived one day.

(Psalm 139:15-16, The Message)
Maybe you've always wanted to be a mother. Maybe, like me, your dream was to be a young mother. The sort of mother who nursed her babies and chased her toddlers while she was still energetic and playful. Who was a grandmother before grey hair really set in.
And you're realising that it's not going to happen now.
Maybe you, like me, hope and pray that you"ll still be a mother someday, but know it'll be different. Maybe better, but definitely, undeniably different from your dreams. And, while we wait for some babies and toddlers of our own, maybe one of the hardest things in life is the knowledge that we each have a biological clock and that someday it's going to wind down and stop. For me these dreams of motherhood, which are most precious, are most difficult to surrender to my Creator and Saviour.
And so I cling to the truth:
"'For I know the plans that I have for you,' declares the Lord, 'plans for welfare and not for calamity to give you a future and a hope."
(Jeremiah 29:11)
"For from days of old they have not heard or perceived by ear, nor has the eye seen a God besides You, who acts in behalf of the one who waits for Him."
(Isaiah 64:4)
"Indeed, none of those who wait for You will be ashamed …"
(Psalm 25:3a)
"Faithful is He who calls you, and He also will bring it to pass."
(1 Thessalonians 5:24)
"There is an appointed time for everything. And there is a time for every event under heaven."
(Ecclesiastes 3:1)
"Delight yourself in the LORD; and He will give you the desires of your heart."
(Psalm 37:4)
"Many, O Lord my God, are the wonders which You have done, and Your thoughts toward us; there is none to compare with You. If I would declare and speak of them, they would be too numerous to count."
(Psalm 40:5)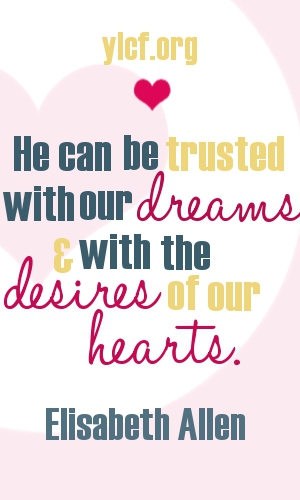 The truth is that I have a biological clock. You do, too.
The truth is that God is in control of our biological clocks. No matter what happens and when, He will make my dreams, your dreams, of motherhood come true if that is His sovereign plan for our lives. And the truth is that, even though we were made for motherhood, the Lord is still our ultimate fulfillment: He can be trusted with our dreams, with the desires of our hearts.
Can we surrender our dreams, and commit our hearts to Him again? I want to encourage you as I encourage myself, to purpose to stand in the truth. Not just the biological truth, but the truth of God. And rest in His sovereign love.
God can do anything, you know—far more than you could ever imagine or guess or request in your wildest dreams! He does it not by pushing us around but by working within us, his Spirit deeply and gently within us.

Glory to God in the church!

Glory to God in the Messiah, in Jesus!

Glory down all the generations!

Glory through all millennia! Oh, yes!

(Ephesians 3:20-21, The Message)