The Theory and Practice of Short Engagements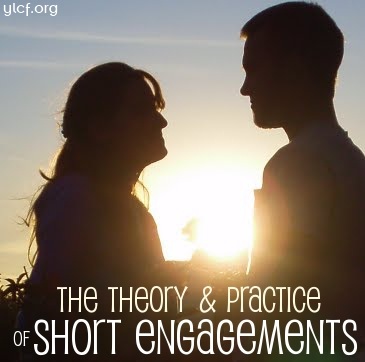 As a wedding planner, one of the first questions I tackle when talking with a client is "When are you getting married?" Often there are significant factors to consider, such as housing to prepare, schedules of extended family, or even a cross-country move. But I often encourage brides to consider another important factor: the timetable of the relationship. When does the couple feel like they will be ready for marriage?
All the wedding experts say six months to two years are needed to get everything order. But if you've already decided to get married — you're committed! Why put it off? Engagement begins a season in which emotional commitment quickly deepens and the relationship is on a fast track toward oneness. Drawing out this season puts a strain on the couple and the families. For most couples, a few months is enough to set up housing, receive premarital counseling, and lay a foundation for their life together. A short engagement is more natural, putting the wedding in step with the couple's own growing attraction and commitment.
Another reason to plan a short engagement is the money you will save. Statistics show that the longer you spend planning a wedding, the more money you spend. Additionally, wedding service providers and venues may be willing to offer you last-minute deals in order to fill vacancies in their schedule.
But can one pull off a wedding in a few months? As a coordinator who's helped that very thing happen multiple times, I say, "Yes!"

So, we're back to picking a date. But wait! Don't pick a day and try and make everything else match. When planning a wedding in a shorter time frame, venue and photographer availability determine the date. Often your venue may be booked or your photographer already busy at this shorter notice. The strategy here is to pick a handful of dates within a 4-6 week window around the time you want to get married and then begin to see which day fits best with the main details. Here's how it works:
Make a Guest List: Come up with a rough estimate of how many guests you are expecting or willing to host so you know what size rooms you are looking for.
Call photographers: You should have first, second and maybe even a third choice for photographers. Put a call into each of them asking what their availability is within your date range.
Find a venue: At the same time, begin the search for a venue. Again, within a shorter window the most popular wedding venues in your area may be booked already — but think outside the box as to when and where a wedding could be held. Saturdays, Friday evenings, or even Sunday afternoons are all acceptable, and weddings can happen anywhere from a gym to a state park!
Set your date! When you find a date that works for your photographer and venue that's available, don't hesitate! Pay your deposits and write it on the calendar. The biggest decision of your wedding has been made!
With only a few months to plan your wedding, you will need to have a clear idea of what your main focus is so that you can simplify and dismiss any details that don't mean a lot to you. Next time I'll share with you how to craft a vision for your wedding so that you and your guests will enjoy your special day as much as possible.