how I pray for my brothers
My heart broke as I watched him walk away. Lord, why? Why am I here in this place? Why are you showing me this? I feel as if my hands are tied. I would fight this battle for him I could, but I'm left to only fight alongside him in a way that feels far short of the mark.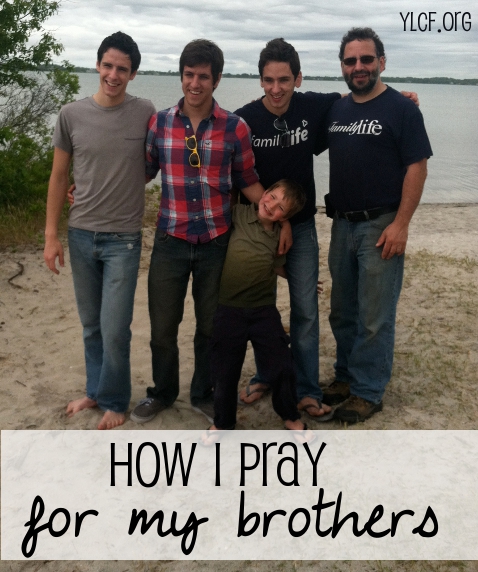 Our brothers in Christ are in the midst of a battle. Satan is having a heyday with the young men of this generation. By lulling them into complacency and a place of purposelessness, the devil grins as the hearts of young men grow colder. He traps them with a fear of commitment and responsibility. He gives them video games and the corporate ladder to distract their God-given drive to fight from the battle to be won for the Lord's kingdom.
These men are our brothers, our future husbands, and our sons. This isn't just a problem in "the world"– it's here in our homes and churches. As a sister to five brothers (and many more "adopted younger brothers"), a worker in a large para-church ministry, and a counselor to many brokenhearted women, I know the stories of these men's struggles firsthand.
I often feel helpless to support my brothers in Christ; they need other men to come alongside them. While nothing will (or should) take the place of man-to-man accountability, we can do our part as sisters and pray.
What we do during the single years prepares and equips us for the teamwork of marriage. Part of that teamwork is a woman fighting for and alongside her husband. In a sense, his battles are now also her battles and vice versa. But a man fights many battles within himself that only he can fight. How can a woman fight these battles with him? She fights them on her knees. And prayer takes practice — practice we can have while we are still single. We can't expect to love, honor and obey our husbands without first learning to love, honor and obey the Lord. In the same way, He gives us the opportunity to practice praying for our brothers in Christ before we become one in the battle with our husbands.
Sometimes, we as single women fear praying for men because it might lead to an unhealthy emotional attachment. There are scriptures that talk about men teaching men and women teaching women, but the verses on prayer are addressed to everyone. An emotional attachment will form when you pray for someone, but if we are praying for God's perspective, we will receive it. We cannot pray in the will of God for someone and have our perspective of them not change, nor can we walk away unchanged.
Praying for someone is the safest thing we can do with our emotions. If the emotion is not from the Lord, it must flee in His presence, whether it be a sinful attraction to a guy you aren't married to, or anger and hurt towards your own husband.
In prayer the Lord not only rids us of the emotions that are not from Him, He also guides us in how to pray and act towards our men – whether we are single or married. Learn to really pray for the guys in your life. Not prayers of "Lord, please help that guy like me," or "Lord, please make my brother stop teasing me," but prayers in the will of God, as 1 John 5:14-15 (NIV) says:
This is the confidence we have in approaching God: that if we ask anything according to His will, He hears us. And if we know that He hears us—whatever we ask—we know that we have what we asked of Him.
Ask the Lord to show you His will to pray for the men in your life. Praying Scripture over guys is a safe way to begin to learn to pray in the Lord's will for them. For example 2 Thessalonians 1:11-12 (NIV) says:
"…we constantly pray for you, that our God may make you worthy of his calling, and that by His power He may bring to fruition your every desire for goodness and your every deed prompted by faith. We pray this so that the name of our Lord Jesus may be glorified in you, and you in Him, according to the grace of our God and the Lord Jesus Christ."
What would happen to our guy friends now and our future husbands later if we prayed that the Lord would make them worthy of their calling in the Lord? Prayers are more than just a cry to God; prayers are a weapon. The Lord, Who has the power to break every chain and to give strength to the weak, hears. Daniel 10:12 (NIV) states,
"Do not be afraid, Daniel. Since the first day that you set your mind to gain understanding and to humble yourself before your God, your words were heard, and I have come in response to them."
God hears our prayers. A single prayer can change the tide in the spiritual war our brothers are battling. When we humble ourselves and pray, God hears and begins to work.
And as he walks away, I pray for him, knowing that the battle, the victory and the glory belong to God. My purpose is clear – to humble myself before the Lord and to lift up my brothers in prayer.
For more on how to pray for and encourage our brothers, see these links: