Disclosure: This post contains affiliate links which won't change your price.
"So how is it being the mom of three kids?"
My cousin asked me the question as we sat in the sunshine outside of Starbucks. She'd just spent a year as a nanny to four. And she wanted to know my secret. Because she thought I had motherhood all figured out.
"Most days, I feel like a failure," I confessed. Because the truth is that most young mothers feel like they're just faking it until they make it. But that's not being fair to each other. Because if we were more honest about the way motherhood challenges us and refines us, we could be more help to each other. If mothers and daughters were more open with each other, there could be less hurt, more healing. But we're afraid of failure, afraid of watching our mistakes repeated in our children, afraid of seeing disappointment mirrored in our daughter's eyes.
There's a reason babies don't often arrive five at once. Because even one at a time, becoming a mother is a life-changing experience that surprises the most prepared. And when you combine the hormonal ups and downs with the inevitable lack of sleep and onslaught of well-meaning advice and overwhelming expectations, it feels like a setup for failure.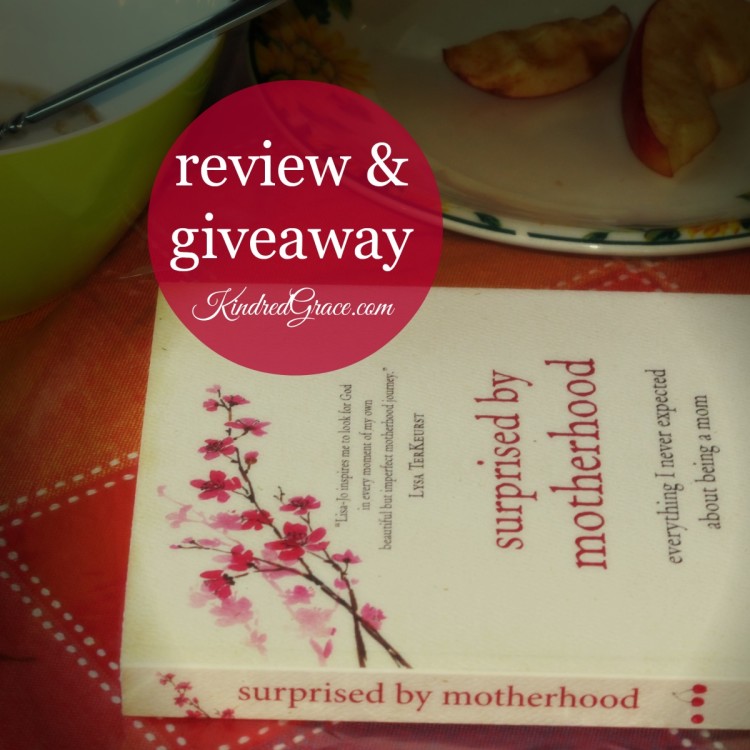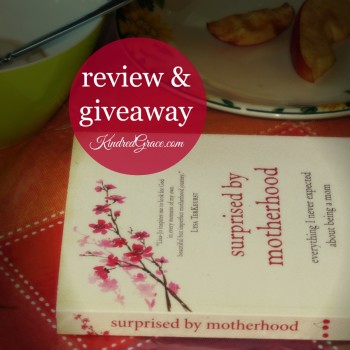 Lisa-Jo Baker was 19 when she lost her own mom to cancer. That was about the time she decided she was never going to become a mother herself. There was too much potential for hurt, too much history in her own life to want to revisit the story of motherhood in her own generation.
Surprised By Motherhood is the story of how God changed one hurting girl's heart and bound up the broken pieces of her story in the blankets that wrapped her three children. My tears spilled over again and again as Lisa-Jo told of entering adolescence as her mother was entering a hospital. I could hear the heartbreak as she told of how her dad had to sell the farm to pay the doctor bills and of how she agonized over what to wear for her mother's funeral. That's not what most teenage girls' dreams are made of. But this was what had made the girl who declared she was never going to have her husband's children. And that is the pain of death that God healed anew with each of the births of her three children.
And the laughter. The surprise. There is so much delightful and hilarious in Lisa-Jo's story that I was laughing with tears streaming down my cheeks from a few paragraphs earlier. If you're wondering what to get for the new or expectant mom in your life, Surprised By Motherhood is just the ticket to keep her laughing during those late-night feedings.
But Surprised By Motherhood is just as much for daughters as it is mothers. It's a story that touches deep in the heart of every daughter. Because no matter how good our relationship with our own mother may have been, there's still a part of us that mourns for the disappointments and hurts along the way. Reading Surprised By Motherhood is like listening in as a sister tells her own story, and realizing many of the points mirror our own. And as her wounds become less painful in the sharing, so do ours.
I wanted to reassure my cousin that I know she did an awesome job with those kids. I am sure they will never forget the memories they made with her. But instead, I just told her that I fail every day. But every day I see God's grace and love in my kids. And that is the healing balm of motherhood that never shows up in the books about what to expect, but should be in every story we tell about being a mom.
The only way to fail as a mom is to expect to be a perfect parent.
Giveaway
We have 3 copies of the brand new book Surprised by Motherhood to give away (many thanks to Tyndale for providing the review & giveaway copies!). Congratulations to Anna, Kelly, and Andrea, selected by random.org as the commenters who get their own copy of the book! (Giveaway ended April 7, 2014.)
We'd love to have you comment with a favorite story about a mother in your life!
P.S. Pop over to my blog to read my story of how I didn't expect to be surprised by motherhood.