Personality Based Time Management©
What is personality based time management? It is finding and/or creating a planner or time management system that works with your personality.
How does your personality affect your time management skills? Let's take a look at how The Busy Woman's version of four, fun personality types manages their homes and time.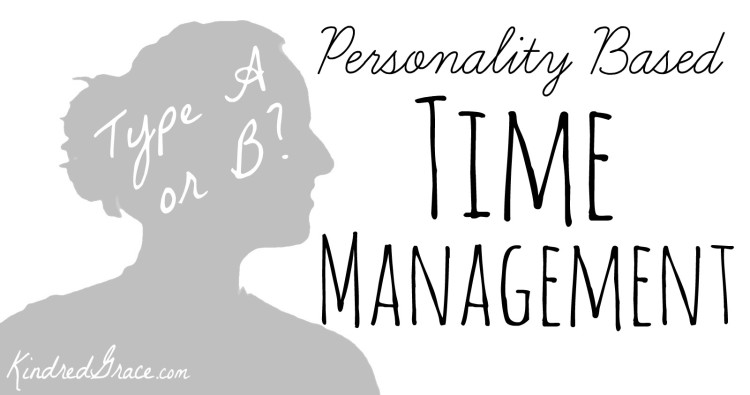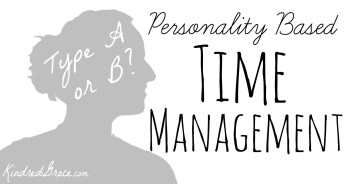 Type A Compulsive
I am a recovering "Type A Compulsive". I used to clean the house before anyone ate in the morning. I had the compulsion to keep things very clean all of the time. There used to be boxes or buckets for everything. The diaper bag always had something to wipe dirty faces and hands with. I was never late for anything unless there was an extreme emergency.
Type A Casual
My next phase of life developed after I had a sick baby, my third child. This took a lot of extra time and keeping the baby upright but not stuck in one place for too long. Perfection was not the priority. Then, we moved for the first time. I could not possibly get everything done, so I left boxes that were not needed right away, in the garage. Trying to find a place for everything was not possible, so I went out and bought three bookcases to file and store what we needed for homeschooling and every day life. There still was not a place for everything, so a few or more piles of papers and stuff had to be left on a shelf here, counter there. I still cared about having things neat and organized, but there were more important things than keeping a perfect home.
Type B Motivated
Have you ever gotten frustrated because you could not get to your appointments on time know matter how hard you tried? Are you late because a friend stopped by to chat? (A chat with a friend is usually more important to the Type B woman.) Are you continuously making lists, only to lose them? Do you make wholehearted efforts to get things accomplished, but don't because of numerous distractions?
These women long to be organized but aren't the type to give up quality time with family and friends to get there. But you can manage your time better while being polite if you have to say no. You and your time are as important as your family and friends.
Type B Messy
Type B Messies would also love to be more organized, but just haven't found how to manage it. These women have homes that look like hurricanes have just blown through. If they have children, their clothes don't need to match, as long as they are dressed. They usually secretly wish that their lives were more in control. But people are often more important to them than cleaning.
There is an attainable balance, but it takes time and hard work to get there. The Type B Messy personality just isn't wired for perfection, but that is what makes them such great friends ("when" they show up for your scheduled time.).
What's your time management personality?
You might not fit into just one category. Some women are a combination of two time management styles, but they usually have tendencies toward one or another. But figuring out your time management personality will help you know what you're looking for in a daily planner system. The Busy Woman's Daily Planner© was created in 1990 with all of these personalities in mind. The founder was a Type B Messy and had to find a way to juggle five children, a husband and ministry. She developed the planner, her husband had it printed at his work, then I purchased the company in 1999 and updated it even further. This was definitely a team effort!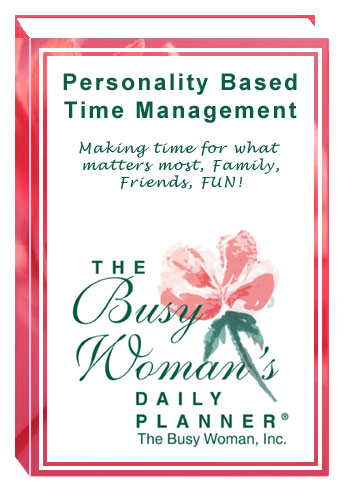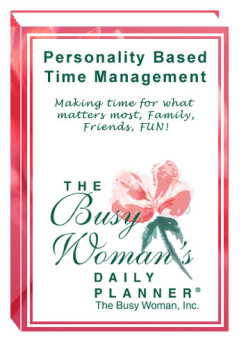 The Busy Woman's Daily Planner©–or any planner for that matter–can be adapted to your personality. Start out simple. If you're a Type B Messy or Motivated, try only a few different types of planner pages to begin with. See if you can stick to it and move on from there. If you're a Type A Compulsive or Casual, you probably know what you want in a planner system, but we might have some new ideas you haven't thought of. Read our Personality Based Time Management© E-book for more ideas, tips, and tricks in making more out of the time in your day and schedule. If you have questions, please email me and I'll try to help. I try to respond within 72 hours due to the volume of email I receive.
E-book Coupon Code & Giveaway
The 21-page Personality Based Time Management© E-book guides you through the Busy Woman's Daily Planner© quiz with some simple, fun, unscientific questions that provide details you need to apply the knowledge to your life. Subscribers, click through to enter via the Rafflecopter form below. Or use the coupon code KindredGrace777 for $2 off the $4.99 E-book from thebusywoman.com.
Need a little encouragement? Visit The Busy Woman Facebook page to ask your questions!
Susie Glennan has been happily married to her best friend since 1982, is mom to 3, grandmother, Home Maker, Nurturer, Teacher, Author, Professional Speaker, Toastmaster, Owner of The Busy Woman, and The Busy Woman's Daily Planner©. She's been teaching time management seminars and organizing for more than 25 years and has operated many successful home-based businesses and is now pursuing a career in accounting. The Busy Woman has been published in magazines worldwide and throughout the Internet. You can reach Susie at [email protected], or visit her website at: http://www.thebusywoman.com. Article ©1999-2013 Susie Glennan.