Hi, my name is Crystal, and I love taking personality tests. From legitimate tests like Myers-Briggs (I'm an INFJ if you were curious) to the goofy ones you find online or in magazines, I love them all. When I found out my husband and I got to take them as part of our pre-marital counseling, I was thrilled. When a potential job asked me to take one as part of the hiring process, I couldn't wait to get started.
But then I read the results, and my mind starts to wonder…is this really me? Is this all there is to "Crystal," all neat and tidy and packaged into a few pages of analysis? My DISC assessment is the one I struggled most with when it came to these thoughts recently, and here's why: I'm not the most flattering "letter."
If you're unfamiliar with the DISC assessment, it works very much like most personality tests. You fill in the bubbles, answer some seemingly random and unrelated questions, choosing the option that seems most like yourself. At the end of this one, you're given scores based on behavioral style:
Decisive – your preference for problem solving and getting results
Interactive – your preference for interacting with others and showing emotion
Stability – your preference for pacing, persistence and steadiness
Cautious – your preference for procedures,standards and protocols
Yep, that spells DISC. You know. In case you wondered why it was called a DISC assessment. You're welcome.
Here's how I score: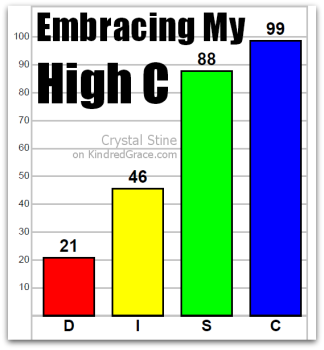 I couldn't possibly score higher on the "C" scale. A 99? Who scores a 99? I assumed I would be close to even across the board, with maybe a slight increase in the "I" category, given my work with (in)courage and my "words of affirmation" Love Language preference. The feedback I focused on? I'm boring. I like structure. I would do well to show more enthusiasm. I don't adjust well to change. I expect high quality. I'm passive-aggressive.
Is it true? Actually…yes. To be honest with you, it was hard to read some of the analysis because there were hard truths that had been spoken to me through the years by friends, employers, and co-workers that I really didn't want to believe were true. Parts of my personality that seem to haunt me, no matter how hard I try to change it or hide it. One thing I learned in taking this test? You can only hide your God-given personality so long before you turn into a burned-out, stressed-out mess. Ask me how I know this is true (and I'll tell you how many months it has taken to recover from that particular season).
When I took a step back and looked at the positive side of some of these, it helped me realize something about this "personality" of mine. It's why I can be successful as a virtual assistant, a marketing coordinator, a project manager, community builder and a freelance writer – all while raising a toddler and juggling a family. God built me this way. He knew that I would need to be extremely detail-oriented, have a desire to "do it right the first time" (because who has time to do it over?), and to teach others what I know.
And some of the more negative sides of my personality? I have to admit, they are areas I've been praying about for years. Do these few pages of analysis and bar charts fully encapsulate who God created me to be? Not at all – but when it comes to how I work, it's a helpful tool in understanding a little bit more about myself.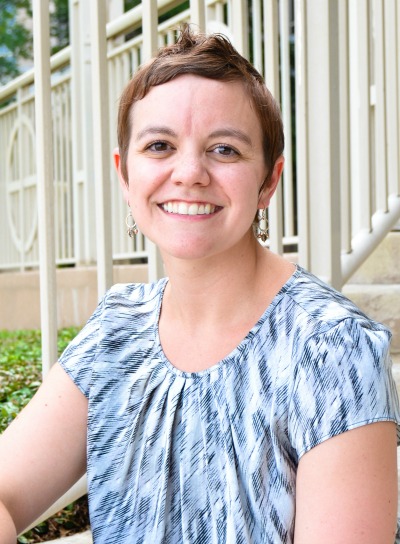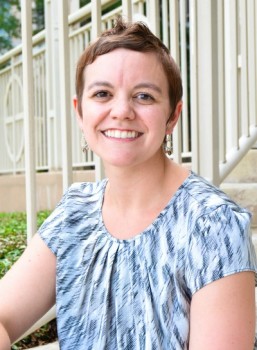 Crystal's heart is to encourage women through the written word. She is a toddler mama dedicated to her family, pursuing God Sized Dreams and her passions as a virtual assistant, marketing/social media professional, (in)courage Community Leader Coordinator , Allume contributor & Raising Generations Today team member.