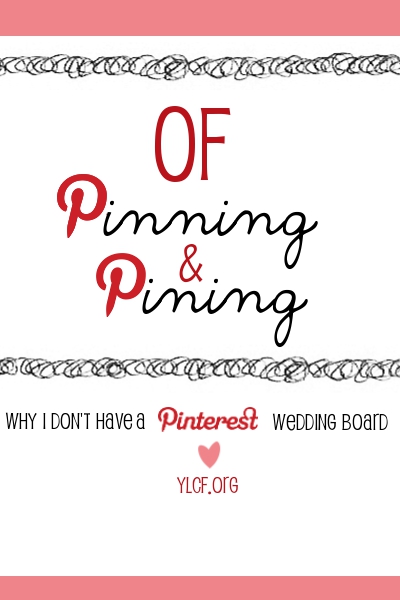 At first glance, it seemed like a good idea, or at least an entirely innocent one. Philippians 4:8 says we are to fill our minds with things that are true, honorable, just, pure, lovely, commendable, excellent or praiseworthy. Weddings fit into those categories, right? So why not have a wedding-themed Pinterest board?
But then I remembered who I'm dealing with: Me.
Me, who has to take chick-flicks in small doses. Me, who had to put the Anne of Green Gables series down for a break when I started getting too sentimental. Me, who has had my wedding, home and family picture-perfect in my mind since I was a little girl.
I never dreamed about movie stars or hung posters on my door. Instead, I imagined myself with someone as kind as Professor Bhaer and as handsome as Rochester, as thoughtful as Gilbert and as dashing as Mr. Darcy.
I didn't join the dating scene while I was young. Instead, I soaked in as many real-life weddings as I could. I wanted the real deal. The whole enchilada. The man, the wedding, the house and kids. And I still do.
Therein, my friends, lies the problem. I want those things very much, and yet tomorrow isn't my wedding day. If it were, I would have good reason to fill my mind with thoughts of lace gowns and red roses. If I was engaged, I would have someone to give my attention to, but I'm not.
Just like watching too many chick-flicks or reading too many sentimental novels, having a special board on Pinterest where I feed my desire for a white country church, pink peonies and violin music is probably not a good idea. I think about it plenty as it is. I daydream about the future enough to plan my wedding on short notice if I ever do get the chance! To have a special place on the Internet where I plan and dream and gush and yearn might make me content in that moment, but discontent in the moments to follow. I'm not hiding my desire for marriage, but I am trying to enjoy my life right now the way it is. Even without the white country church.
If you can handle those temptations better than I can, have at it! Your board will be beautiful and ready for the moment he bends his knee. But if you're like me, stick with pinning the Pinterest pictures with the goofy captions. You can go back and laugh at those with your husband for years after your wedding day…
{More on Pinterest & Weddings: "in praise of my unspectacular, pre-Pinterest wedding" and "In which I wonder about Pinterest"}