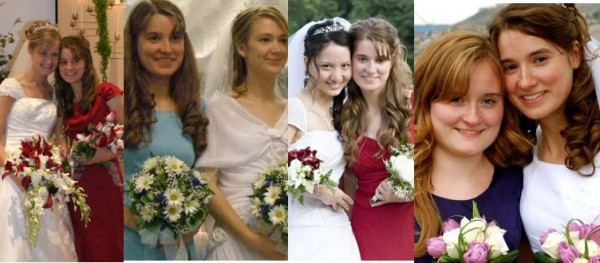 I've got a little stash of pretty dresses in my closet, and three pairs of pretty shoes. They are the mementos that I carry of the honor I was given in my three-time career in the art of being a bridesmaid.
I've been involved in a lot of weddings. I'd done just about any behind-the-scenes job there was to be done, and a few scary things like making the cakes and providing the music. I was just starting to think I might know what it took to pull off a simple wedding, when I was asked to be a bridesmaid for the first time. That's when I learned that nearly every wedding has its own little disaster, and that's when I learned how to be the bride.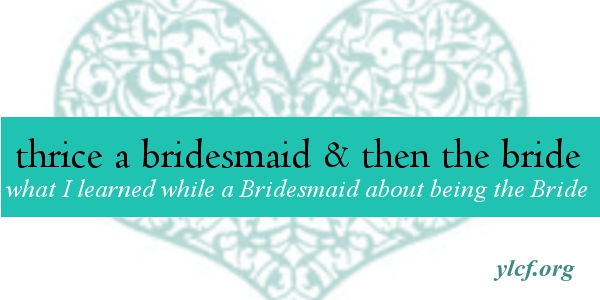 Listen, and Let Go
From the moment that ring is on your finger, until the moment before you walk down that aisle to become the newest Mrs., everyone you meet will suddenly be full of opinions. They will all think they have the best ideas on how your wedding should look, what you should wear, and even on things that you never even thought of before. While input is not always a bad thing, it can be incredibly overwhelming and frustrating to wade through all the opinions and expectations from everyone, not just the people who have opinions that should matter. It is okay to listen, and then just let it go.
Decide What Really Matters
Wedding planning can be complicated by pressure from others in the family to have or do things just so. It is not always easy to find the balance between sticking to your personal tastes and desires as a couple and creating unnecessary and unintentional conflict. While the wedding itself should be special and reflect you and your husband-to-be, it is the marriage that is the most important. Sit down and decide what matters to the two of you, and learn to be flexible with the rest.
Delegate a Delegater
You can't do this on your own. Believe me, I was the one who tried, even after being the do-it-all bridesmaid. I planned my wedding at a distance of 1200 miles, and my mom and I pretty much did everything ourselves as a result. I was sick in bed a week before our wedding day and for three weeks after. You don't know how grateful and relieved I was when my extended family and friends stepped up that last week and took my lists and made it all happen, but maybe I wouldn't have been sick on my wedding day if I'd been able to get more help before hand. If at all possible, delegate tasks and then delegate a delegator who will keep on top of it and make sure everyone knows what they are suppose to do and actually follows through with it. It will allow you to focus on the key details and to enjoy the process so much more!
Keep it Simple
You may have dreamed of your wedding from the time that you were a little girl, but remember that in twenty years, people might not remember the color of your flowers, or the way you decorated the reception hall, as much as they think of life you've made together. Keep it simple and use the money you save to invest in the more lasting and long-term aspects of your relationship.
This doesn't mean that you can't have a beautiful wedding. There's no reason at all why weddings can't be relatively simple and elegantly beautiful at the same time. Just don't make it any harder than it has to be just to keep up with the Jones.
Make a List and Check it Twice

When planning a wedding, lists are absolutely and undeniably going to make your life so much easier. While lists contain no magical propensity that will guarantee you a flawless wedding with no mistakes, they'll definitely help to get you closer to that goal. Even with a small, simple wedding, it is difficult, if not impossible, to keep all the details straight. After being in a wedding that had a few lists and a couple that didn't, I knew that they were worth any effort they might have taken. So make lists — lots of them, if need be. Find a method that works well for you, and keep it handy. I wrote a list for everything imaginable. Here are two of those lists that truly saved me so much worry on my wedding day:
A Wedding Contact List
This included the names and numbers of all the participants. We gave it out to everyone who was involved in the wedding so that if they needed to get a hold of each other, they didn't have to call one of us first.
How-to Lists
I wrote out basically how I wanted the building to be decorated. As it turns out, the person I put in charge got lost and the groomsmen had to do most of the decorating. You better believe those lists saved the sanity of all those poor guys.
Take Time Out
Planning a wedding is exhausting, no matter how you do it. You say "yes" to the man you love, and your whole life suddenly can become one massive wedding planning session, and nothing else. There is absolutely nothing wrong with taking a little time out to re-group and to de-stress. In fact, it may even be vital to one's sanity to force yourself to step away from all the details and focus on something else for a little while.
Something Will go Wrong
It is inevitable. No matter how much you plan and prepare, chances are something is still going to go wrong.
And it is going to be perfectly okay.
The first wedding I was in was my brother's. The alterations on my bridesmaid's dress were done by a "professional" — who completely made a flop of it. I ended up picking it apart and re-doing it myself the day before the wedding. That night, a minor car accident kept the maid-of-honor and myself awake and away from the wedding party for the entire night. We finally got to bed about an hour and a half before we had to leave to get ready.
The second wedding was set to be outdoors. It was an absolutely perfect and glorious day — the day before the wedding. The day of the wedding it poured rain like it would never stop. We had to un-decorate the reception hall and set it up for a wedding with limited time and supplies at the very last moment.
The third wedding was the most undramatic wedding I've ever been to. But I missed the rehearsal and the best man had to fill me in on the order of the ceremony as we walked down the hill and up the aisle. And then I almost got the groom's ring stuck on my thumb!
All three of the weddings still turned out beautifully. All three of them resulted in happy, wonderful marriages.
When it came time for my wedding, I had plenty of glitches of my own! When the flowers were almost completely ruined, I sat down and laughed and cried all at once. The two pieces of music I couldn't get someone to play live wouldn't work over the PA system at the very last minute. And almost the entire wedding party was sick up there.
The little glitches might feel like a big deal, but remembering that they happen to everyone, and remembering to laugh can keep them from ruining one of the happiest days of your life.
Sleep While You Can
…but don't count on going to bed early the night before the wedding.
I've seen a lot of brides try, but not one actually does it. So sleep as much as you can in the days before, and just plan on taking it easy and enjoying the friends and the family and the fun that make up the night before the wedding. You might be a little sleepy, but when you start walking down the aisle, you'll forget all about it.
Truthfully, I don't think that being a bridesmaid ten times could have completely prepared me for the craziness of planning even a simple wedding. However, I learned what I could about managing the details, and realized that what really matters is not a perfect day, but a love that can last forever.
And when it was my turn, I was thankful that I had been thrice a bridesmaid, before I became the bride.