The Not-So-Cinderella Happily Ever After
Disclosure: This post contains affiliate links which won't change your price.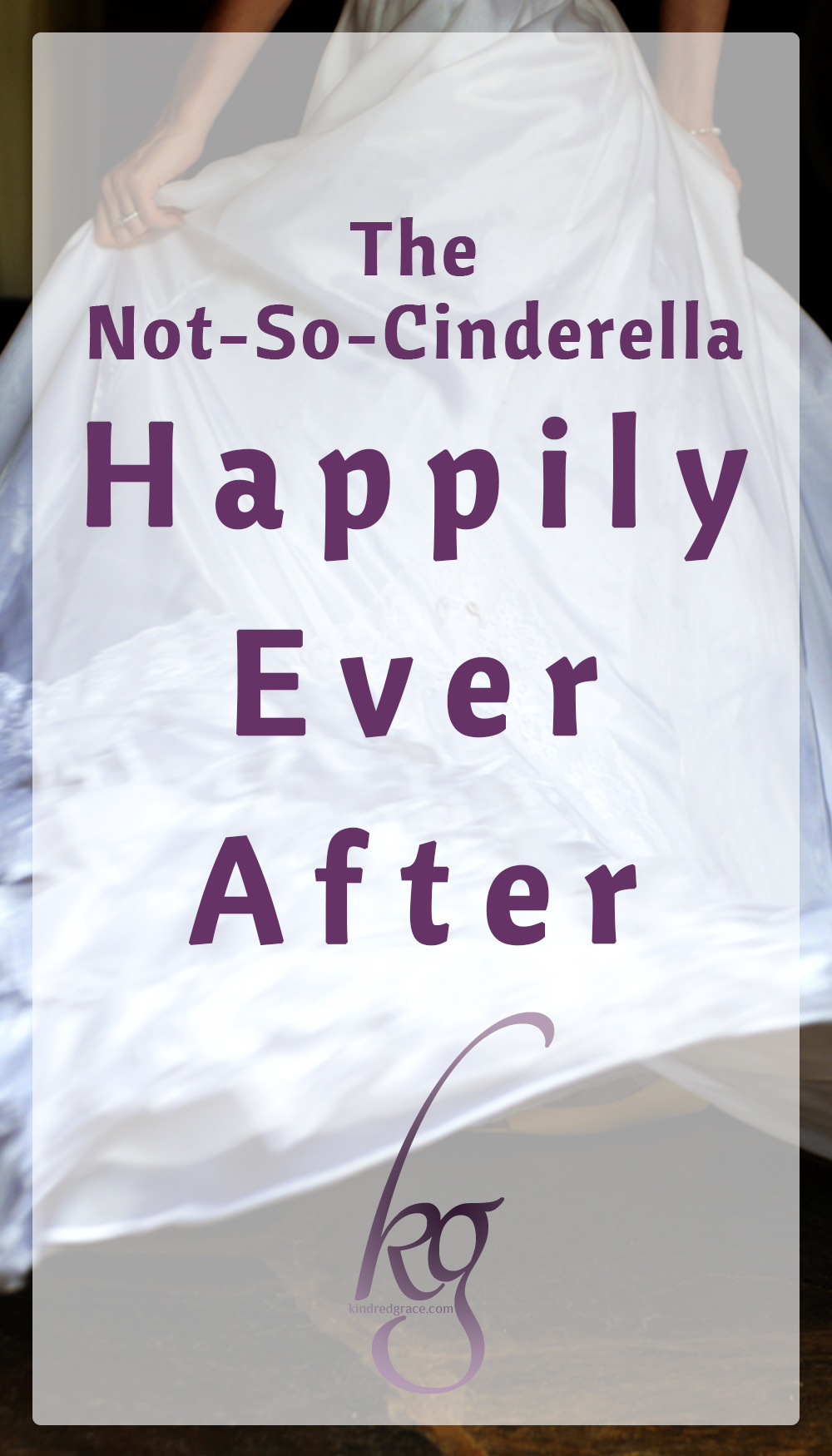 Its more than the way her blue dress glides across the ballroom floor, as if the breath of life met a watercolor painting, or how her ever-so-perfectly messy hair flows in the breeze as her horse canters through the forest. Disney's 2015 live action Cinderella is simply captivating, a film I could watch over and over again (and, once upon a time, I did just that on an international flight headed to none other than Walt Disney World for a holiday). Cinderella is not one of history's most beloved fairy tales merely for aesthetics, however. It's the rag-to-riches hope that unfolds through the power of story, one of a persecuted heroine who overcomes cruelty with kindness, who rises from the obscurity of kitchen cinders into the arms of her handsome prince, which has held the hearts of little girls (and grown women) for generations.
The "happily ever after" is enchanting. A dream is the wish the heart makes… But what about when the princess awakens to find that her real marriage is not all about pumpkin coaches and glass slippers – but that her fairy tale is marred with wicked step mothers and attic bedrooms even after the "I do"?
In reality most of us won't be rescued by marriage (which is a rather unhealthy ideal in any account). Instead, through marriage we are committing to take on any number of trials with our spouse, till death do us part.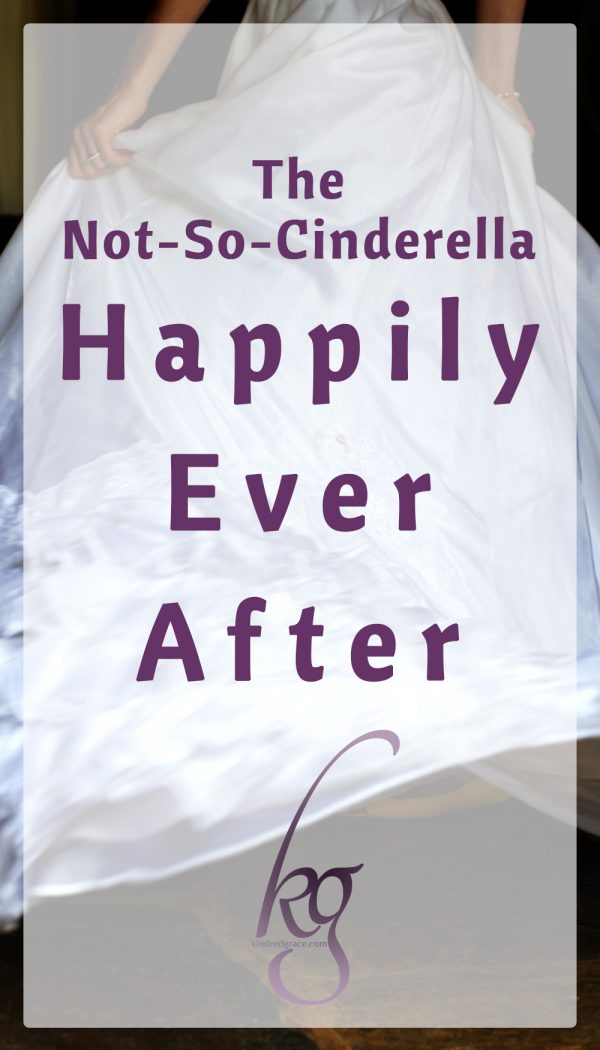 In my own marriage of eight-plus years, we have faced a season of living by faith for finances, the pressure of finishing two masters degrees, a brain tumor, secondary infertility, hard pregnancies, and troubles with extended family. All of this on top of living in a challenging Israeli culture with wars and intifadas, winter mildew and summer dust storms, line drying and hand washing dishes (not because I wanted to be an eco-chic natural mama, but because I had to work hard), all with grimy feet from riding the bus for hours at a time with small children and a back loaded with groceries.
I'll be honest. Sometimes since that day I walked down the aisle to my bridegroom, I've felt like Cinderella pre-Prince Charming, covered in my own version of cinders and ashes, dreaming of a day with fewer heartaches.
We've had some hard years, but is a "happily ever after" possible? Without question, yes!
We are living a "happily ever after" today, but it has not happened on accident, or with a magic wand. Instead it has come through applying the Word of God. Here are some ways we've worked toward our real-life fairy tale:
1. We Got Help
We can do it, We can do it, We can help our Cinderelli… her mice friends sing in the animated feature film as they make a dress for Cinderella to wear to the ball. We don't have mice (fortunately), but we did form a team of counselors to help us.
"By insolence comes nothing but strife, but with those who take advice is wisdom." Proverbs 13:10
The pressures we've faced in our marriage have required an outside perspective, or simply support and encouragement from others to do what we knew was right. Whether it was pastoral counsel, prayer with a mentor couple trained in inner healing and deliverance, or meeting with a licensed Christian counselor, we've had help separately and together, from mature and credentialed believers. And we both sought to have teachable hearts, yielding to wisdom when necessary. Part of the benefit of asking for help is that it lifts the burden of resolving a conflict from within, alone as a young couple. An objective eye can often help bring issues into eternal perspective, and that aids in finding the next steps toward a resolution that can be blurred by internal emotion. It's not easy to ask for help, but it is humble. God draws near to the humble, and He has certainly drawn near to us in this process.
2. We Prayed
Cinderella may have had a faith in her dream that someday…. But we have something greater than the wish the heart makes. We have the power of prayer.
"Rejoice always, pray without ceasing, give thanks in all circumstances; for this is the will of God in Christ Jesus for you." 1 Thessalonians 5: 16-18
And we prayed.
We prayed separately. We prayed together. We prayed in community. We prayed for wisdom and direction, for increased provision, we prayed for healing in my body, we prayed for more children. We prayed in want and we prayed in thanksgiving, even when we were in the midst of pain and suffering.
As we prayed (and we're still praying), we drew a greater spiritual intimacy into our marriage, as we learned to meet the Lord together. Prayer changed our hearts, and eventually, I believe it did change our circumstances.
3. We Held Hands
Prince Charming held Cinderella's glass slipper for hope, but when we would argue, I would often reach over and grab my husband's hand.
"For I, the LORD your God, hold your right hand; it is I who say to you, 'Fear not, I am the one who helps you.'" Isaiah 41:13
And this amazing thing always happens. When we hold hands, we also hold our tongues. It's hard to speak harshly to one another when doing something that is the natural overflow of love's sweetness. That small embrace in a heated moment is my way of revealing the second glass slipper after the first had broken, gesturing that we are one flesh; and we are facing the wicked stepmothers* of the world side by side. God has joined us together and no conflict can separate us. None.
4. We Welcomed the Power of the Holy Spirit
Cinderella had her Fairy God Mother, but we have someone far greater. We have the Holy Spirit.
"By the Holy Spirit who dwells within us, guard the good deposit entrusted to you." 2 Timothy 1:14
The life of the believer is about a transformation far greater than mice into horses, and pumpkins into coaches. We live one of surrender, of dying to self, daily carrying our crosses. When we meet the Lord, He begins a good work of transforming more than torn clothes into ballroom gowns; He transforms our sinful hearts into His very likeness. We're not simply wearing something new. We are something new.
Often He uses the very fires of life to refine us as pure gold.
As the trials would come, we would ask the Lord to use each challenge to help us conform to His likeness, to give us what we need to respond to our circumstances, hurtful people, and even each other, in righteousness. It has never been easy, but the power of the Holy Spirit continues to help us guard our love for each other by helping us to live surrendered lives, and that's where we find victory.
No Bippidi Bobbidi Boo here… only "Yes and Amen" (2 Corinthians 1:20).
The End
But wait! We're not finished!
After persevering through fire after fire together, the day finally arrived when I trusted the Lord was speaking that we would rest from the hard season of the previous years.
We were dancing on a stage as part of the cast in a school production of none other than Cinderella.
As we waltzed I looked into his eyes, saw a little gray in his beard, and praised the Lord for the good man He had given me, one who really did stand by my side in sickness and in health. I thought about the fruits of the hard effort we had put into his masters degree, something that made the recent promotion to Head of Secondary at that very school possible. I even rejoiced at the nausea I felt as we waltzed one-two-three, one-two- three, celebrating that we would soon be a family of one-two-three children, having recently learned that our third baby (who would grow to be our Eliora, born November 2016) was being knit together, even as we danced. The blessings continued to pour out several months later when the Lord provided a beautiful garden apartment in the center of Jerusalem, bigger, with less rent, than where we were living before, walking distance to everything we needed, and even with a dishwasher.
The Lord keeps His word to work all things for our good. It all seems sweeter for what we endured.
And…
We are living happily . . . joyfully . . . eternally grateful . . . ever after.
*I would like to note that I have a stepmother and she is an amazing gift from the Lord. I am truly thankful for her character and her love. The language here is merely a literary device.
Photography: JenniMarie Photography