I am thirty-one years old and I have never been in love.
I've been in wondering. I've been in confusion. I've been in prayer. I've been in crush. Not love, though. Love – that kind of love – is still a marvelous, alluring mystery to me.
I'm talking about the love that's more than distraction and infatuation, more, even, than wanting the very best for another person. I'm talking about love that develops into a deep, steady, abiding kind of thing. A thing that weathers storms and grows in spite of grievances and bothers and pain and the fact that you married someone who can occasionally be incredibly, incredibly stupid – so stupid that they married you, in fact, someone else who can be just as stupid. It's the kind of love they write poetry about.
Sometimes it seems like people who get to experience that kind of love as an everyday habit are in an exclusive, secret club. How did they get there? Was there a magical handshake? A significant look exchanged with another in the dim light of an overcrowded room? Did little hearts come out of their eyes, meet in the space between, and explode into panoramas of tiny clouds dotted with even tinier cherubs playing (if you can believe it) even tinier harps?
I don't know, but I sure miss it.
Is it possible to miss something you've never actually experienced? I believe it is. The creation story found in Genesis is dotted with God's response to His creative work. Over and over, He looks at what He has made, and calls it good. It is only when He lingers on Adam that the creator-God pauses. Here is the first man – healthy, whole, and perfect – hanging out in a garden seeded and flowered by the mere words of God, living in pristine, unhindered fellowship with that same Being. Yet God looks at this picture and says, for the first time, 'it is not good.' It is not good for man to be alone (Genesis 2:18).
Even in perfection, being alone is hard.
Little wonder then that now, with our fallen world and every distraction conspiring to get between us and God, those of us who are alone truly feel it. Adam missed something he hadn't ever known before. In just the same way, so can we.
It makes me wonder, then, why so many of us are still alone. If we're pre-programmed, as it were, to find rest and companionship in the spiritual, relational, and physical union of marriage, why have so many of us simply…not? Why does almost everybody get the password to the secret clubhouse while a handful of us only get to linger at the windows, looking in?
I don't know. I don't know.
If your experience of extended singleness has been anything like mine, you've probably wondered what it all means. What is the deep and spiritual significance of this never-world which we're navigating? What does it mean?
I suspect God's got everything to do with it and He's working something amazing in all this inexplicable singleness, but I'm not close to knowing exactly what. My conclusions have tended more in the opposite direction. I might not know what this extended singleness means, but I think I'm starting to know what it doesn't mean.
Even though you and I may speculate otherwise, singleness doesn't mean you're unmarried because you are too fat or too skinny or too talkative or too quiet. It doesn't mean you are too intimidating, reclusive, independent, or unattractive, too holy or not holy enough. It doesn't mean you want it too bad or you don't want it enough. It doesn't mean you're being punished for mistakes you've made or because you're just too flawed.
Here's a reality we all know, but often forget: flawed people get married. To make it even clearer, only flawed people get married. Annoying people get married. Loud people get married. Quiet people get married. Fat people get married. Skinny people get married. Selfish people get married. Weird people get married. People with bad teeth and poor posture and a habit of stating their minds frankly with no thought whatsoever to the outcome – these all get married. I'll tell you what I bet your Mum has told you twenty times already: there are people in this world who are more unique and less lovable than you, and they are married.
Marriage really isn't an exclusive club for the flawless. This is not to say we shouldn't care about our health or our social skills or our appearance or our personality. God gave us life and a body and people around us, and we serve Him by doing what it takes to be healthy, gracious, compassionate, loving, approachable, and brave. But we do those things because we worship Him, not because we want to get married.
Although there may be a multitude of factors contributing to a woman's singleness, there is no blanket answer that applies to all of us. The fact that you are single – that I am single – means only two things we can know without a shadow of a doubt: it means that we are not married, and it means God is in control. That is all.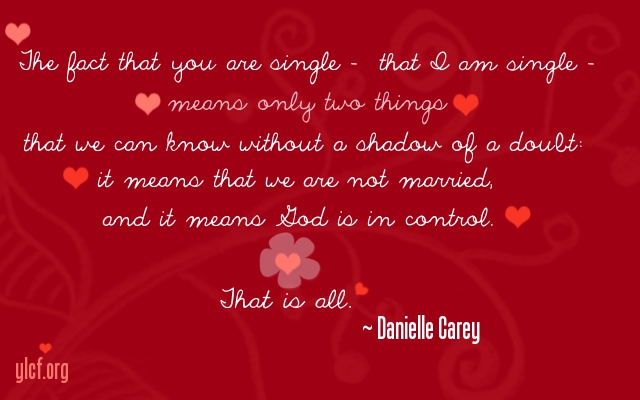 These are truths I know, but there are days when I don't believe them, days when I choose instead to wallow in the mire of my own failures, my perceived lack of marriageable qualities, my confusion. There are days when I cry – mostly to my mother. There are hard things about seeing your younger siblings, cousins, and friends marry and bear children. It's tough turning up to weddings without a plus-one. It's tough putting on a polite and awkward smile when people repeatedly say, 'You'll be next!' It's even tougher when they stop saying it altogether because, well, it's just getting too embarrassing to keep referencing the subject.
There are challenges in being single for an extended period that those who marry in their early twenties will never have to experience. There is a kind of grief in knowing that, should I get married someday, my body won't be in its prime (if indeed it ever had a prime). I used to dream of being a young mum and having lots of children. I thought seven kids would be cool, but ten would be perfect. Now I just hope to be a mum, someday; the numbers don't matter anymore. And I have to fight against a rejection complex which wants to examine the fact that though I've been on this earth for thirty-one years, there hasn't yet been a man who chose me to do life with him and then stuck around for the long haul. That can hurt. It's gut-wrenching, sometimes.
But: in the midst of all of that, I am weirdly and miraculously content. Over the past five years, I have found unexpected joys in the freedoms of singleness. I've learned to love taking charge of my own schedule, cooking food I enjoy, pouring all my baby-love into my nieces and nephews, having the freedom to meet with others for coffee whenever and wherever. I like that my schedule is more fluid. I can meet a friend for breakfast. Girls, I can stay up late reading if the book is especially good. I can put on a DVD and do a workout at 11pm. I can hone my writing skills and pursue this calling with a rare sort of intention. Does this all sound like some consolation prize? Second best, for the girl who doesn't get to be married? It's really not. I can honestly say that I love this season. The fact that I do is only a gift of grace. God is merciful.
A friend once said to me, 'You're only content now because you've given up on getting married.' He couldn't be more wrong. I still want to be married. I want it more every day. If that seems impossible, think about all the other paradoxical truths that co-exist peacefully. At the top of the list is the fact that I cherish this life, but boy I want to be in heaven someday.
Can we love the Now while craving the Not Yet? Absolutely. Isn't that life in general? Isn't that being a grown-up? The good stuff and the bad stuff all comes together and we survive and we smile and when we're not crying, we actually really enjoy it.
I've seen friends kick and scream and resent the Now. I've seen them change in order to impress boys, go to church after church and party after party in the hope of meeting someone. They're still where I am today, but they're sadder and they're incomplete. Lovely unwed friends, it is more than okay to hope for love in the future. We're wired that way. But don't let your future consume your present. Don't let it paint your past in bitterness. You can love being single without giving up on love.
Don't take my word for it, though. Take His. Be strong and let your heart take courage, all you who wait for the Lord (Psalm 31:24). His abundant goodness is stored up for those who fear Him and take refuge in Him (Psalm 31:19). Women who look to Him are radiant, and those who seek Him lack no good thing (Psalm 34:5, 10). If you are unwed just now, then this is the Lord's good thing for you, today. Does this crush you? He is near to the brokenhearted, and saves the crushed in spirit (Psalm 34:18).
He cares even more about your heart than you do. This I know.