Disclosure:
This post may contain affiliate links which won't change your price but will share a commission.
"'Come on, rain!' I say."
As I read the opening line to this small children's book, words printed on a warm yellow page, I knew it was providential that someone had left it on the shelf.
We were at services with our congregation in Jerusalem. For a reason that I can no longer recall, the teacher for the Shabbat School was unable to attend. Being a mother of two, I volunteered to color and play with the children while the parents participated in the service.
The little ones began to bounce and giggle, beyond the sound-absorption capabilities of the adjacent wall separating our rooms. I needed something, anything…
Lord, help!
Looking around the room, I noticed a book lying on the bookshelf. In a library of adult non-fiction, theology oriented books, there it sat, Come On, Rain! by Keren Hesse, with pictures by Jon J. Muth.
A children's book! Just what I need!
The children quickly gathered around, and I made my way through stunning spread after spread rendered in warm yellows and cool purples, poetic prose written with a cadence that naturally allowed my southern accent to drawl in exaggeration. My heart rang forth a peace that the Lord has purposed this book, written for children, to minister…to me!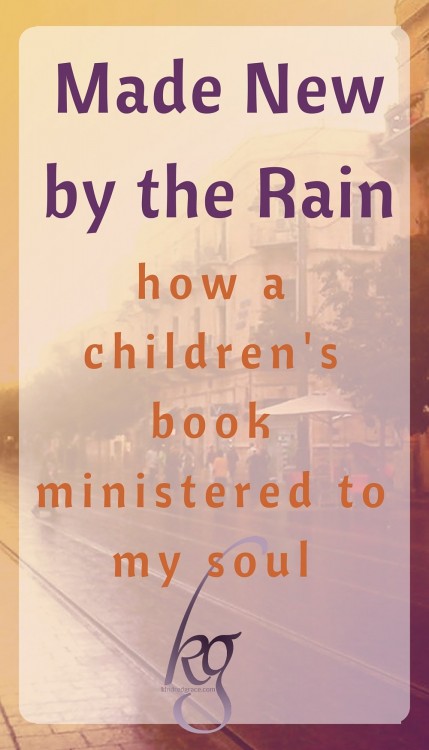 The plot centers on a young African American girl, Tessie, and her eager desire to see the rain break through the tension of a hot summer day — or month, rather.
"It's been three weeks and not a drop," her mamma says about what seemed to be an incessant drought.
I knew that drought. I was there in the heat of it, with her mamma. Only she was tending to parched plants, attempting to keep cool with a melon and tea, and I was in the heat of the Jerusalem furnace – the politics of terror, living as a pedestrian with two small children, a sink full of dishes to be washed by hand…praying for burdens to be lifted.
Mamma seemed to have given up on the rain, but Tessie, she knew it was coming. In her youthful curiosity, her childlike faith, she watched the sky from her balcony and saw the clouds rolling in.
Quietly, she ran to meet a friend, passing a window with a phonograph, "…playing the same notes over and over in the stuffy cave of her room."
Can you feel the heat? I can.
I can hear that note in all its redundancy, over and over and over again; understanding that her neighbor, Miz Glick, was too hot, too sticky, too tired to bother resetting the record. It is that sort of subtle detailing that adds richness and a bit of mystery to the text, only hinting at a turn of the century setting.
No air conditioning in that era. No escape. They had only to watch and wait for the heavens to rend, and quench their sweltering souls with living water.
Have you been there? I have.
Tessie meets up with her friend Jackie-Joyce. She whispers:
"It's going to rain…put on your suit and come straight over."
She runs home to ask her mamma, who had previously told it was too hot to put on her suit.
Thoughtfully, Tessie prepares for the conversation by pouring a glass of tea, taking a spoon full of sugar for herself before adding another to the glass. As she did so, I noted the cityscapes carefully crafted by Muth must have been a bit north of where I grew up, where we would have poured the freshly brewed tea into a pitcher with a more than a few tablespoons of sugar in the base. Northern Virginia? Maryland, perhaps? Yet, the Southern drawl still fit the mood.
Mamma presses that ice-cold tea to her skin, and Jackie-Joyce shows up at the door, about that same time in her suit. Tessie poses her question again:
"May I wear mine, too?"
She holds her breath.
"A breeze blows the thin curtains into the kitchen then sucks them back against the screen again."
With a lightness that has had this trained architect pondering at each reading, Muth captured those curtains, flowing in the breeze, guiding the eye towards Mamma in the doorway. And I feel the gentle suspense of the moment.
Mamma goes through the necessary questions…
"Is there thunder?"
"Is there lightning?"
"You stay where I can find you…"
And her answer:
"Go on then."
The girls cheer! Tessie runs off to change clothes while Jackie-Joyce gathers Liz and Rosemary. The girls meet in the alleyway.
"…and just like that, rain comes."
And the power of the Word of truth pours out living water on my soul.
He will come, like the rain…just…like…that. (Hosea 6:3)
My own drought suddenly seems worth the wait, worth the endurance and perseverance through the sirens of war and terror, homesickness for my family, carrying loads of groceries on my back, all that is necessary to live where I live and do what I do.
If the anointing of the text was not enough, the illustrator met the words with images of hands raised high, as if in joyful praise of the rain pouring forth.
In bare feet, the girls dance with the dancing dust, as "the first drops plop down big."
"Come on, rain!"
They shout as it "streams through their hair." They turn in circles! They gulp it down!
As they dance, I imagine King David dancing. As they run, I imagine the nation of Israel fleeing through the parting Red Sea. As Miz Glick, Miz Grace, Miz Vera, and Mamma join them, tossing shoes and stockings in celebration, I imagine the great cloud of witnesses praising the Lamb who was slain!
The young girls swing their mammas around in laughter, under the silver rain, and hearts turn toward one another in love and thanksgiving!
Tessie hugs her mamma. Mamma hugs her back.
"The rain has made us new."
I closed the book, in awe of the Lord's chessed, His lovingkindness to grant mercy on my weary soul, to breath life into my spirit through art and poetry. My little ones were certainly blessed, enough so to ask for a second reading, but this book was for me.
I gazed at the front cover in my hands feeling a little more expectant; a little more hopeful; and like Tessie and her mamma, a little more new.