the truth if you're thirty, single and longing to be a mother
In a spirit of honestly I must confess that I won't be thirty for a few weeks yet, but stick with me, okay?
So…the truth?
A family friend just wrote it in an email,
Although you feel that you are getting older, you are still in the prime of your life.
I read those words and there was a sparkle in my heart that was a little bit like the twinkle of a fairy-godmother's wand. It probably sounds silly to those who are thirty or older already, but I feel old these days. Having a trusted source say that I'm still young was a gift.
I'm one of those girls who always wanted to be a wife and a mother and isn't yet and lies awake at night wondering if she's going to be single forever.
And that makes me feel old and turning thirty feel like, well, the end of the world.
Perhaps the truth is that I'm still young. And turning thirty isn't any more the end of the world than turning twenty-nine or thirty-one. And it's going to be okay.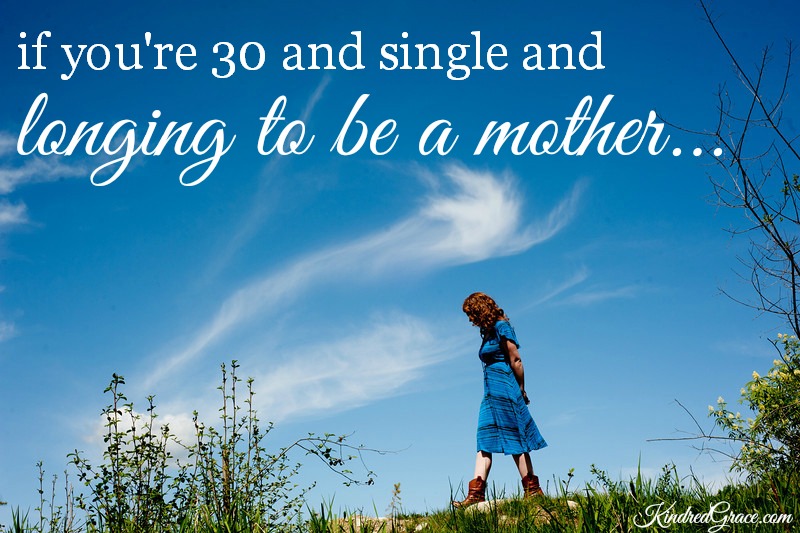 So, if you're thirty, single and longing to be a mother, this is the truth…
You still have time to become a mother.
I imagine that we've all read articles about the biological benefits of getting married and having babies sooner rather than later. It's true that childbearing is only an option for a certain number of years. It's also true that, at thirty, most of us still have time to become the mothers we long to be.
Some of us may need to hear that we have biological clocks. Choosing to reject motherhood throughout our twenties and thirties and planning on having a baby as and when it's "convenient" in our forties is a risky game to play. Motherhood is a gift and if God gives it to us in our twenties and thirties then I believe that it's best embraced with gratitude.
Some of us, however, surely need to hear that, at thirty, we still have time in the providence of God to meet and marry the man He has in mind and have a baby or three. It's easy to feel old and rushed. And, certainly, my body is aging here and there in ways that it wasn't a decade ago.
The truth, however, is that I'm not old. And, at thirty, you're not old either.
So take a deep breath. Stop panicking. And stop reading articles that stress the risks of delaying motherhood and the signs of a ticking biological clock.
Start, instead, trusting that God has your times (and the times of your someday-future-children) in His hands and that He has, well, time to make the dream of motherhood come true.
You can still be a good mother.
I've never wanted to be "an old mother" and dreamed, instead, of being a mother in my teens and a grandmother in my forties. The only older mother I met when I was fifteen was terrifying. I still don't want to be that sort of mother half my life later!
However, there's another story.
I've recently met a couple of older mothers. In their forties, they have a couple of young children each, but no older children yet. And they're lovely mothers: mature and mellow and sweet. Their age and experience are gifts that inform their mothering, deepening their appreciation, softening their impatience. Their children are happy and lively and intelligent.
Some women are devoted, sacrificial mothers at nineteen and they tell a beautiful story with their lives and mothering.
But those of us who are, well, older maybe need to look to other women as role models for motherhood. We need to recognise (or ask God to reveal) older women with young children who tell a different-but-beautiful story with their lives and mothering. The truth is that it's possible to be a good mother at any age.
I'll never be the young mother I dreamed of being, but by the grace of God, I can still be a good mother. You can still be a good mother. Someday we may be some of those mothers with giggling toddlers and silver strands in our hair. It's different, maybe, from what we dreamed, but it's good and beautiful.
And you practise for motherhood while you wait.
I'm pretty sure that the moment that a woman becomes a mother through bearing a child is beautiful and miraculous in a way that no other moment can be, but I also believe that all women are created with life-bearing, life-nurturing hearts. I used to think that it was easier, when some of my friends were having their third babies and I didn't even have "a special guy in my life", to ignore babies and pretend that "I'm not all that good with children".
I was wrong.
I still don't have "a special guy in my life" and one of my friends is having her fifth baby. It's unspeakably hard to wait for motherhood with a sweet spirit. I believe now, at almost thirty, that it's actually easier to wait while practising for motherhood now.
I think it's time to stop pretending that we can't spot a baby a mile away with the naked eye.
It's time to start opening our eyes and hearts to the children, the need, the opportunities in our homes, our churches, our communities. Churches always want more volunteers for the nursery and Sunday School classes. Schools usually like mature and responsible people who can give a few hours a week to help with literacy and numeracy. You don't have to go abroad or intercity to find children who need mothering.
It's not the same. No. I understand that…I really, truly, cross my heart do.
But the day that a little girl from a broken home smiled at me and said, "I love you," was a day that undid me in the best way. It wasn't because I needed to hear a lisping voice say those words. It's because all I'd done for this little one, for just half a year, was plait her hair and chat with her about the everything and nothing of a four-year-old's world and make an effort to speak life and love and laughter into her heart. That's all. And, for her, all that was love.
We don't have to wait for a guy, a ring and a baby of our own to give from our life-bearing, life-nurturing hearts. And when we do give from our hearts, we become more the women we're created to be, because we reflect the heart of God. I like to think we're also practising for the day when we become mothers in every sense of the word.
So, dear thirty, single and longing to be a mother, don't give up hope. Don't believe the lie from the enemy of your soul that you're old and it's already too late. Believe that God can still, if He so wills, give you the desires of your heart and that He's given you a mother-heart for a reason.
Photo by Jenni Marie Photography
More encouragement for your mother-heart: