The Ministry of Letter-Writing
Disclosure: This post contains affiliate links which won't change your price.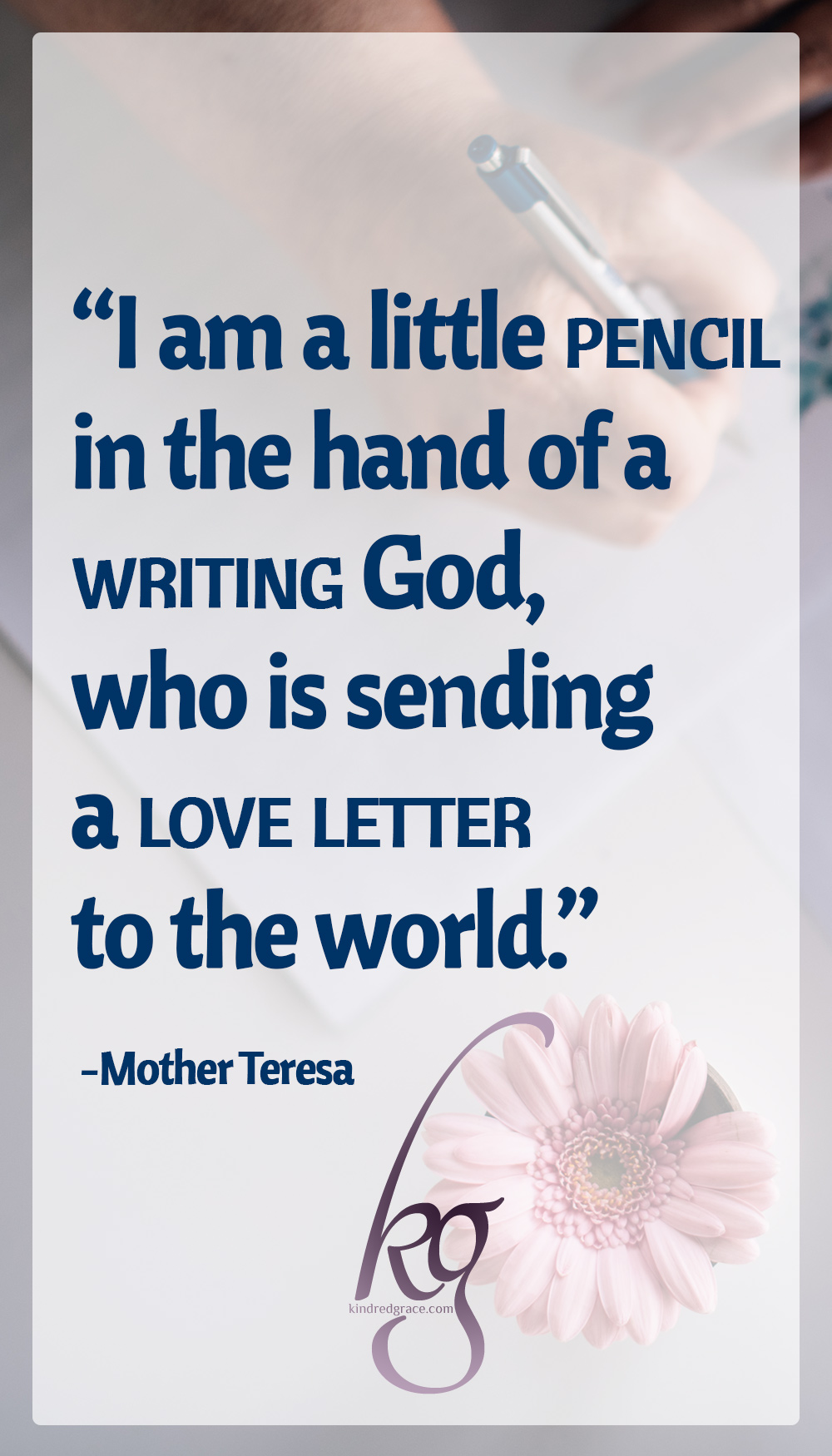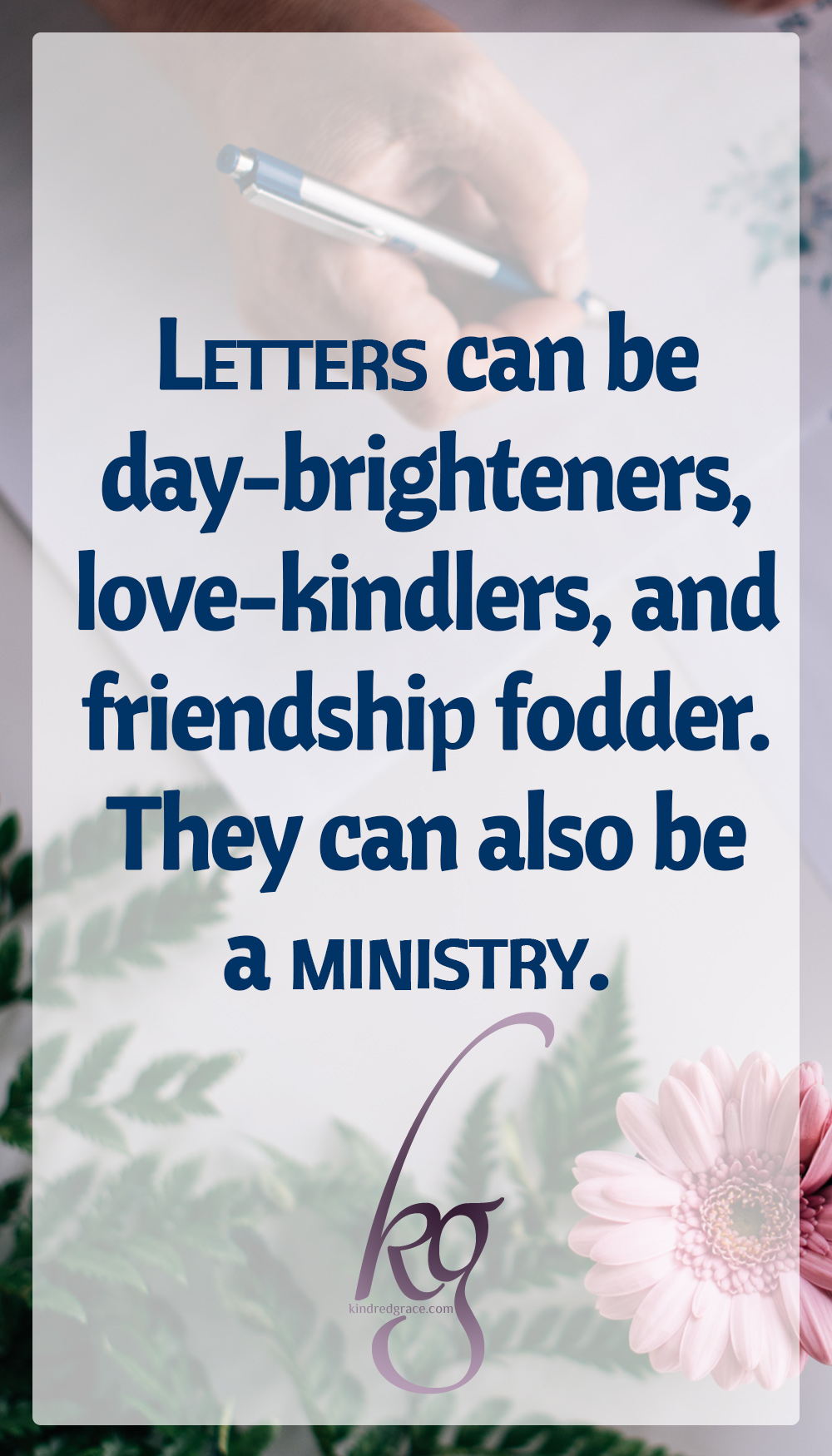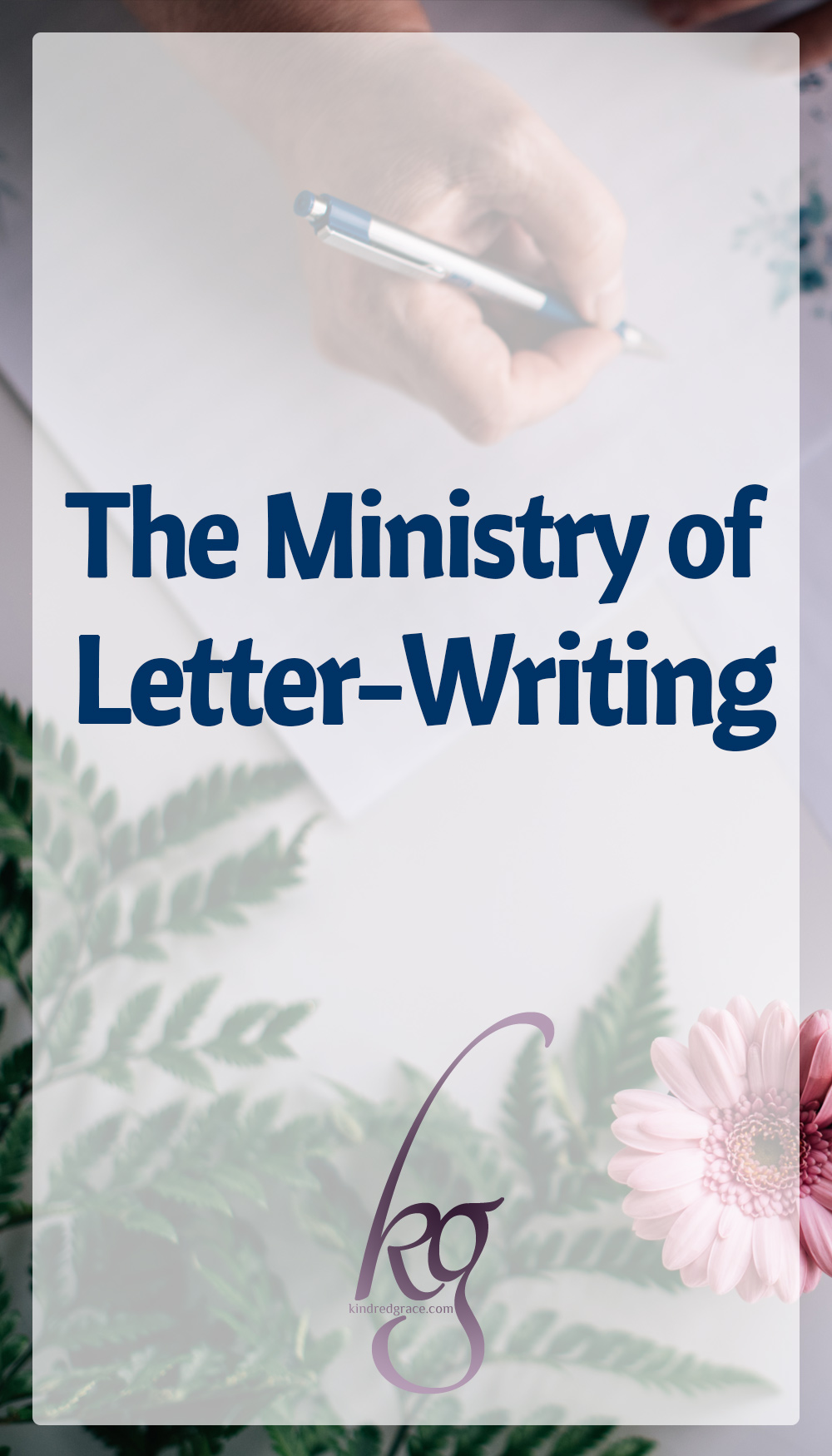 "Well they must be dumb." The young, thin postal worker's eyes bulge a little in the light of his computer screen. "They tried to send your letter to…Nebraska."
He turns again to me, lips pursed.
"Aha," I say, eyebrows raised. "Well, that's not even close to Germany!"
"Right?" We both laugh.
My letter will be outdated by the time it arrives in Heidelberg, by the time my friend opens it and reads it. Even now I'm not sure if it has arrived or not. And yet, that's okay when it comes to letters. We don't expect them to be "in real time." In that sense, every letter is a little late. We expect them, like starlight, to speak to us of another day.
The same week, my two younger sisters receive letters from our little cousin, Audrey. She's nine years old and lives a few hours away. We don't get to see her nearly as often as we'd like, but she's never written to us before.
"Huh," I say. "That's neat. I wonder what made her think to write."
That weekend we hear the news. She's going to be okay, but Audrey was attacked by a friend's dog. She has eighteen stitches in one laceration alone, and is on crutches. I suddenly see her, unable to go to school, sitting up in bed with her leg in bandages. Maybe her sweet mom suggested it. "Why don't you write some letters?"
Ah, the power of a letter.
Mother Teresa called herself "a little pencil in the hand of a writing God, who is sending a love letter to the world." Myself, I have pen pals whose correspondence has lasted over a decade. I've received letters that spoke of dreams and heartbreak, of "I don't know how to say this," and "you're the first person I've told." I've received letters that make me cry and letters that make me want to live again. I've argued in letters, I've preached in letters, I've confessed in letters, I've offered condolences and my best efforts at comfort in letters. "Go," I tell them. "Do what I cannot do from here at home. Speak on my behalf."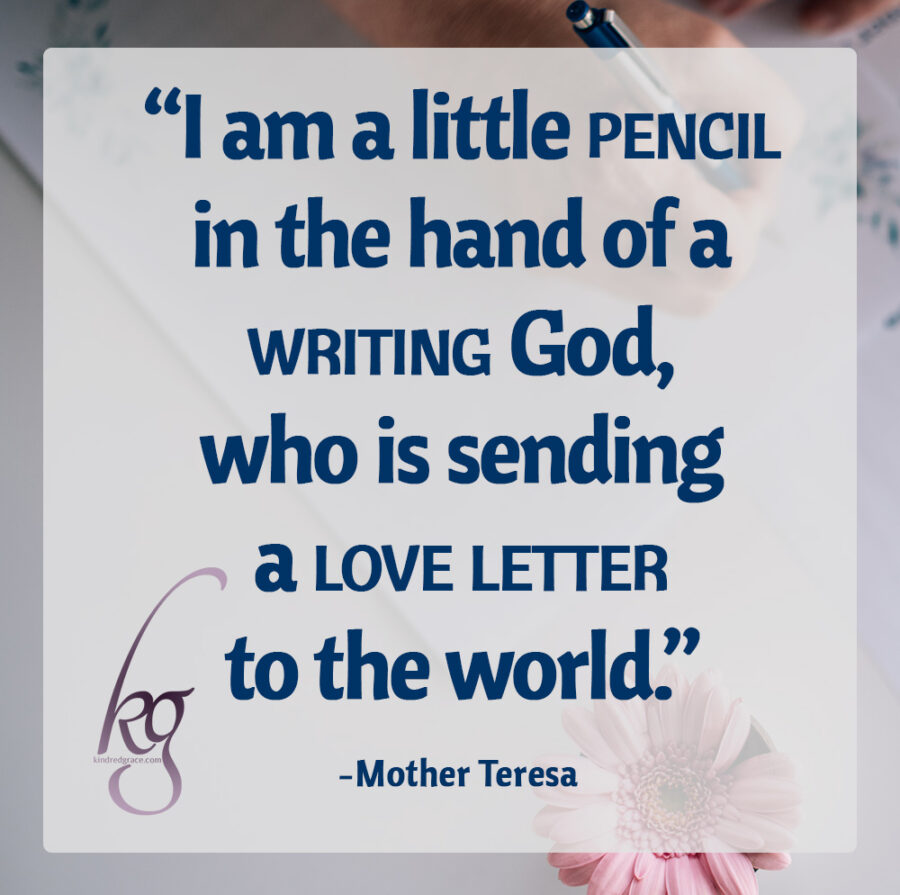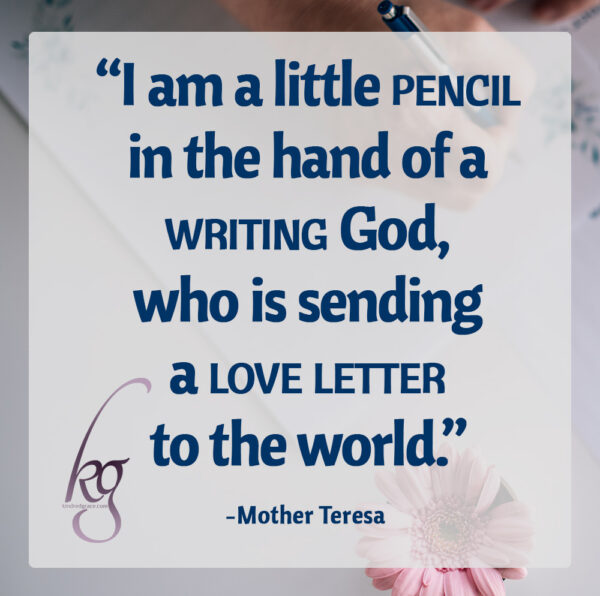 Here we are in the age of instant communication, and letters are no less potent than they were when they were our only option. As a matter of fact, they may be even more effective today, in contrast to the common text message.
Letters can be day-brighteners, love-kindlers, and friendship fodder. They can also be a ministry.
In 2003, my family made national news. The story of our four Haitian adoptions being indefinitely postponed by a coup sounded exciting to everyone from our local news station to Reader's Digest. Suddenly, photos of my growing family were circulating through the Associated Press and folks from all over were reaching out to my parents through online forums and phone calls. Though many of those messages were kind and encouraging, the one we remember best came by mail.
How she ever got her hands on our home address, I don't know, but the letter came all the way from Indiana. Carolyn was older than my parents, her children were grown. She had never been to Haiti, or adopted, or even heard of my family before she saw us on the news, but when she did, she heard God speak. She heard God tell her to write to my mother, and to include a check for fifty dollars. My mom was touched, but she had no idea it would be the beginning of a long friendship. Years passed and life got more and more chaotic. We ended up moving to Haiti shortly after that, to run the orphanage where my new siblings lived. Then moving back to Texas without them, then welcoming them home, two-by-two, and learning how to operate as a semi-functional family of ten. "Transition" doesn't quite sum up those years, unless you "transition" makes you think of a jet making an emergency landing, wheels shrieking and bumping violently against the sparking pavement.
And yet, in the midst of all that extreme change, the letters–and the checks–from Carolyn kept coming, month after month. Sometimes it was just a note of encouragement, other times a longer letter with family news and questions about how each of us was faring. And always, a check for fifty dollars, to help support our unusual (and expensive) family. Finding her handwritten missives in our mailbox became a commonplace occurrence. Eventually, my mother had more time to reply, and she and Carolyn became real pen pals and prayer partners. My mother was very encouraged and blessed by Carolyn's steadfast friendship and support.
As time passed, they shared the good news and the bad. Carolyn's dear husband went to be with Jesus and her own health declined as the years collected behind her. Eventually, she was unable to perform with their beloved folk band (she played the dulcimer) and then, finally, the last letter came. She wrote that we wouldn't likely be hearing from her again, until we got to meet one day in Heaven. My mother wrote back as quickly as she could, but we still don't know if Carolyn ever received it. The letters stopped.
When we finally found her obituary, we all read it and wept for the servant of the Lord whom we'd never met. We calculated how many thousands of dollars she had given us out of her own small share during what felt to us like a short life on earth. Carolyn loved watching for the first crocus, but they had to wait for the ground to thaw before they could bury her and that spring, the crocus didn't see her when it peeked from it's wintry den. My mother had lost her pen pal, but her faithful friendship has left a lasting mark on my family.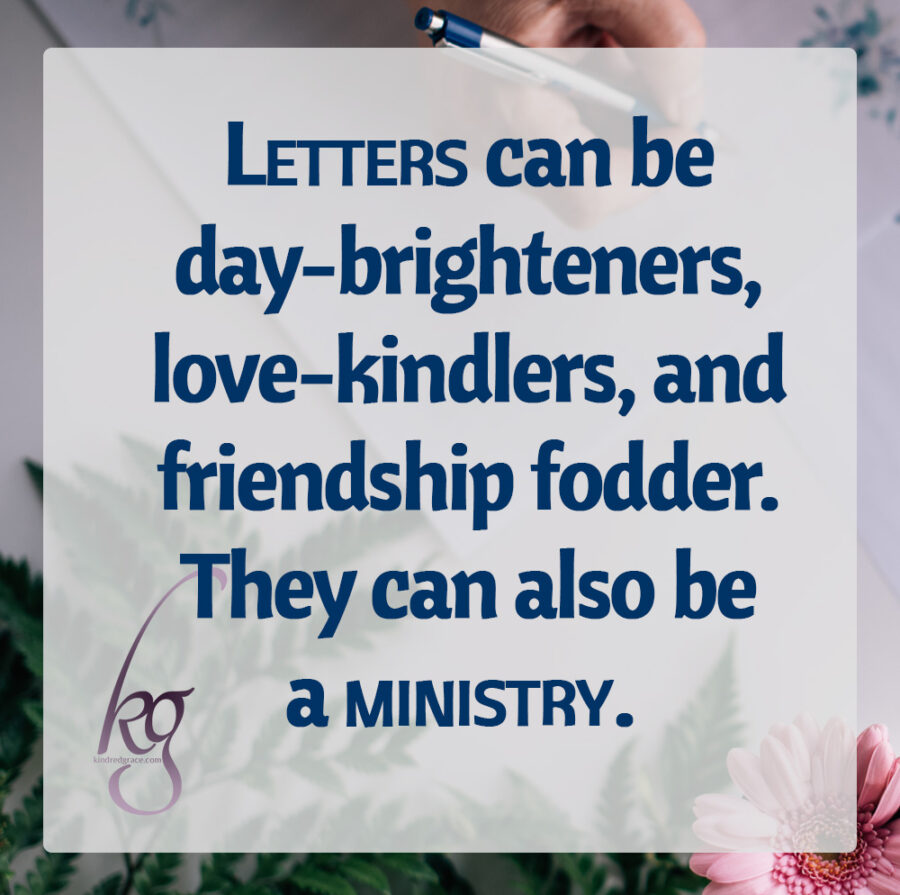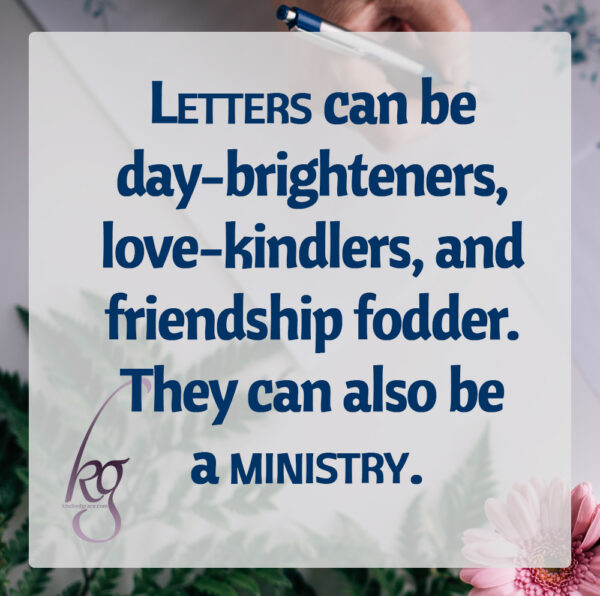 Carolyn's letters were her ministry, and I'd say the same about Eddie's letters.
I've written a whole book about Eddie, but it doesn't touch on her ministry of letter-writing. Always Plenty shows us Eddie's generous heart at a very young age, and that heart was evident all the way up until she was called home in September of 2019. Eddie worked cleaning public bathrooms for a living, and yet she gave more out of her little than most give from their lot. She and her husband adopted twelve children, fostered over sixty more, and supported orphanages and missionaries all around the world. But I first heard of her because of her letters, and it was in a letter that I asked for her permission to turn her story into my first book.
The story that would become Always Plenty was originally written in a letter to missionaries. Eddie would often include sweet or funny stories when she wrote to over two hundred missionary families around the world each month. She did this about four decades, if I recall. I have often imagined how much that would've meant to me, when I was a twelve year old living in Haiti, to receive mail from America with encouragement, scripture, and humor included. We felt isolated in 2004. I can only imagine how isolated many missionaries felt in the decades before, and I am sure those families miss Eddie's letters today.
I've always loved writing and receiving letters and these two women of faith have encouraged me to continue, even when life is crazy, money is tight, and email is faster.
There's just something really dear about a piece of mail written in your friend's own hand. My newest book is very different from Always Plenty, but it is about letters and friendship and courage. As a matter of fact, the main character lives in a P.O. Box! The little girl in the story was modeled after my youngest sister from Haiti and the dedication is to my pen pals around the world (one of whom is the book's illustrator!) In other words, Anonymouse is a little piece of my heart.
This evening, I talked to my mom about Carolyn's influence on her life. "She was very wise, and I knew she was really praying for me when she said she would," my mom told me. "She was like a mentor God sent to my mailbox."
God certainly finds creative ways to bless us, doesn't He?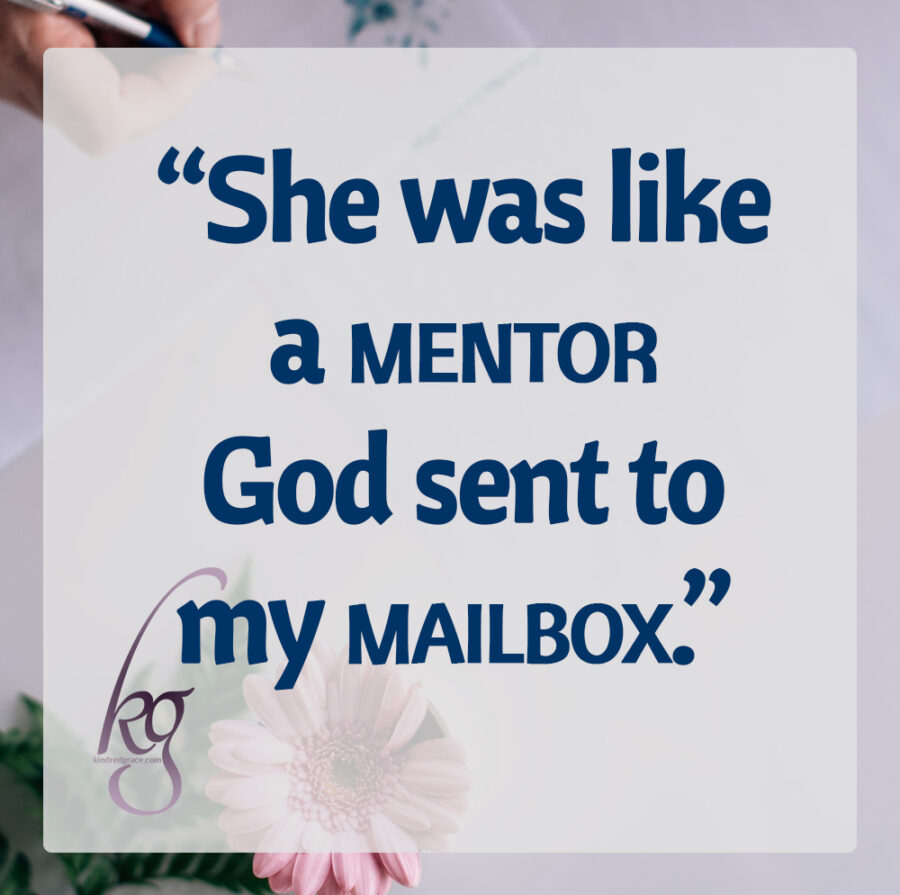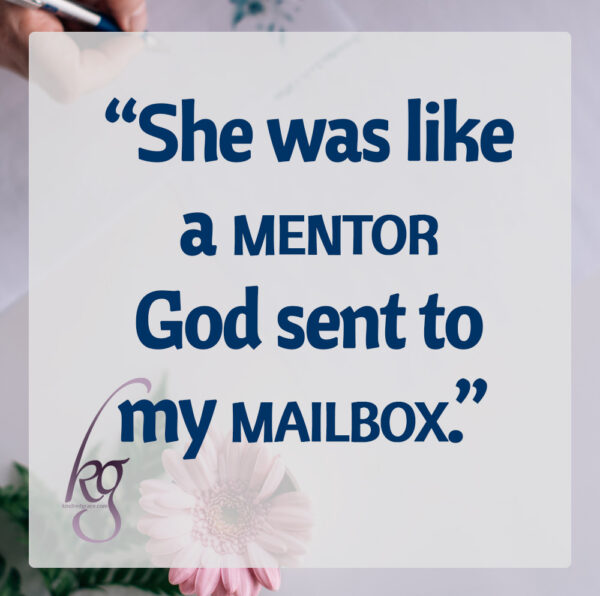 Related:
The Lost Art of Letter Writing at Club31Women
Photography: JenniMarie Photography