A couple planned their Charleston wedding for the weekend the hurricane came. When the groomsmen, the photographer, and the officiant had no way to make it onto the peninsula, the bride pleaded on a reporter's borrowed mic for someone to come and marry them. A photography student and a minister were able to answer her plea. A military Humvee transported the groomsmen to the inn where the wedding was held.
Joy in the midst of suffering. Does that couple's story prove God's favor was on them–but not on the couple who spent their first anniversary apart? My friend's husband couldn't make it home for all the rain. And yet, he was able to drive home the next day, before the interstate completely flooded.
"…He causes His sun to rise on the evil and the good, and sends rain on the righteous and the unrighteous." Matthew 5:45 (NIV)
My state flooded. I had a hard time believing it at first. I thought maybe the news anchors and meteorologists were overreacting, especially since Hurricane Joaquin wasn't even projected to make landfall. My foolishness was proven when the rains came. And refused to stop.
From the safety of my high-ground house, I watched the news and followed Facebook, awed by the pictures of yards and homes flooded, roads and bridges washed away. Churches cancelled services. The state came to a standstill. First responders saved the day over and over again.
Still I seemed to watch from a distance…
But my grandma watched water rise up the stairs and threaten to enter her home. The next morning, she waded through hip-high water in her yard, holding a grocery bag of her essentials over her head. She got to her car and navigated drenched-but-still-open back streets to get to our house. And we began a whole new round of watching. No longer did the homes and businesses underwater seem distant, though they were but streets away.
Suddenly the flooding got real, as we waited all that afternoon and night, praying my grandma's home wouldn't suffer damage, that the water would recede right back down those steps.
It did.
"I establish my covenant with you: Never again will all life be destroyed by the waters of a flood; never again will there be a flood to destroy the earth." Genesis 9:11 (NIV)
The other side of her neighborhood flooded even further, revealing a water line that stopped just short of the windowsill on the house directly across from hers. When we could drive to her home, going the long way to avoid the flooded roads still closed. When we got there, her front yard looked like this, but the inside of her home was completely dry.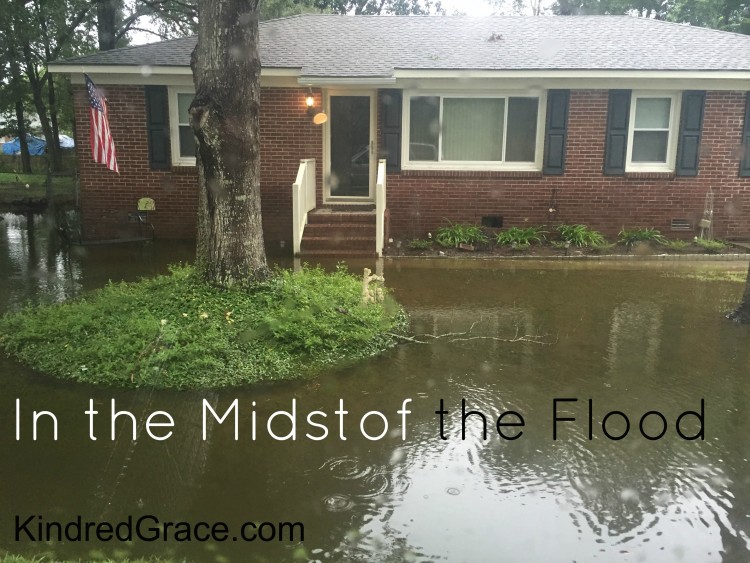 I couldn't tell you why the other houses suffered horrible damage when hers remained untouched, other than God saw fit to answer our prayers. For the same reason, our house was spared when others not a mile from us saw their cul-de-sac become a lake. What I can tell you is that the water receded from Grandma's front yard, and that the lake dried up in the sun that came out the next day.
The water just left, leaving much damage and loss in its wake for so many in my state. And we were spared. Was it because we prayed a hedge of protection around our own home, around the home Grandma shared with Grandpa before he went to his heavenly Home? Perhaps. But I'm sure others probably prayed the same, and some of them might have been the ones to lose everything, to have to call for rescue from their flooded vehicles or homes, to evacuate when state troopers knocked on their door and told them it was time to get out because of a breached dam.
Would you pray with me for the recovery, for those who are hurting–here and around the world?
And rejoice with me that this God we serve loves us so much and knows us so well that He knows when to allow the rain and when to tell it to come no farther?