Christmas Books Children Love
Disclosure: This post contains affiliate links which won't change your price.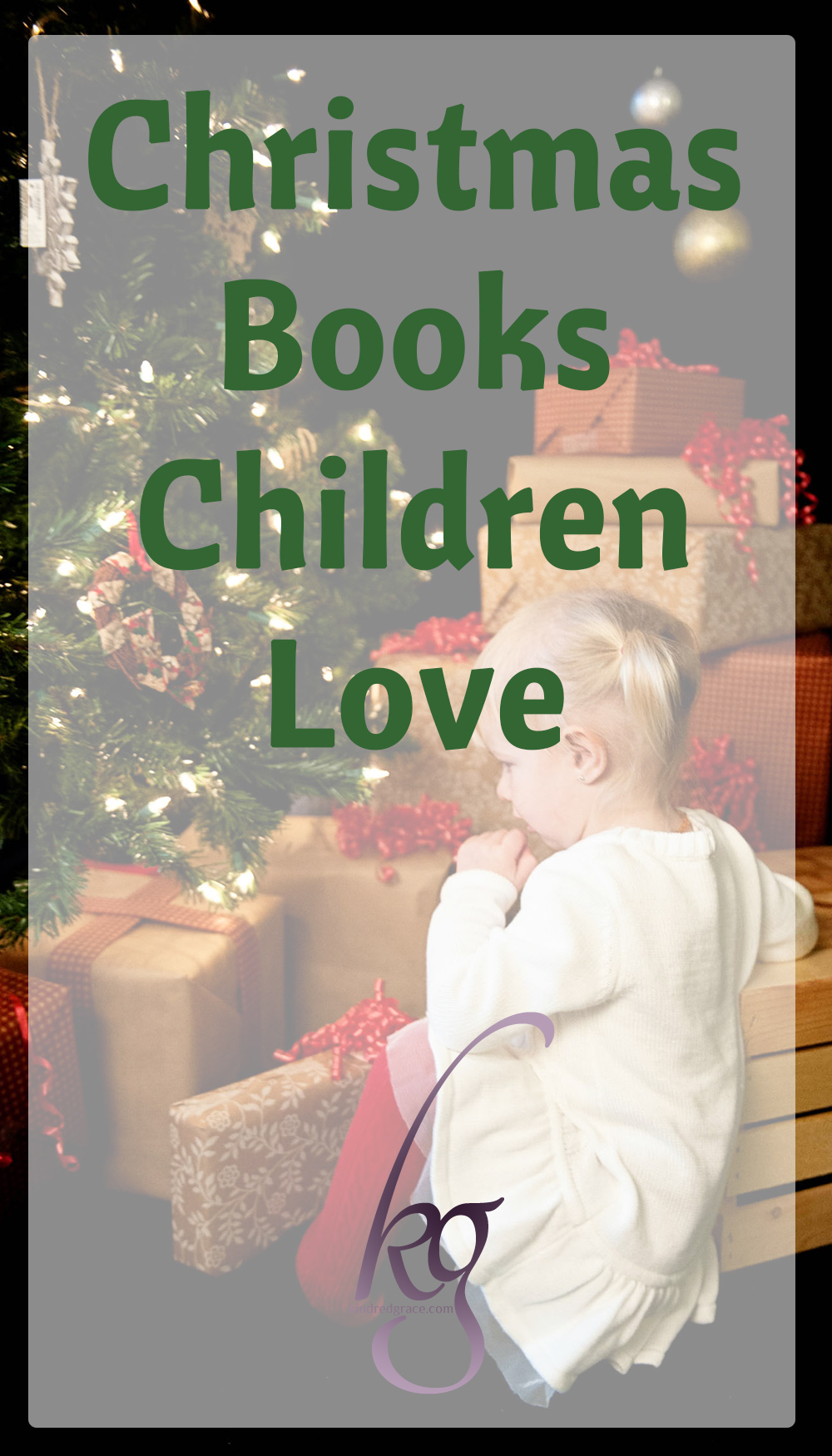 One of these years, I am going to try wrapping up a few books to open and read each day of Advent. This year, I felt like I was planning ahead by getting out of the box of Christmas books before Thanksgiving was past. Sometime, I'll make a careful, chronological list of the books I want to read leading up to Christmas. But this year, we're just reading the ones we love, over and over again.
I emptied the box of Christmas books onto a shelf in the living room. They're ready to read at a moment's notice. Available for the children to browse through whenever they want. And the ever-changing, overflowing stack in front of the shelf is a testament to the most favorite and frequently read of the Christmas books.
And while I may be reading every single one of Chautona Havig's Christmas novels in the quiet hours of the night, it's the Christmas books for kids that we're reading aloud each day with our four children.
It's hard to choose a favorite when it comes to Christmas books, but the Kindred Grace writers got together to share a few that we–and our children–love. And of course, we're all ears for even more recommendations. Please comment with your favorite Christmas titles for children!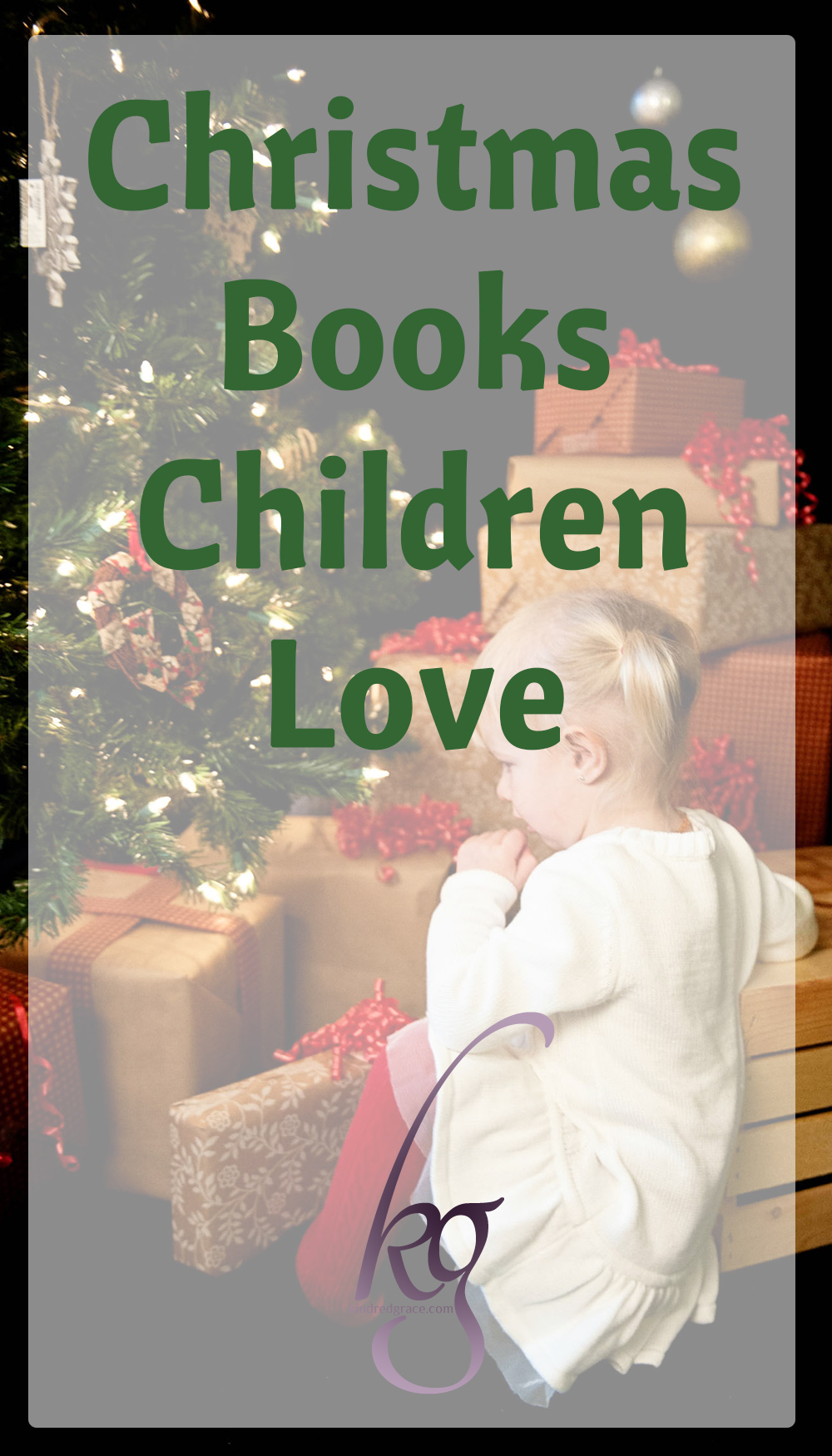 Reviewed by Jeannie Pederson
Natasha Metzler's book Christmas! is a book I'm excited to add to our family's Advent tradition. With 25 stories, it's the perfect countdown to Christmas, and the one-page accounts with beautiful full-color illustrations are just right for a child's short attention span. My favorite thing about this book is that it doesn't just tell the epic story of the Bible leading up to Jesus' birth (although it does). Beginning at Creation and including the saga of the patriarchs, the Exodus, and even covering the messages of the prophets, the book continues past the birth of Emmanuel to tell the complete story: the reason the Baby was born was to die. To save a guilty world. To do battle with the evil one and win. And to rise victorious forever. It's the complete message of the Gospel in a beautiful Christmas package!
Watch the Book Trailer | Read Reviews | Download the Hand Motions
Reviewed by Shannon Coe
Jonathan was not the Scrooge people thought he was; he was a very hurt and wounded man. Carving a new manger scene with the help of a local little boy helps heal Jonathan's wounds and a miracle of joy and hope is given. This is a beautiful story for those who have suffered loss or are tender to those who have. The pictures are gorgeous. It's a bit on the serious side but can be a tremendous help in neutralizing greedy hearts in this season.
Watch the Book Trailer | List to a Dramatic Reading
Reviewed by Caroline Kraft
Written in 1955, this illustrated version is accompanied by the artwork of Mark Buehner. Christmas Day in the Morning tells the story of a fifteen-year old farm boy, Rob, who wants to give his father a wonderful Christmas gift. Caught in the confines of a small budget, Rob can't think of anything he could buy which would exemplify his love for his father, so he comes up with another plan. Rob rises extra early on Christmas morning to do his father's chore…the one thing that cannot be put off, even on Christmas. Rob's father has never seen his children come downstairs on Christmas morning, because day after day he has to milk the cows first thing! Beautifully told and illustrated, with hidden images in the each picture, Buck's story reminds us gently of a powerful truth: the best gifts we give are those of sacrificial love. Great for all ages.
Reviewed by Chantel Brankshire
Last year, the university bought each of the kids in my husband's department a gift for Christmas. Charlotte was absolutely tickled when she pulled off the paper and found this book. Silent Night is a simple telling of the Christmas story from "no room in the Inn" to the wise men who brought their very best gifts to welcome Jesus. Charlotte loves the simple pictures with recognizable animals and items from the story of the nativity that build with each turn of the page. And her favorite part–it plays "Silent Night" while you read the story. It's sturdy enough for little hands and makes a sweet Christmas bedtime story for the tiniest ones. Of all the seasonal books, this is the one that gets opened the most!
Reviewed by Chantel Brankshire
Even though Christmas was still months away when I got this book, I let Charlotte have a little peek. She was completely absorbed by the pictures and my simple version of the story of Jack and his lesson about how blessed it is to give, even if all we have is a Christmas Cookie. I loved the pictures too, and was thrilled that there is a recipe for traditional Christmas cutout cookies in the back. Christmas cookies are a part of our traditional Christmas, too. What a perfect way to celebrate the season with your little ones! (Read a complete review on my blog.)
Reviewed by Gretchen Louise
When I asked my children about their favorite Christmas books, my second oldest examined the stack of Christmas books and decided upon Merry Christmas, Big Hungry Bear! We love The Big Hungry Bear–so what's not to love about a a Christmas version? We have a well-loved board book version with adorable illustrations of Christmas with some of our favorite characters.
Reviewed by Gretchen Louise
We love this book for more reasons than just the fact that we sell Christmas trees. The spirit of giving is reinforced through this simple tale. It's the perfect book to read on the day you decorate the tree (along with The Christmas Tree That Grew and The Cat That Climbed the Christmas Tree, of course)! Liz Curtis Higgs whole parable series is worth collecting! (Read my full review.)
Reviewed by Gretchen Louise
This classic Christmas book is a recurring favorite in our home. When a boy gets stuck out in a snowstorm, he finds refuge in a home his grandpa helped build. The woman who welcomes him keeps him entertained by telling him the Christmas story–from the Garden to Golgotha. Lush, detailed illustrations accompany this story of 11 chapters. It's rather long to read in one sitting–especially with littles–but it's a beautiful addition to your Christmas library (in addition to Natasha Metzler's Christmas! which reminds me a bit of this classic).
Photography: JenniMarie Photography