Meet Elizabeth.
By the time her story began, she was married but she was also old, past the age of motherhood.
In the days of Herod, king of Judea, there was a priest named Zacharias, of the division of Abijah; and he had a wife from the daughters of Aaron, and her name was Elizabeth. They were both righteous in the sight of God, walking blamelessly in all the commandments and requirements of the Lord. But they had no child, because Elizabeth was barren, and they were both advanced in years. (Luke 1:5-7 NASB)
I'm not married so I can't begin to understand the pain of hope for children within marriage when the hope is deferred. Because I'm not married, however, I understand the pain of hope deferred. For me and other girls who aren't married the hope is often for husband and children and home altogether.
Hope deferred makes the heart sick … (Proverbs 13:12)
I haven't found a lot of stories in the Bible about single girls who waited for years for the fulfillment of their dreams, whether they were dreams of marriage and motherhood or something else. (Although I love the stories of Ruth and of Martha and Mary for other reasons.) Perhaps that's why I turn to the stories of Sarah and Hannah and Elizabeth when I need to remember that God is faithful to His girls. They waited for years. And we can learn from their stories even if they waited for babies and we wait for other things. He doesn't forget. He hears our hearts and our prayers.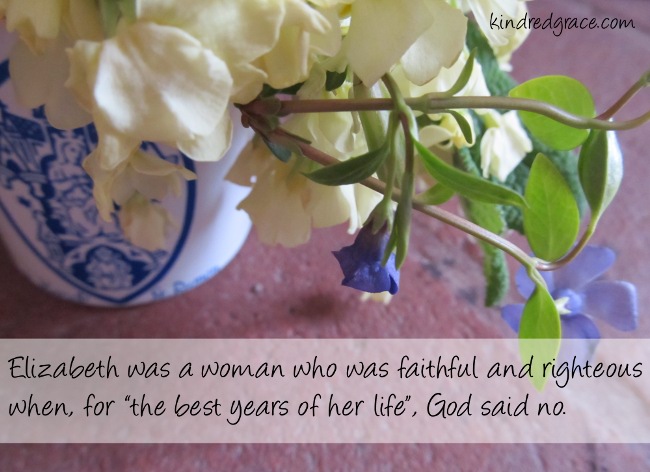 And Elizabeth…?
Elizabeth is special because, like Sarah and Hannah (and other women) before her, she couldn't have children. She was probably married in her teens. And then, for years, she lived with the pain of hope deferred. And in spite of the pain she lived righteously.
The Bible tells us that God gave Elizabeth a baby boy called John who grew up to be John the Baptist.
Elizabeth is remembered as John the Baptist's mother. As miraculous and wonderful as that is, however, she was so much more. She was a woman who was faithful and righteous when, for "the best years of her life", God said no.
Barrenness may take many forms in life. We all have barren places that lie, seemingly in waste. We may even view them as judgment or punishment from God and wonder why He would inflict us with such pain. Yet, we see God's sovereign plan is always at work, and in Elizabeth's case, He had something special in mind. So the question becomes, will I continue in faithfulness, despite the lack I see?

(Danielle Ayers Jones in Elizabeth: Faith for the Barren Years at Ungrind)
I'm challenged by that question.
Deep down inside I wonder if I can be like Elizabeth. My life today is full to the brim with blessings and I'm grateful. (I really am.) Alongside a lot of living, however, I'm doing a lot of praying for a husband and a family and a home. You might be praying for marriage and motherhood too. You might be praying for a university scholarship or a career promotion or a mission opportunity (or something else altogether). All of us, I suspect, are doing a lot of waiting for something with hope deferred.
If God says no, for "the best years of my life", can I be faithful and righteous in the midst of pain?
~*~*~*~
Elizabeth was old but ready when God said yes and her story began, the bit of her story in the Bible. I think she was ready when God said yes because of all the years — and all the moments of crying and laughing, grieving and rejoicing, praying and choosing to trust — that came before the moment when the miracle happened. She was ready because, before God said yes (when He said no), she was faithful and righteous.
I can't be faithful and righteous in the hope that God will be impressed and say yes. I'm called to be faithful and righteous because Christ is faithful and He gives me His righteousness.
If, by His grace, I'm like Elizabeth in this respect then, like her, I'll be ready when God says yes to whatever plans He has for the next season of my life.