believing God for the impossible (like Sarah)
Her name was Sarah and she walked into the unknown with her husband, Abraham, when God called (Genesis 12:1). God promised them a baby and as many descendants as there were stars in the sky (Genesis 15:5). And, finally, three men walked out of the desert and accepted the hospitality of Abraham and Sarah's tent (Genesis 18:8).
One of them said, "I'm coming back about this time next year. When I arrive, your wife Sarah will have a son." Sarah was listening at the tent opening, just behind the man. Abraham and Sarah were old by this time, very old. Sarah was far past the age for having babies. Sarah laughed within herself, "An old woman like me? Get pregnant? With this old man of a husband?" God said to Abraham, "Why did Sarah laugh saying, 'Me? Have a baby? An old woman like me?' Is anything too hard for God? I'll be back about this time next year and Sarah will have a baby." Sarah lied. She said, "I didn't laugh," because she was afraid. But he said, "Yes you did; you laughed."
It's funny, but Sarah's lack of faith shocks and surprises everyone, four thousand years (give or take a few) later. From her perspective, however, laughter was a natural and reasonable response when a guy walked out of the desert and said that she was going to have a baby.
Wouldn't you have laughed too?
Sarah was ninety years old. She was barren. It was doubly impossible for her to have a baby and I think, if I was Sarah, I'd have cried at the apparent mockery of my hopes and disappointments and the pain of ninety years of waiting for a baby. Ninety years. That's longer than most people live today! That's a lifetime of living with an empty womb and an empty heart, a lifetime of hoping, a lifetime of surviving the disappointment of another month without a baby. And for all that time Sarah waited.
Finally, God promised to give her a baby. The narrative in Genesis skips from Sarah laughing at the idea of having a baby (in Genesis 18:10-15) to Sarah laughing at the reality of her baby boy, Isaac, born of her womb and held in her arms (in Genesis 21:1-7). The writer of Hebrews tells us more and assures us that, in spite of her laughter, Sarah had faith. He says,
By faith even Sarah herself received ability to conceive, even beyond the proper time of life, since she considered Him faithful who had promised.
God gave Sarah the promise of a miracle and asked her to believe in Him and His ability to do the impossible. She needed faith. She had faith. And God made the impossible — the impossible to her old and barren body, her impossible — a reality in the shape of a baby.
God's promise and Sarah's faith overcame her impossible.
So Sarah had a baby and laughed again. Maybe she laughed in breathless, dizzy delight and wonder when she held Isaac, the child of the promise, in her arms for the first time, when she looked into his eyes for the first time, when he called her "mama" for the first time. And now, of course, we know that God is able.
We know because of Sarah. Because of Moses. Because of Hannah. Because of David. And because of Mary. Remember? Thousands of years later, speaking to another woman, (who was, incidentally, one of Sarah's descendants) God said, "For nothing will be impossible with God." (Luke 1:37 NASB)
Yet we laugh — all of us, me too — when God gives us the promise of a miracle that stares our impossible in the eye and says, "You're going down!"
Why don't we remember the manger and the cross and the tomb…the empty tomb? God, apparently, likes doing the impossible. For all of us, not just for Sarah. Or maybe He likes to do the impossible with us and maybe He likes us to laugh with abandon and confidence when He promises to do the impossible. Maybe He likes us to plunge courageously into the midst of the promise and the impossible with Him. Maybe, maybe His promise and our faith can overcome our impossibles.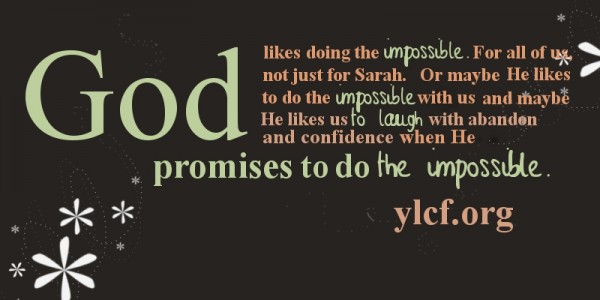 When Isaac was born, can anyone quantify the unbounded gladness that filled the hearts of Sarah and Abraham? They must have laughed again then, laughed without pain, laughed with abandon at the miracle of the baby that squirmed in Sarah's arms. I wish I could ask them if at that moment, they understood the waiting, the yearning, the pain through all those years of hope deferred. Did they forget it all in their joy? Did God ever explain himself? Or was his answer simply the child and that was all that was needed? Was God's grand answer simply a child whose very life echoed with Almighty laughter?

-Sarah Clarkson, from "When God Laughs," on the Rabbit Room blog