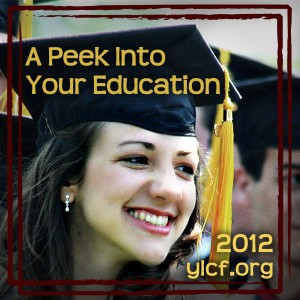 "The object of education is to prepare the young to educate themselves throughout their lives."
-Robert Maynard Hutchins
Each October we take a peek into each others' lives, focusing on one theme throughout the month at ylcf.org and then giving everyone an opportunity to share in the link-up at the end of the month. This year, we're going to take a peek into each others' educational experiences.
Maybe you'd like to interview your teacher. Maybe you have a story about an education experience abroad. Maybe you'll give us a peek into a day at your school or university. Whatever your story or experience, we're looking forward to hearing about all of our diverse educational backgrounds and aspirations. Between now and the link-up, look for all sorts of posts from the YLCF Team (which includes a few new faces!) and several guest authors on all subjects related to education.
"Education is what remains after one has forgotten what one has learned in school."
-Albert Einstein