"The more I know of the world, the more am I convinced that I shall never see a man whom I can really love. I require so much!"
-Marianne Dashwood
How many of us sighed at that endearingly-rendered line of Kate Winslet's in the movie Sense and Sensibility? I know I did, and giggled with my girlfriends over it afterward. Though not one of us seriously doubted the likelihood of our falling in love one day, it was fun to imagine ourselves turning away scores of dejected suitors and minding our maiden way quite happily. That is, until The One appeared on the scene. We all had different opinions on the making of a perfect man, but one thing we knew for certain: we'd recognize him in a moment.
In fulfillment of a promise to address some of the questions raised on the subject of ideals and expectations, I'd like to begin by saying that Elizabeth has already said it all. Her words rang with the winsomeness of true devotion—to the Lord and to her husband—and my spirit was refreshed, as I know many of yours were, by the simplicity of her response. We often make things so unnecessarily complicated by our musings and emotional meanderings, grasping at this counsel and that, scrutinizing God's dealings with those around us as if they could actually have any bearing upon His dealings with us. The fact of the matter is that the only way to true peace with regard to our future mate is by way of an age-old path called surrender.In fact, it's the only way to true peace about anything. And the more comfortable we are with that idea, I believe, the happier we are in this life. We sometimes think of surrender as a last resort, an arms-folded acceptance of an unpleasant situation, rather than the gateway to all the delights our Father's blessing and joy. How He must marvel at times over our lack of faith!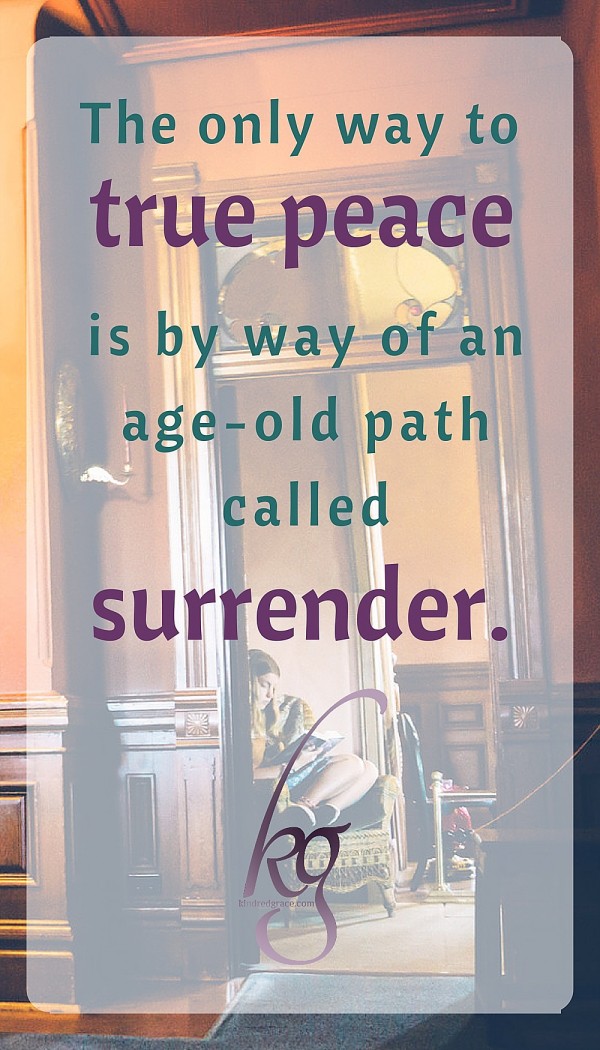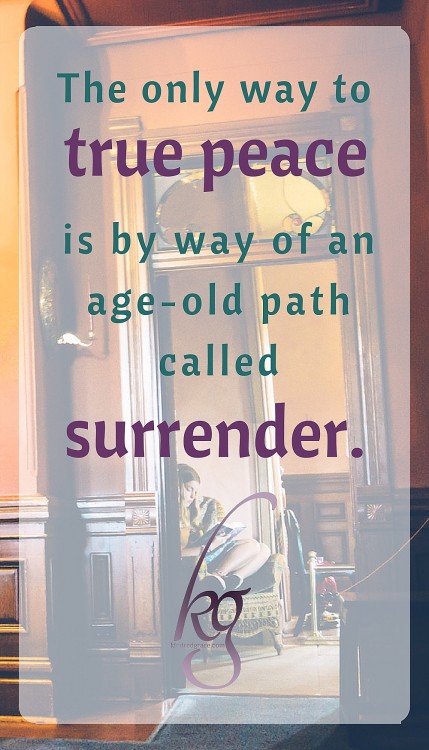 There was a time in my life when I actually allowed myself to think that God was going to give me the exact opposite of all my heart cherished just to build character in me. Events had dragged my ideals through the mire—and my expectations along with them—and I had begun to doubt that the dream of love was a valid hope. I questioned my married friends almost feverishly—Is this love business all it's really cracked up to be? And how do you know if you're really 'in love'? And, if you are, does it last? They were undeniably patient with me, and gave me such winning, soft-eyed answers. But I was still skeptical. They're in love! I'd protest to myself. How could they possibly know?
It was my younger sister who finally called me to task on the matter.
"Lanier!" she exclaimed one day when I ventured to suggest my new ideas. "What are you talking about? If we ask Him for bread, does He give us a stone?"
If we ask him for a prince, does He give us a boor? If we appeal for His guidance, does He turn His back? To be sure, God uses disappointed hopes and challenges in our lives to make us more like Jesus, but does He want to be perpetually miserable? Permit me to underscore it—God is perfectly capable of leading us through the process of preparing us for our spouse if we'll let Him. He won't prevent us from taking matters into our own hands, from going off on our own and making bad choices. But He does say that if we give Him the reins, He will guide us in the way we should go.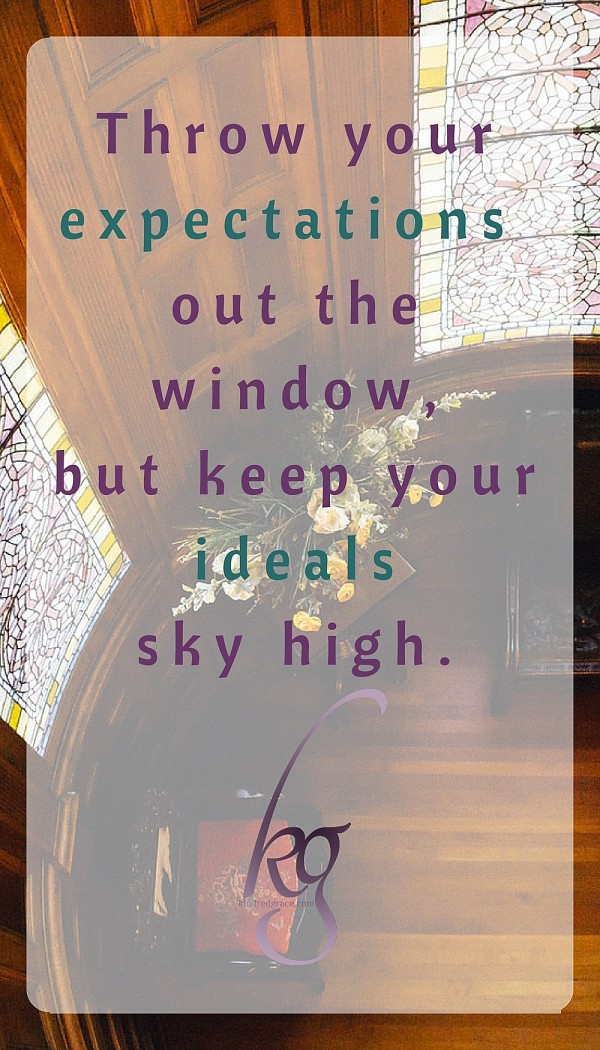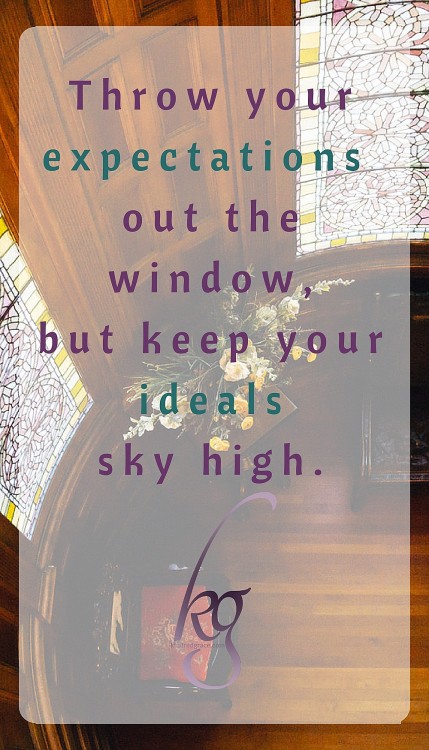 Now I'll dip into some of the mechanics of ideals and expectations. But just keep one thing at the front of your minds: if our expectation is in the Lord Himself, we will never be disappointed.
I would like to make a clear distinction between ideals and expectations. You may remember my mother's friend who adjured me: "throw your expectations out the window, but keep your ideals sky high". I think it was only after I crossed from maidenhood to marriage that I fully realized the wisdom of those words. But, of course, at that point, I had the flesh and blood reality of all I'd been waiting and longing and praying for right there beside me. It was much, much harder to trust that the man I was dreaming of would be all that I had hoped when I was still wondering if he even existed or not. And it was even harder to see the difference between expectations and ideals.
Ideals, I believe, can be a part of a God-given vision of what He wants to do with our lives: what will be best in His loving plan, and, frankly, most appealing to us as the individuals He has created us to be. Rather indistinct, to be sure, because by their very nature they imply a hope not yet seen. But an indefinable part of our very selves.
Expectations tend to be more explicit; they seem to leave less room for God's surprises and specifics. And they usually indicate that our imagination has pranced ahead of reality and painted a scene on our minds which quickly goes to our hearts and lodges there, masquerading as an ideal. A non-optional requirement. An absolute.
Ideals are things you can't back down from—things for which you'd choose singleness rather than deny. Is he devoted to Christ? Is he devoted to you? Is he absolutely committed to the principles of God's word? And, not least by any means, are you devoted to him? I believe that the dream of love is a very valid ideal, so long as it is founded on the love Christ modeled for us, the kind of Love that knows beyond all doubt that it is sweeter to love even than to be loved. Ten minutes into a good marriage you'll recognize your own unworthiness—both of you—and ideally (and I use this word purposefully) you'll channel this self-realization into a self-giving devotion. Because that is the only way to fully experience the joy God had in mind for us when he thought up marriage in the first place.
When you have given your heart to your expectations, to specifics about how he will look or what he will wear or what kind of music he'll listen to, then you've fallen in love with a mere symbol, an image. An idol. We all do it. I know I did. But the wonderful thing about the place God finally had me when I met my husband was that He'd allowed me—through bitter tears—to lay down those specific requirements in a heap. Throughout the wonderful privilege of falling in love with Philip, a real man (and I'm still falling in love with him…), I discovered to my delight that so very many of the things I had 'laid down' were resurrected before my eyes.
I hesitate in giving specifics, lest they develop into expectations in anyone else. God's dealings with each of us are completely unique. But one thing is ever and always the same. He can be trusted. And you cannot ever lose what you have offered to Him.
As an older sister in the Lord, as one a bit farther on the path than some of you may be, I'd just like to figuratively put my arm about each of your shoulders and say, 'It's okay—calm down. Your spouse is not something that's going to happen to you. You have a God-given choice and responsibility in the matter, to carefully weigh every situation you find yourself in, to seek the Lord and His counsel. He will take care of the rest. And we couldn't ask for a better state of affairs.'
Remember what Elizabeth said:
Some have said God gave them everything they asked for in a husband. God chose to give me far more than I ever could have asked.
I couldn't agree more. The Lord is good…
Photography: JenniMarie Photography