Every extra penny went into a savings account. Budgets. Moderation. I watched Dave Ramsey and spoke with the utmost knowledge about money, investments and wastefulness. I sighed and shook my head at people who misused credit cards. I felt sorry for those who had never learned the proper way to handle money or to embrace the goal of becoming debt-free.
I was a fool.
There are certain principles that are wise and prudent to live by, but they are not "cure all" answers to life's problems. Everything must be approached with grace. Mounds of it. So much that it spills out onto every word, every thought, every action. By all means, we should learn to handle our finances and we should aspire to help others do the same, but only with humble grace.
When my husband and I came home from Haiti, we had $20 between the two of us. That was it. We also had over $4,000 dollars worth of bills due that month. It wasn't a matter of "cutting out" and of "budgeting" — you can't budget twenty bucks.
Months passed and we couldn't pay our bills. We scraped and saved. I cried. Couldn't sleep at night. Worked harder. And God humbled me. Swiftly.
We started spreading the word that the farm was available for sale and I ached in agony over it.
And I learned to pray in brokenness when it came to the area of finances. I didn't have any answers and I realized that I never had.
God was gracious. He worked miracles. Not only did we not sell the farm, but by the end of the year, miraculously, we were able to pay it off.
But I'm being brutally honest here: we missed months' worth of payments. Our electric bill. Our heating bill. Our mortgage. Months. My credit score, that I had once been so proud of, was ripped to shreds.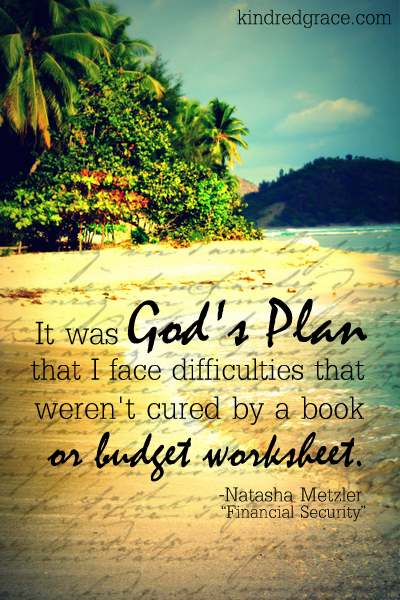 It wasn't our plan to go to Haiti until our farm was paid for. It wasn't our plan to go without a year's worth of income sitting in the bank for when we came home. Yet, God doesn't usually depend on our plans.
It was God's plan that I learn grace. It was God's plan that I face difficulties that weren't cured by a book or budget worksheet. It was God's plan that I learned to feel desperation and learned to scrape my knees raw, kneeling before Him.
It is God's plan that I be refined in every area. Finances, relationships, careers, schooling, etc… To remind me that there are no "cure all" answers. There is just Him and me. There is my heart laid bare before an Omnipotent Creator. Humbled and sifted. Made beautiful through my broken weakness and my utter dependence on Him.