How to Trust God Even If He Says "No"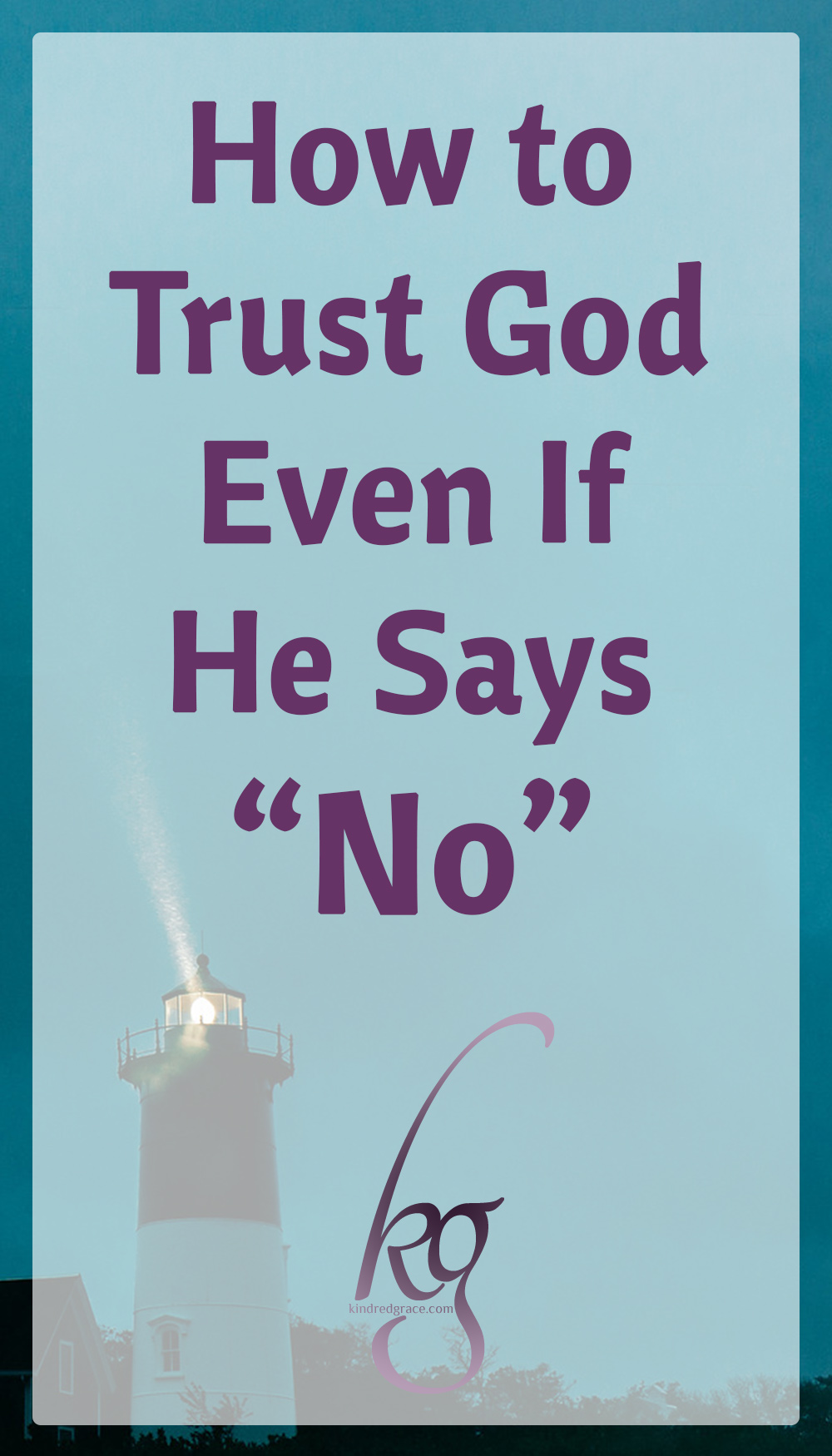 Oil glistened on her forehead as the elders prayed. Their requests rose to Heaven along with those of hundreds of saints, begging God to heal her physical body.
For my precious, beloved Aunt Dee-Dee was dying. Spreading from her uterus, cancer viciously conquered her body. After months of treatment, her doctors discovered the cancer had metastasized to her brain.
I was only eleven years old. Like other kids enjoying the long break from school, I relished riding my bike for hours and swimming in golden rays of sun. But cancer defined that summer.
My aunt and my mom were the "chemo sisters". A few months after my aunt's diagnosis, a biopsy confirmed my mom had breast cancer. But my aunt's case was far more progressed.
Aunt Dee-Dee grew weaker and weaker. Doctors gave her six months to live. With a suitcase full of belongings, she came to our home on Hospice.
Being able to serve her was a joy and an honor. Each morning, I would help put on her earrings. Bald from chemo, she would swipe the peach-colored fuzz on her head with her hand, always jesting, "Should I wear my hair this way, or this way, today?" We would all laugh. Her faith was not daunted by her diagnosis.
I remember being told she wouldn't make it to my twelfth birthday. But it didn't really worry me. The prognosis didn't trouble her, after all! She would say, "How big is your God?"
Photographing lighthouses had been one of her passions. Now her faith became the lighthouse, a beacon of hope to all of us watching her suffer.
Like Shadrach, Mesach and Abednego, her heart said, "My God can rescue me! But if not, I will still trust in Him." The verse she held onto was Philippians 1:21, "For to me to live is Christ, and to die is gain."
I hated the talk of death. I didn't want my Aunt Dee-Dee to die! I wanted her to see me get my driver's license, graduate high school. Have her tease the young man I would bring home, and welcome him into the family as my husband. Bounce my babies on her knees, and call them her "little chunk-a-lunks".
I needed her unique laughter to ring through my home. I needed her warm hugs and long talks on the phone.
I prayed every day, along with many, many other people, "God, You are able! Please, Lord! Please, let us have her longer. I'm not ready to let her go!"
I knew God was listening. I knew He heard me.
But could God still be good if He told me, "No"?
As her physical body grew weaker and weaker, her soul flamed up into new life, burning with an intensity and purity that will forever mark my heart.
Soon she couldn't walk, and one day, she slipped into a coma, five weeks after going on Hospice.
As she lay in bed, family members and hospice nurses attended to her. One still day, it seemed the weight in the air was not the August humidity, but the presence of a world not seen. Eternity and earth meeting at her bedside.
Beloved friends from her church came that evening. They surrounded her bed and sang to her. Angelic hymns of praise filled the air with worship, as she labored, struggling to breathe. Her eyes did not open, but I know her soul could hear the music. Hear their last love offering.
I came to the empty room, where her hospital bed had stood.
Jesus had come down, taken her by the hand and led His child home.
God had said, "No". No to thousands of prayers.
He said no to me.
Why did God say no? Could I understand His eternal plan in that moment? I couldn't. And I still can't.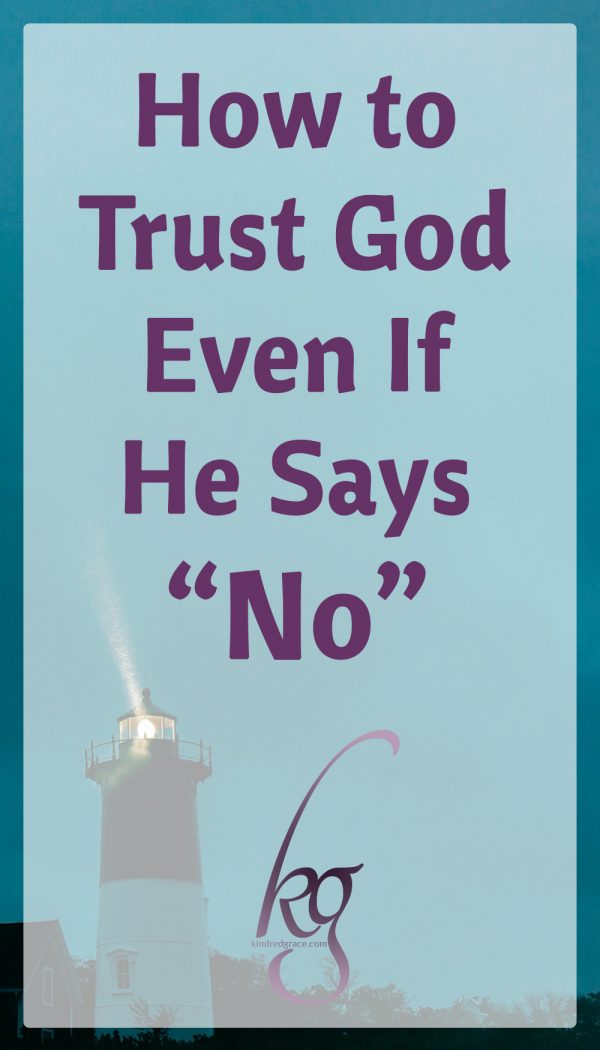 Trusting in God and His goodness when He says no can be the ultimate test of our faith. All the Scripture promises us about prayer seems empty.
I have to think of the Garden of Gethsemane. Where the gravity, the enormity, the excruciating pain of what Jesus was about to endure crashed over Him.
He was to bear the sin of the entire world. To be separated from His Father as our sin covered Him.
As God, He understood the greater plan. He knew the redemption His suffering would bring to all men.
Yet, He was a man, too. He prayed, in the greatest agony that the human spirit has ever endured, "Father, if thou be willing, remove this cup from me!" (Luke 22:42, KJV)
Jesus asked God to take the cup from Him. To get Him out of there, to make it all go away, to make everything right.
We can never suffer like Jesus did. But in those crucible moments when our faith is tested, when all that is left is our naked soul prostrate before God, how will we respond?
If we look to Jesus, He revealed to us the secret to overcoming the "No".
For when God said no, Jesus prayed, "Nevertheless, not my will, but Thine, be done."
There is no greater prayer of faith.
But isn't faith greatest when we obtain what we ask of God?
Or is it when we believe in spite of what we see? Trust in the eternal plan we can't comprehend.
Our faith, in the face of suffering and pain, is evidence to the world that God exists. That He is love. That He is good.
My aunt taught me this truth.
She lived out the secret to the "No". She asked God to heal her. She fervently sought the "Yes".
The heavens seemed silent.
Yet she said, "Not my will, Lord. Let Your will be done."
Like the lighthouses she loved, the memory of her faith pierces the darkness of life's sorrows.
In the crashing waves and savage storms of life, I am separated from the shore, and I feel lost. Certain I'm going to drown in this struggle, this heartache, when my faith has fallen on hard times.
The remembrance of her faith beckons me to come home to Him. To trust in His goodness, His power, His unending love.
"For I am persuaded that neither death nor life, nor angels nor principalities nor powers, nor things present nor things to come, nor height nor depth, nor any other created thing, shall be able to separate us from the love of God which is in Christ Jesus our Lord." (Romans 8:38-39, NKJV)
Photography: JenniMarie Photography