"Then fill up your journal with words. Funny words. Enjoyable words. Stories. Poems. Jokes. Bible verses. Quotes from other writers. Things we've learned in sermons. Things we've learned from friends and family. Life is short. Write good words."
There's a hint of autumn in the air and a lot of newness too. New curricula and books for students. New children in Sunday School. New plans for a new years of study and work. And, for some of us, new diaries too.
Maybe you write a "dear diary" sort of diary. It's a record of your life: events, conversations, thoughts and feelings written day by day, the story of your life. Maybe it's also a record of what God is doing in your heart and life. Maybe you fill the pages with verses from the Bible and quotes from the books you're reading. Maybe what you write is for your eyes only or maybe it isn't a big secret.
Or maybe you don't have the desire and time to write a "dear diary" sort of diary. You want to create a record of your life, but there are so many other things to do — and so many others who do it better. Perhaps, like me, a beautiful book of paper is expensive and impractical because you need dates and times and a whole year in one book at one time. Last year I found a way to join "practical" and "pretty" and this is how.
Use a regular diary. Buy whatever diary meets your needs. For me, that's a medium-sized and low-priced office diary that contains all the days of the year as well as lines and lots of space on each page. A plain diary offers more scope for the imagination.
Make it your own. This year I copied a pencil drawing and a handwritten quote and stuck them on the cover. I covered them with clear and sticky plastic. Pictures from magazines and copies of prints — pictures or words — look lovely too.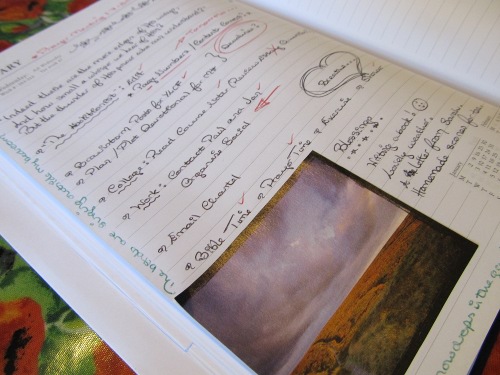 Use it day by day. Write your appointments and lists of things to do on the pages. Use your diary just like you always use your diary, but …
Take a moment — once a week or once a day — to stick a picture on each page. I use pictures of sea, countryside, gardens and homes cut from country living magazines. Along with pictures of fruits, vegetables, herbs and spices cut from supermarket food magazines. I like my pictures to be cheerful, pretty and restful.
Choose a quote every week or every day and write it on each page. I choose a verse from the Bible that is speaking to my heart or a quote from a book or a blog that I'm reading. Write it as prettily as you can — or, if you don't like "pretty", write it as boldly as you can! Use a fancy handwriting and an interesting ink.
When you write your appointments, take a moment or two extra, to write in a nice handwriting or an interesting ink. Doodle a flower or a heart or a star instead of a regular bullet point. Underline important words with squiggles or surround them with stars.
In a corner of each page, write a list of your blessings as you count them, moment by moment.
In any free space…write a memory. Something funny. Something special. Did you notice the first of the spring flowers? Did a friend send you a note of encouragement? You only need a few moments and a few words. Record the memory and there it is…a little bit of the story of your life in the middle of a beautiful (if busy and messy) page of your life.