5 Steps from Aspiring to Author
Disclosure: This post contains affiliate links which won't change your price.
I'm a bit different than most authors. (Okay, I'm a bit different than most people!) But I can relate closer to authors in many ways except one. I never really wanted to be an author.
Oh, I dabbled in writing stories. I wrote a few short stories for high school and college. I even had a professor ask me to tell him when my first book was published, a comment I laughed off for years. I played around with some plots, jotting down my "great" ideas, only to have them shoved into a binder to never see the light of day again.
Until one day when one story came to me — a story about a teen, desperately trying to keep his family together, struggling to keep his sister from dying, who risks it all and loses. As fast as I could type that story, another book idea came to me. And another. Then another. Now I have two books published, the third almost completed with a backlog of over twelve different books I want to write. And, no matter how fast my fingers fly, there is always another story developing in the back of my mind.
What changed? How did I go from Maybe one day I'll write a book to being a published author? I didn't know it at the time, but there was a progression of steps that I went through to become an author.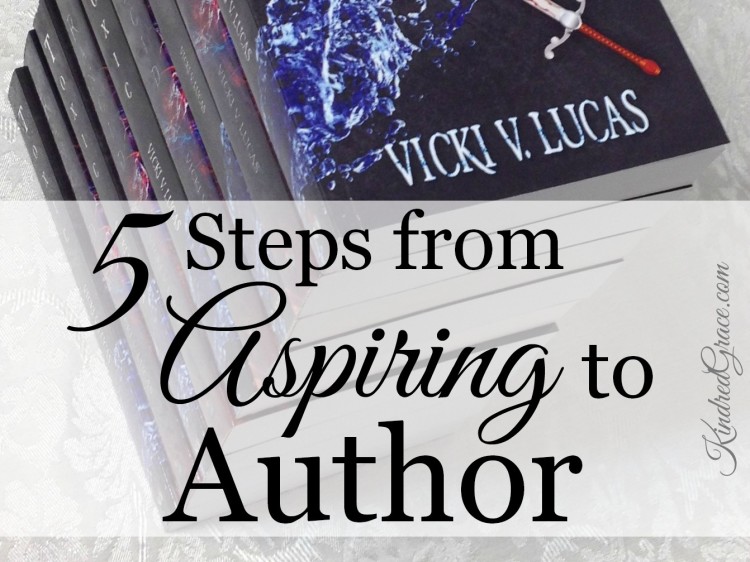 1. Read, Read, and Read Some More!
Before I started writing, I read like the wind was blowing through the pages. I read everything that slightly interested me because I loved to read. This did two things to prepare me.
First of all, it trained me to know a good story. As I discussed stories with other people, I began analyzing books on why it was good or not.
Second, it immersed in the genre that I now write. I love fantasy. I started with The Chronicles of Narnia when I was six. It led me to The Lord of the Rings when I was twelve which led to me to many other fantasy books. It comes with no surprise that I write fantasy. Some people purposely avoid books in the genre that they want to write in, thinking they will have fresh ideas this way. But if you never read fantasy, and come up with an idea of a girl who falls into her dresser, finds herself in a world where it's always fall, and sees a pay phone. Her brother comes along and eats potato chips from a witch, and so on. It may be fresh to you, but everyone who loves and reads fantasy will think that you just took The Lion, The Witch, and The Wardrobe and changed a few things.
You must read what you're going to write so that you can come up with fresh ideas.
2. Like a Musician, Learn Your Instrument.
Before a single word landed on the page of my first finished novel, I spent years studying the English language. I taught English as a second language to adults who were trying to enter university. I had to be able to tell them the difference between the twelve verb tenses. For example, what is different between eat, ate, have eaten, had eaten, and had been eating? I had to explain when your and you're is used. I spent hours on what is a noun and how it agrees with the verb. We discussed hundreds of vocabulary words, including their synonyms, antonyms, nuances, and how to use the words.
Perhaps one of the most valuable things for me that I taught was sentence structure and the usage of the comma. You might not be able to teach classes like this, but you can spend time increasing your knowledge in the English language. Eat, Shoots, and Leaves by Lynne Truss and Elements of Style by E. B. White and William Strunk, Jr. are two great resources. Eats, Shoots, and Leaves is very amusing and easy to read.
3. Go Fishing!
As I began to write, I devoured books on the skill of writing. (And I still do.) I studied character and plot development, how to show emotion, how to write description, and how to craft a story. One thought I try to keep in mind is to always hook the reader. Get the reader to read the first sentence and trap him/her into having to read the next sentence. Continue this until you have a paragraph that they can't put down. Continue that until you have a chapter they have to finish. End your chapter with a cliffhanger so that they have to read the next chapter. Do this until the very end, and you will have a great book.
Do you know what the most important sentence is in the book? The most important sentence in the book is the one that the person is reading. Every sentence you write has to interest, intrigue, captivate, and pull the reader into the story. And this job starts with the very first sentence and doesn't end until the book is finished.
4. Begin Great!
Pay attention to your opening sentence and paragraph. Typically, a person will judge the whole book by the first sentence. When I do book signings, I've seen many people pick up the book and say, "Let's see what the first sentence is like." After they read that, they say, "Yep, this is a book I will like." Then they buy it. This is true of a book, a newsletter, or a blog post.
The beginning is an introduction to your style, and if it doesn't hold their interest, they won't try to get to know you. Here's a word of warning: Writing a great first sentence and paragraph is a ton of work. You will work and sweat and agonize and cry over the first sentence. This is normal. Keep making the first sentence and paragraph as interesting and grabbing until it's perfect. You will never regret it.
5. Don't Forget the Power of Editing.
Never forget the importance of editing. Your first draft, the first words you write down, will need help. That's okay. Get your ideas and thoughts out, and then go back and make them even better. We all make silly mistakes. Recently, I was reading through the book I'm currently writing and saw this… "He was trapped by his trapped." It was supposed to read "He was trapped by his fear," and honestly that still needs editing because it's not active. Don't look at your first draft and get discouraged. A successful writer knows that it takes many edits to make the book great. Editing is a valuable tool we have to expound on ideas we forgot to add in, find tiny and major mistakes, delete the useless, and improve the mechanics of writing.
This may seem overwhelming to you, but don't let it be. You can read while you are getting your first draft down. Just think of all the stories you can enjoy in the name of research! You can learn as you type. Microsoft Word is fairly good at finding the mistakes and even explaining them if you need it, and if you're still confused, drop me an email or join a writer's group on Facebook where you can ask your questions. Your opening sentence will evolve as you edit, each time getting a bit better. Editing will show you how to improve your story and skill, which is an interesting process!
Is it a lot of work? You bet! But writing a novel is one of the most rewarding and thrilling jobs I have ever done.