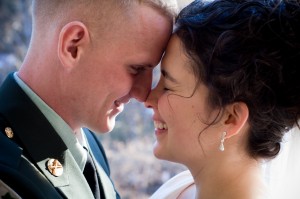 by Elyce Westby
A group of friends had asked me out for an after-church lunch. Stepping into the café, I headed towards our table, anticipating a nice time. But what awaited me in that back dining room was infinitely more than I ever imagined. He was there.
I always wondered about the moment when I'd meet my future husband. Romantic dreams of Elizabeth Bennett and Mr. Darcy on a sun-drenched morning hillside filled my mind – Austen à la mode.
But can I confess something?
I barely remember Josh at all from that day.
I know he was sitting somewhere to the right of me – with the smattering of new young men who had joined our party. They all seemed commonplace enough – two techy brunettes, a jolly bald guy, and a young-looking blonde. Quickly surveying the latest additions to our group, I surmised that my husband wasn't among them. (In those days, every encounter with a bachelor was marked with the question – "Maybe he's the one?") Any thoughts of future prospects being swiftly dismissed, I settled down with my menu and enjoyed the chatter of friends.
But God was up to something that day. And only He knew how that "young-looking blonde" would forever change my life, forever change my heart, forever change my assumptions.
Through a whirlwind of encounters and experiences – including the deepening of friendship, the magic of falling in love, a courtship mixed in with a war deployment, and finally our beautiful wedding day – Josh and I became one. We started on our own journey – the journey of a real life love.
Through all the unexpected moments, I will candidly admit that a real life romance has transformed my romantic views a little. Okay – a lot.
I've learned that a real life love is not as scenic as the dramatic English countryside from my beloved bonnet dramas; however, a tiny apartment, overflowing with love, can dwarf even the grandest castle.
A real life love is definitely not as perfect as a novel's plot; however, the master Author always pens the best story.
And contrary to the fairy tales, a real life love doesn't end with "I do"; rather, the vows are only the beginning!
All of these lessons have boiled down to one great truth, really. The brilliancy of love does not reveal itself like a diamond, in an explosion of flash. Instead, it is found in the shimmer of a thousand little acts and words, a thousand glitters of the everyday. We must learn to look for this love, to search for it keenly. It's often hidden beneath the packaging of the ordinary.
Hidden for us to discover, this real life love.
Elyce Westby is a captivated daughter of the Beautiful One, a lover of words and pictures, and the wife of her beloved American hero. She can be reached via elyce.westby(at)gmail.com.