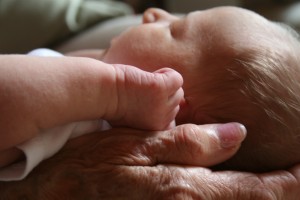 Since becoming a mama, one of the most rewarding new tasks with this role has been nursing. It's so fun to have special, close time with my son every few hours. As he enjoys his meal, I love to admire his chubby hands clasped in delight, watch his toes spread out, and see his eyes open and close slowly. He loves milk, that's for sure.
Now, as a mama, I have a deeper understanding of this passage from 2 Peter:
"As newborn babes, desire the pure milk of the word, that you may grow thereby."
-2 Peter 2:2
There are a lot of similarities between a baby nursing and a Christian reading the Word of God. My son desires milk because he knows it's his life source. If he doesn't eat it, he dies. He doesn't just get its nutrition through vague thoughts about it; he has to really eat it and take it in.
So it should be for us. God's Word is our spiritual life source and if we don't read and study it, our relationship with Him will suffer. We need it not just once, but over and over throughout the day. We need it to permeate our lives and the way we live. My son doesn't just eat the milk, either. He digests it and his little body gathers all the nutrients it needs from the milk. We need to be the same way about the Word; not just reading, but studying, digesting, and meditating it.
If my son would refuse to nurse day after day, he wouldn't grow. My milk is his fuel for growth. Just the same way, if we don't read the Word, we won't grow in the Lord. The Word is the fuel in our Christian walks.
My son can't seem to get enough milk. Are we the same way about the Word?