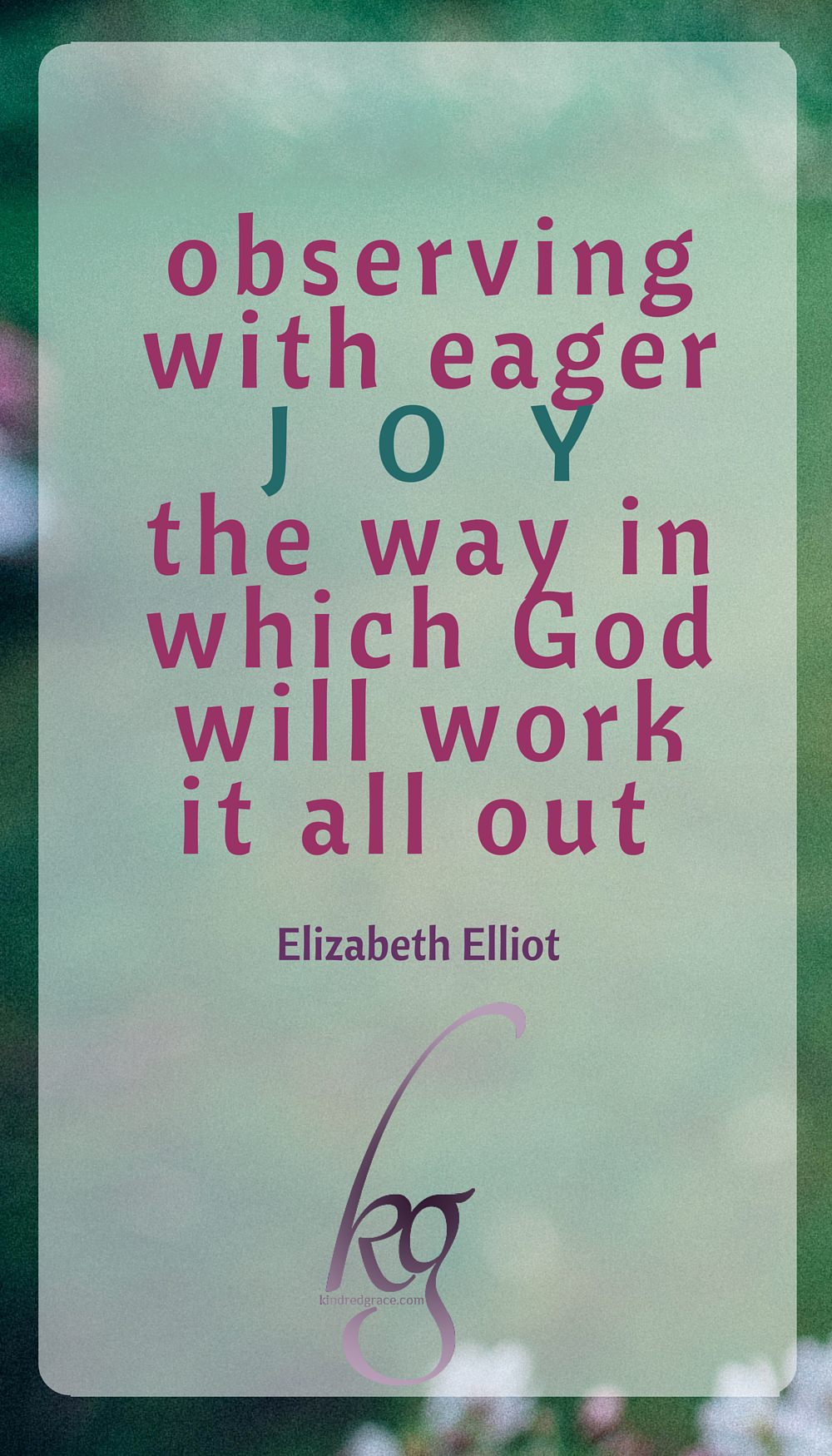 by Elisabeth Elliot
When we are waiting on God, which I think every Christian ought to be all the time, we do not have a time schedule in front of us. We don't know when or whether God is going to answer a particular prayer or do a particular thing or get us out of a certain situation or change any of the conditions of our lives. And sometimes we think of our lives as being on hold.
I don't think waiting on God is a merely passive thing. And certainly it doesn't mean that our lives are on hold. Every second of every minute of every hour of every day of every week of every month of every year we are meant to be living actively by faith. We're talking about trust. And every second is real.
When I talk to young people, they often have this vague notion that the main thing is to get it over with, so that then they can "do something real." We want to get to the real service for God, or the real job, or the real career, or the real life. That's a dangerous attitude.
I wanted a husband. I wanted a home. I wanted children. And so I began to pray about that and hammer away on God's door, asking for His answer. Was He going to give me a husband? And He didn't say yes, and He didn't say no. He said, "Trust Me."
Well, I knew that trusting God might mean that I was to be single for the rest of my life. But I came to the point after wrestling and a certain amount of agonizing in prayer of saying, "Yes, Lord, if that's what You want, I will take it,"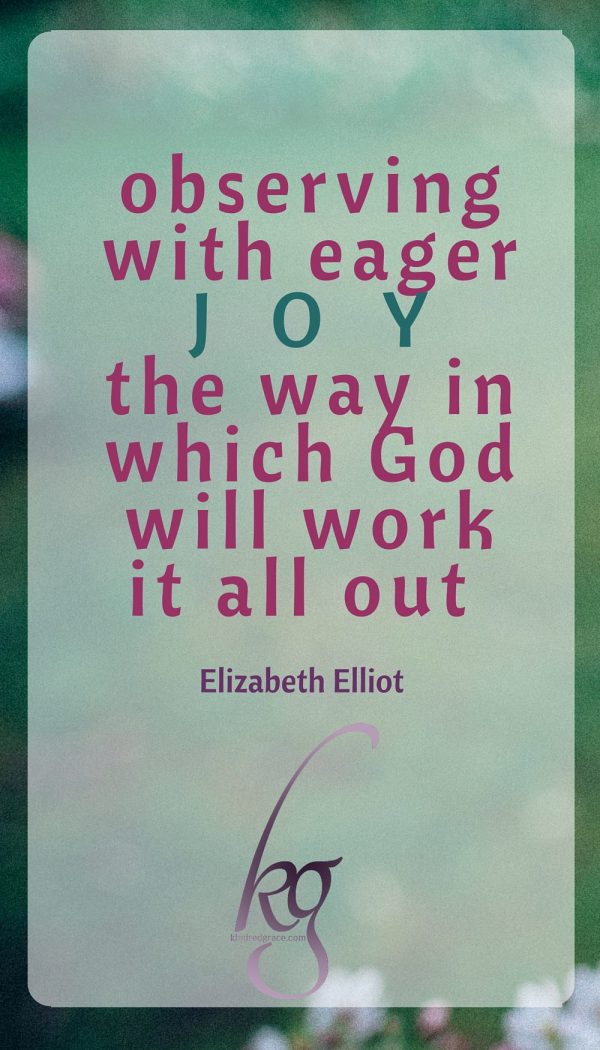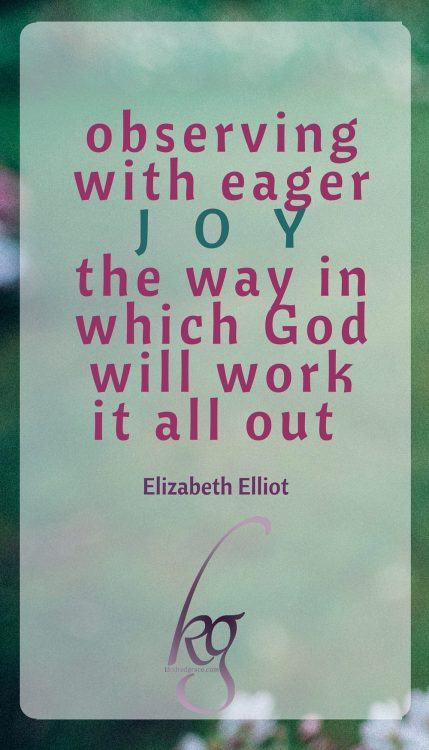 One of my favorite verses and a verse that my mother gave me many, many years ago was Naomi's answer to Ruth (Ruth 3:18), "Sit still, my daughter, until thou see how the matter will fall." The Lord had given my mother that verse when she was worried about the possibility of being a foreign missionary—she wasn't worried about being a single missionary, but about being a missionary at all. She just thought it would be perfectly dreadful if the Lord should call her to be a missionary, perhaps in some awful place… When she began to pray about it, the Lord just said, "Sit still, My daughter, till thou see how the matter will fall." She was also worried about the matter of marriage, and of course, the Lord took care of that—gave her a husband and also made her a missionary.
For whom do we wait? We wait for this God, this Creator God, this Redeemer, this Shepherd, this Savior, this Friend, this Lord, this Master. This kind of waiting is an act of trust. Waiting on God is a willed and deliberate act of trust. It doesn't necessarily have to do anything with your feelings. It's a matter of choice.
(This page contains affiliate links. Your clicks and purchases help support Kindred Grace at no extra charge to you.)
I came across this lovely paragraph in a little book called When Days Seem Dark:
"…There are times when we…do not know which way to turn. It may be just then that we shall learn for the first time how to stand still in perfect peace and quietness of soul, not idling away our time, not hopelessly limp and heedless of the outcome, but working on in such ways as may be given to us, observing with eager joy the way in which God will work it all out to a perfectly glorious ending."
How do we wait, how do we trust Him, how do we wait on God? This requires my cooperation, a conscious, deliberate choice to put myself completely in His presence within those encircling arms, utterly at His disposal. Most of us are too vehement, too headlong, too impatient.
From Elisabeth Elliot's "Gateway to Joy" program. Series Title: Waiting on God, Dates: January 19 & 20, 1998. Copyright ©1998 Good News Broadcasting Association, Inc. (Back to the Bible), Lincoln, Nebraska, USA. Used by permission. All rights reserved.
"God's time for further revelations of the heart might come later. Tomorrow was not our business; it was His. Letting it rest with Him was the discipline for the day, and it was enough."
-Elisabeth Elliot in Passion and Purity
Photography: JenniMarie Photography