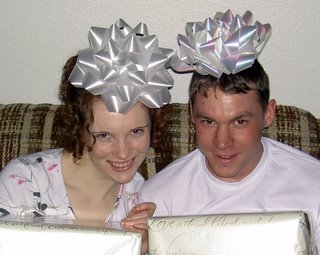 For those who wanted to hear about our wedding plans…or for those who are looking for tips and ideas…here is a glimpse into the many details of wedding planning!
The moment I knew we could truly get married this year, I started planning our wedding in earnest. Even before I had a ring on my finger, I was putting to paper the dreams I'd dreamed of that special day.After a night of little sleep, my mind racing with ideas, I knew I had to write out my ideas so they wouldn't keep running around in my head. I've never been a notebook person, but decided the wedding notebook idea sounded most sensible. I printed off worksheets from
OurMarriage.com
and
WedPlan.com
and organized them behind tabs in my three-ring binder: Checklists, Ceremony, Reception, Wedding Party, Flowers, Registries, and Honeymoon. Later, I discovered that when you do your gift registry with
JC Penney
, they give you a lovely wedding planning notebook for free. It has all the tabs and checklists, designed just for Penneys by Alexa and Elizabeth Lluch, authors of
Easy Wedding Planning Plus
. Between the worksheets and the extra pieces of notebook paper behind each tab, I had a logical place to write down each idea. I knew I'd be digging out the notebook and a pencil at midnight, but I hoped
then
I could get to sleep!
I signed up with both TheKnot.com and TheWeddingChannel.com, but chose to use The Wedding Channel because of their personalized wedding website address. JC Penney also offers a free wedding website through WeddingSolutions.com.
I downloaded Microsoft Excel's Wedding Budget Template and started figuring out all the line items I could eliminate.
Then, I waited for him to show up with a ring so that I could get to planning in earnest!
On Valentine's Day, my man took me on a walk over to our house site, knelt down on one knee…and put the most beautiful ring on my finger. I was the happiest girl in the world! Especially when we set the date and I realized I got to marry my beloved fiance in just 14 weeks!
Before the week with his family was over, I'd designed the invitations (according to an idea I'd had for a long time). A background of some of the letters we've written to each other over the years, with a picture of us above a text box with the date and details, all printed as a 4×6 photo at Costco, then mounted on butter yellow cardstock.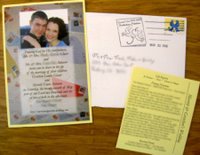 As soon as we got home, I went wedding dress shopping with my mother, grandmother, and little sister…and found the dress on our second day of shopping. I had actually tried it on the year before, when wedding dress shopping with Natalie just for fun–but I'd completely forgotten about it. The bridal shop still had my name on file, so they pulled out my card and found they still had a dress I'd tried on the year before (on sale, this time!). When I walked out of the dressing room, Mom started crying and Jessica started jumping up and down. It was the perfect combination of vintage yet classy, antique yet not outdated, modest yet daring, simple yet elegant, both Southern and Country, and totally unique, just like me! But of course, you don't get any more details until Natalie posts wedding pictures.
It can be dismaying to wade through rack after rack of strapless gowns with low necklines. (Be sure to read about modesty on your wedding day at the GirlTalk blog.) But I was thrilled to find a dress I didn't even have to have altered for modesty's sake! I wasn't so fortunate with the bridesmaid dresses. I soon discovered that I would never find sage green bridesmaid dresses that were fit to wear in public, and there was no time to special-order them from a bridal shop. A phone call to a dear seamstress friend, and it was settled. She had the perfect pattern, and we found just the right fabric on sale. It felt like the wedding planning was half done!
After calling through the phone book, I found out that every photographer seemed to either be booked on that date or charge an arm and a leg. But to me, the pictures were the most important part of the day (other than the groom, of course)! Eventually, through word-of-mouth, I found a Christian photographer who: took great pictures, on a digital camera (a must for me, since I knew he would take lots more pictures when not restricted to rolls of film), offered the CD for sale (prints are literally a hundred times cheaper at Costco than they are through most photographers!), and only did photography part time (which meant he had other ways of putting food on the table than breaking wedding budgets).
Later, after I figured out approximately what everything else would cost, I was able to hire a videographer, too. (Another Christian!) Through this I learned to always ask for a budget package. I didn't need streaming video of my wedding available online for a month, nor did I care about a deluxe leather album for my photos when I already have a Creative Memories wedding album. Everyone seems to have that "secret" lower-priced package–be sure to ask!
My dad's cousin was kind enough to continue the family tradition of making (delicious) wedding cakes for all the cousins. I had fun looking through her books and choosing a heart-shaped cake design, with a frosting technique that creates the look of a basket weave.
The local florist retired long ago, but she still does weddings…and we were thrilled when she agreed to do mine. She's the one person I haven't settled all the details with yet. But I'm planning on carrying yellow roses, with bridesmaid bouquets of coral with touches of blue.
Microsoft Excel was a life-saver for the guest list. Merritt and I both typed up our guest lists, then he sent me a CD with his file so I could add it to mine. Addressing all those envelopes didn't take half as long as I thought (though the addresses for the B's were probably easier to read than the W's). The love birds stamp, and the postmark from the little town of Bridal Veil completed our love letter theme!
Merritt and I never knew spending other people's money could be so exhausting until we did our gift registry! We spent lots of time going through each store, to compare what was available, before we started registering. Even though we had to go back to each place several times, it was worth it in the end to keep from getting so overwhelmed. The checklist from The Everything Wedding Book was helpful to make sure we remembered what we needed. And Merritt became a pro at those little scanners you register with! Linens 'n' Things was fun because of the wide variety of items. Sears has tools and appliances but the scanner tool was a nightmare. Though JC Penney lacked the smaller items, it was by far the easiest place to register, with the coolest little scanner and free gift wrap and shipping for gift-givers.
Even before the invitations were sent out, gifts started coming in. I appropriated a small spiral notebook to keep track of all the gifts, so I didn't forget anyone. I decided the only way to keep up on thank you notes is to keep up, right from the beginning. So each time we get a gift or card I write it down, write the thank you note, and put a check mark by the giver's name so I know I've thanked them.
Ever since my cousin Melissa learned to play the piano better than me (that didn't take much–and then, she got way better than me: now she majors in music!), I've been asking her to play the piano at my wedding. I had fun compiling a list of songs for the prelude music, many from the good old Reader's Digest family songbooks. Then I used the latest version of Windows Movie Maker (which comes free with Windows SP2) to put together a slideshow of pictures, set to two of our favorite Country songs: "Me & You" (Kenny Chesney) and "What Did I Do to Deserve You" (Bryan White). (If you want to spend a little money on the slideshow, ProShow Gold by Photodex is a great program!)
For the reception, we're planning to serve M&M's, mixed nuts, and punch along with the cake. I found yellow plates and napkins at the dollar store, forks on sale at the grocery store, and big bags of M&M's at Costco. In the process, I discovered that the dollar stores have whole wedding aisles now–from favors to bubbles, you can find it for $1! (But sometimes, it's still cheaper at the craft or party supply store. Shop around before you buy. And then save every receipt in case you find a better deal and can return it.)
While Emily Post's Wedding Etiquette is a classic wedding planning book, and even Eric and Leslie Ludy have written A Perfect Wedding, the book I referenced over and again was The Everything Wedding Book. A must-have for keeping the budget in line isBridal Bargains. (And check out Midday Connection's March 20th interview with Cara Davis for "Cheap Ways to Tie the Knot.")
When Merritt was here last month, we bought our marriage license, had a great time of counseling with our pastors, and completed our gift registry. Then he loaded up the trailer with my belongings, as well as our woodstove and the appliances we'd found while he was here, and headed home to start building our little home. The countdown was just 8 weeks then… Now we have a roof to go over our heads, I have a shower next week, my maid of honor (guess who!) is arriving in 3 weeks, and I get to marry my man in 5 weeks!
Next week I need to make a list of what pictures I want taken, make that list to tell the groomsmen what to do when, and figure out a complete schedule for the wedding day… Happy wedding planning to the rest of you brides!