Disclosure: This post contains affiliate links which won't change your price.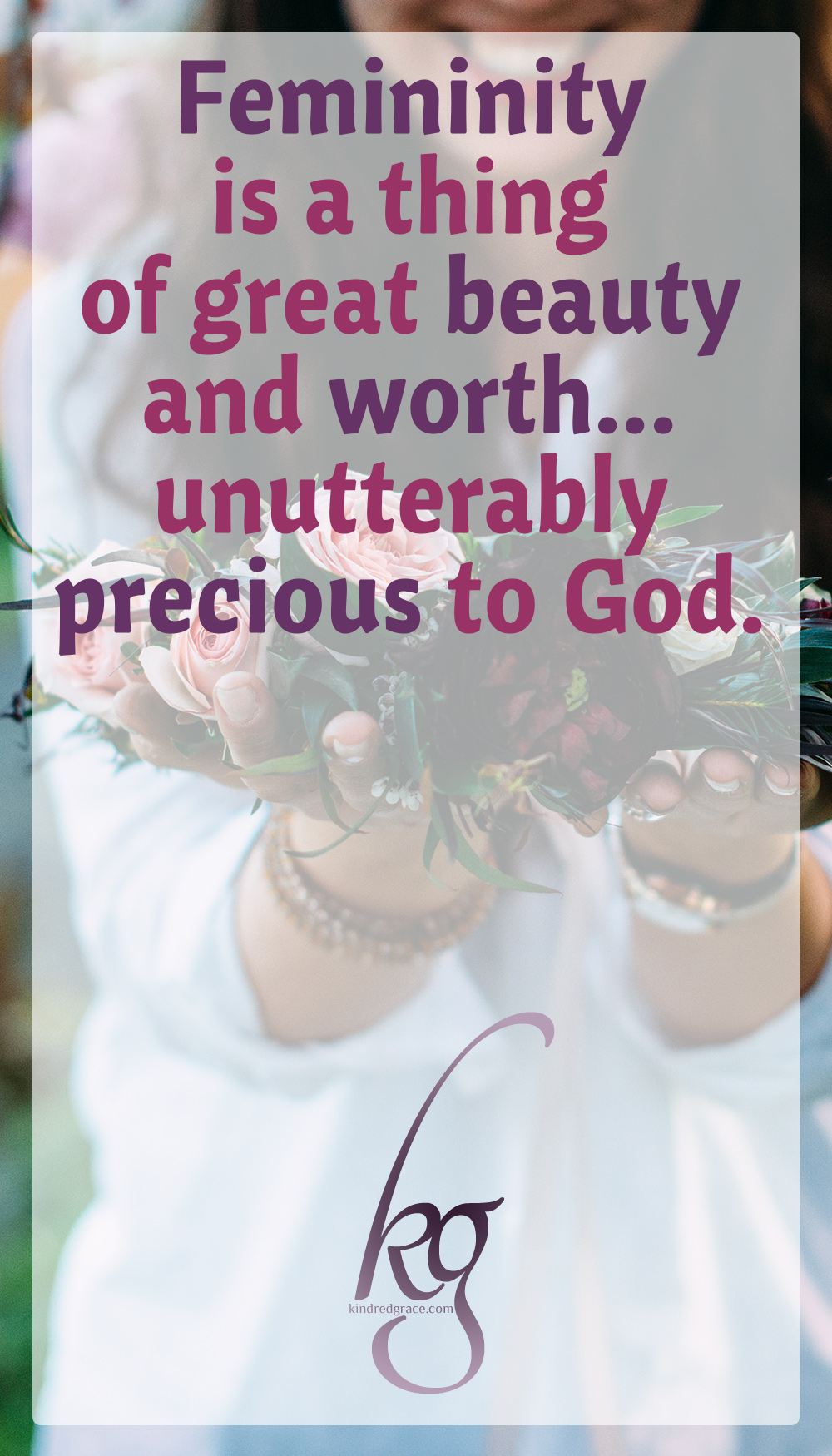 In the 1963 Walt Disney film Summer Magic, Hayley Mills sings an adorable little song that would have ended up on the cutting room floor in this day and age—if it had even made it that far, which is doubtful. She and Deborah Walley cheerfully instruct another girl on the wiles of womanly allurement as they are getting ready together for a party:
You must look feminine, dress feminine, you're at your best feminine!
Compliment his masculinity, that's what every girl should know—
If she wants to catch a beau!
Now, we all know that there's much more to being the girls and women that God has made us to be than merely 'catching beaus'—I would scarcely promote that occupation to any of you! But there's a sweet truth in the simple lines, in the colorful scene of swirling petticoats and fluttering girls, in the breathless appearance of each be-decked and be-ribboned young lady at the top of the stairs and in the smile of her respective suitor down below: men like women to be womanly, and women like men to be manly. And God likes us to be attracted to that in each other.
His design is a culture of men and women secure in their distinctions and incomplete without each other.
Fulfilled and yet unfulfilled. At the risk of being unnecessarily basic, I believe that it's a point worth underscoring in a time when the rudimentary characteristics of the two have become so blurred as to leave us all in a state of unprecedented confusion.
These days the striking and beautiful differences between male and female are treated as abnormalities; disfigurements on the face of an otherwise completely neutral and genderless society. Enemies of God's design have worked tirelessly to shame these distinctions into obscurity, to the point that many growing up now have no reason to suspect that the differences have ever existed at all. It's no wonder that the woman roused to her innate calling to be a woman is confronted with a confusing mess of conflicting messages. It grieves me to no end to consider all of the girls and young ladies out there who have been immobilized in their awakening quest towards true womanhood by the pervasive and pernicious idea that there is no such thing. It's all the stuff of dreams and fairy tales, but in the Real World women have to protect themselves and make a successful life for themselves. There are no knights in shining armor to rescue and defend. There are no beautiful princesses who live happily ever after with their loving prince. Not in the Real World.
But as Christians we base our convictions about what's real on a foundation much surer than current public opinion. The principles we have to rely on are grounded in solid rock—Jesus Christ Himself. In Christ and in His relationship with His Bride the Church we see the ideal of masculinity and femininity. He nurtures and protects. She reverences and adores. He stoops to serve her. She is raised to a position of honor by her acceptance of his leadership. Is there anything more beautiful—or more romantic?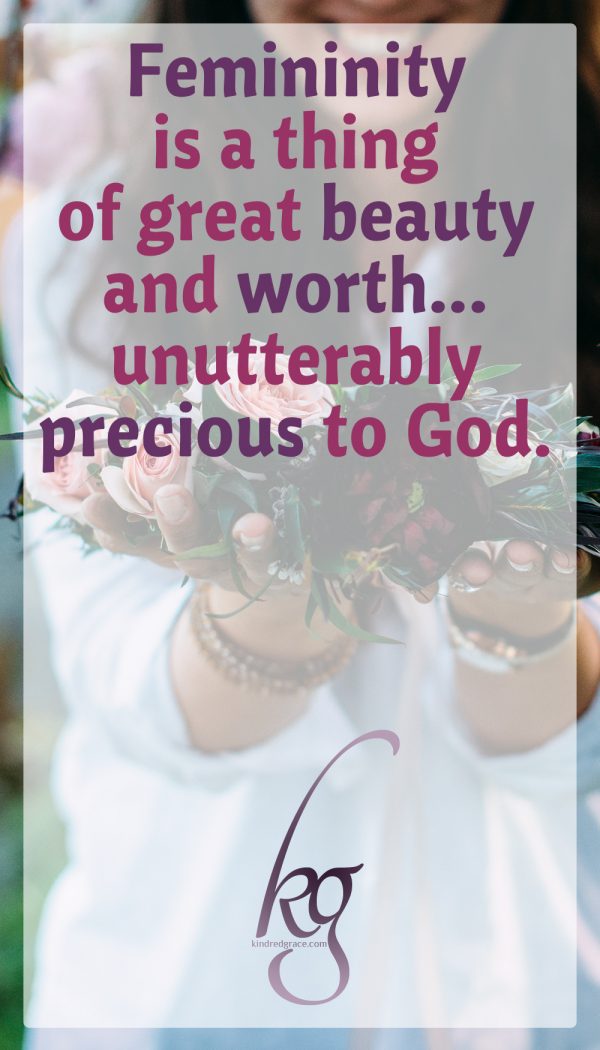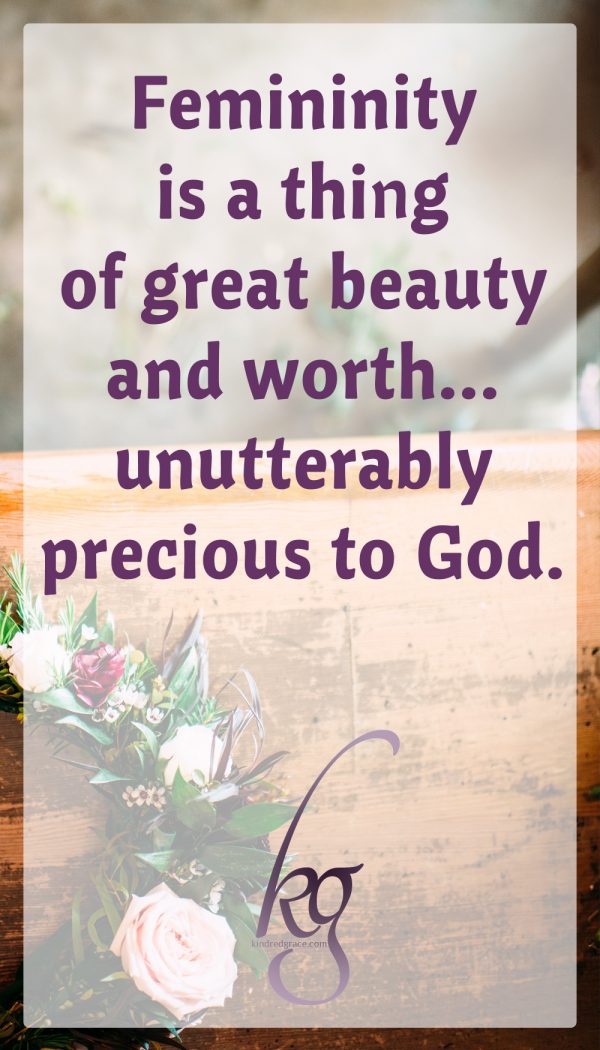 The essence of true womanhood supersedes all discussion on the implications of such.
The point to keep in mind is that we seek to please the Lord himself by living in our specific roles. If we are a woman, than there's none better than the one who thought up womanhood in the first place to show us how to live as a woman. Many of our personal applications will be different. Our job is not to try and convince other women to live the way that we do but to convince ourselves to live in obedience to God. There are clear, simple absolutes in Scripture—I don't say easy, for it's ever so much harder to cultivate a gentle and quiet spirit, to honor our fathers and submit to our husbands, than it is to adhere to a certain standard of dress or interactions with young men.
Not that these personal distinctions don't enter in to the equation, but let us not confuse them with the solution itself. I've had wonderful, fun friendships with guys, and my dad had some very reasonable and practical guidelines for my sister and me in our days under his roof. I'm also a Romantic of romantics, and I happen to feel most 'me' when I'm wearing a long, flowing skirt with flowers in my hair! But it isn't about being 'me' so much as it's about being 'His'. God is most glorified in the expression of my femininity when my heart is in accordance (or is trying to be!) with His standard of womanliness. As a wife, a huge part of that means living in submission to my husband, which, He tells us, is in a direct line with our submission to Him.
Marriage is as close a picture as we're going to get in this life to what our union with Jesus Christ actually looks like.
I went to the wedding of a dear girlhood friend last Saturday. All weddings make me teary and sentimental—especially since I've been married myself—but this one was notably dear. I always scrutinize the groom, seeking for indications in his face and manner of a radiance to match that of his beautiful bride. I love that moment of unguarded tenderness when everyone else is looking towards her triumphal appearance and his face lights up with a wonder that shouts, 'Is this really for me?' This groom recited his vows to my friend with an entirely love-filled demeanor. The very tilt of his head as he gazed down at her was eloquent with devotion. And her little rapt, upturned face was absolutely glorified. It was almost too sacred to look. I dropped my eyes to the program in my lap as the tears gathered. There, printed for all to see was St. Paul's audacious and controversial little discourse on the roles of man and woman in marriage from Ephesians 5.
"Now as the church submits to Christ , so also wives should submit to their husbands in everything…Husbands, love your wives just as Christ loves the church and gave himself up for her… This is a profound mystery, but I am talking about Christ and the church…"
That, of course, is precisely why it is so incomprehensibly delightful to witness a marriage of such mutual devotion. It's as close a picture as we're going to get in this life to what our union with Jesus Christ actually looks like. And that's what it's all about, after all.
I encourage each of you to seek the Lord and seek your own heart about your personal expression of femininity. It's a thing of great beauty and worth, valuable and inspiring to the men in your life, edifying and ennobling to the women coming behind you, and most of all, unutterably precious to God.
"Arise, my love, my fair one, and come away. For, lo! the winter is past, the rains are over and gone. Flowers appear on the earth and the time of the singing of birds is come. Arise, my love, and come away…" (Song of Solomon 2)
Photography: JenniMarie Photography