My hair loves nothing better than a good stripping. Thick and curly, shampoo and conditioner quickly weigh down my ebony tresses, pulling out the curl and giving me enough frizz to make me wonder if I'm related to a lion (some days, our manes would be comparable). Tea tree oil shampoo and apple cider vinegar become my best friends as they strip away the buildup in my hair from good things like conditioner. In the same way that my hair needs a periodic stripping and reset, so does my soul.
Silence is the shampoo that strips our souls and washes away the crusty buildup deposited on our hearts by life's trials. Silence before the Lord can be uncomfortable. But even more so when the Lord remains silent waiting for us to become silent — it can be extremely frustrating to the point of anguish.
This past winter, the Lord took me through a season of intense pain and heartbreak and when I needed Him the most, Heaven seemed silent. Used to a vibrant walk with the Lord, full of beautiful communication, a season of silence was one of the most unnerving and heart-wrenching things I ever walked through. I felt abandoned by the Father in my darkest hour as my cries and prayers seemed to bounce off the ceiling and crash back over me. Why was He silent?
I'd walked with the Lord long enough to know that He had heard me, and yet He was still silent. In My Utmost for His Highest, Oswald Chambers presents the idea that as we mature in Christ, the Lord begins to trust us with His silence. Much like good friends who have been through a lot together, they can come to a place of comfortable silence because they understand each other. They don't need constant communication because they know each other's hearts.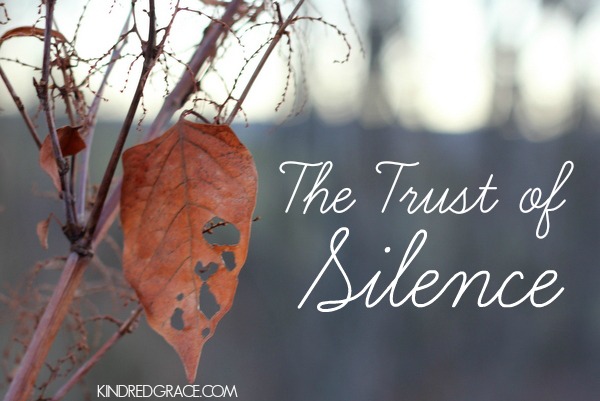 Silence was not something I wanted to be trusted with, but the Lord knows what we need when we don't. Theologian Walter Brueggemann states that:
"Sometimes praise can be a manifestation of our doubt. God wants to silence us to get to the root of what's really going on."
We are often taught that when we are struggling, we need to pray and praise more – fake it till we make it. While there is a place for choosing to worship and praise because He is worthy even when we don't feel like it, there also comes a time when the Lord wants to deal with the depths of our heart. He does this through silence. We can get so busy praising Him because it's the right thing to do, that our praise actually becomes a cover-up for our doubt and pain.
Silence strips away all of our attempts to grin and bear it. In His mercy and goodness towards us, He removes our noble attempts to fix ourselves. In order to heal the root of our pain and anxiety in our heart, He introduces silence.
The Lord already knows what is in our heart – silence from Heaven is God's way of revealing to us what He already knows. The Father's silence towards us reveals, strips, and clears the way for us to become the silent ones before Him. The place where He can begin to speak to us again. Song writer Jason Upton explains it this way in his song Silence:
"I'd rather stand here speechless, With no great words to say, If my silence is more truthful, And my ears can hear how to walk in your way. In the silence You are speaking, In the quiet I can feel the fire. And it's burning, burning deeply, Burning all that it is that you desire to be silent, in me."
The Lord's silence is not punishment – it's His invitation to intimacy and trust.
All throughout the Psalms, David admonishes his soul to be silent before the Lord. The practice of silence is soul detox.
For God alone my soul waits in silence; from him comes my salvation. Psalm 62:3

For God alone, O my soul, wait in silence, for my hope is from him. Psalm 62:5

A time to tear, and a time to sew; a time to keep silence, and a time to speak. Ecclesiastes 3:7

For thus said the Lord God, the Holy One of Israel,
"In returning and rest you shall be saved;
in quietness and in trust shall be your strength. Isaiah 30:15
His silence speaks more than our words.
In the silence, the hushed quietness of God, I need to listen beyond myself, because He is still speaking. The flowers are still blooming, the stars still shining, the earth still rotating. Satan is still waging war on mankind, still playing his games with death and lies and theft. And God is still battling for the heart of His creation. For your heart. For mine.
-Natasha Metzler in How to Survive God's Silence
Photo Credit: Natasha Metzler