Disclosure: This post contains affiliate links which won't change your price.
I started reading The Quiet Place to help ring in the New Year. I've never read any of Nancy Leigh DeMoss' other works, but I'm enjoying the tone of this one. Sweet, yet convicting. Truth delivered in a loving way.
I pull this book from my nightstand's shelf just before I turn off the light each night. Each page is dated and includes a brief devotional perfect for this college girl's sleepy brain.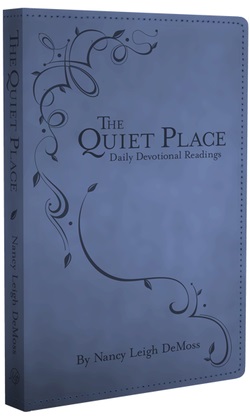 "Most of us are too independently minded to naturally embrace the idea of a sovereign God…We may be able to accept this concept in regard to the good things that happen in our lives, but what about the hard things, the inexplicable things, those things for which we cannot see any reason or answers?" (February 10)
I often find that the topic for the day is exactly what I needed to hear. For instance, this insight into my struggle with God's sovereignty? I was worrying that day.
"In His service we find privilege, purpose, and everlasting joy." (June 7)
I peeked ahead and skimmed the devotional for this date because it's my birthday! (I always peek ahead to that date in any devotional I'm reading.) What a beautiful quote — truly it is in serving God that my heart is fullest.
"I think Christ often grows larger in our eyes by continuing to be our rescuer and deliverer, rather than by making each test an easy A." (September 30)
Precise writing and a clear love for the Word of God are evident in each devotional. This book could be read first thing in the morning, last thing at night, or anytime in between to set our eyes once again on our Savior. With a reading for each day of the year, this book is designed to provide a quiet place for those seeking not only refuge from the clatter and clamor, but also daily communion with Christ
"This One so majestic that He must 'stoop' even to gaze on the glories of heaven traveled all the way down into our meager existence, seeking our welfare at the expense of His own. How unthinkable, then, that we should ever exalt ourselves, defend our rights, or resist His right to order our lives." (December 20)
Would you like to revel in that quiet place?
"It is my hope that this volume will help you cultivate a quiet heart and find fresh springs of blessing in the presence of the Lord." (Nancy Leigh DeMoss)
The Giveaway
Thank you to Moody Publishers, who generously provided a copy of The Quiet Place to give away! To enter for a chance to win, please use the Rafflecopter form below.
a Rafflecopter giveaway