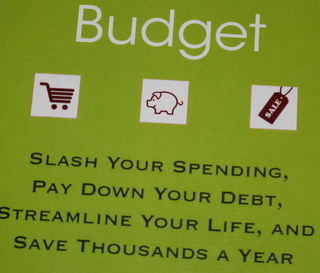 Whenever a program comes on the radio with money saving tips, we listen up — mostly out of curiosity. And at the end of the program, my husband and I compare notes, the result almost always being the same: we're already following every money saving tip they listed.
We use PaperbackSwap and Swagbucks. We thrift and consign. We don't have a landline or cable. We buy ahead, in bulk, what's on sale. And we always cook based on what's in the pantry or garden.
I thought it would be the same way with Crystal Paine's new book. Except that the word "budget" tipped me off.
We don't operate on a cash-only basis. And we don't "budget", per se. But that didn't mean I couldn't learn a new thing or two on saving money from "The Money Saving Mom" herself.
I've never even considered coupon clipping, since usually the ones I see are for things we never buy. But after reading two chapters on couponing techniques, I realized that maybe some coupons could be worth my time and save me money!
I enjoyed all the little illustrations scattered throughout the book about how saving a few dollars here and there would quickly add up to big savings of more than a thousand dollars per year. And even though I thought I had being "cheap" down to a science, it gave me a lot of new ideas for how I could make do with a little less here, or get something for a better deal there.
But most importantly, I appreciated Crystal's emphasis on more than just money and things. She made it clear that contentment was more necessary than riches; giving was mentioned almost as often as saving. And she even had a few things to say about how decluttering could help save you money!
The Money Saving Mom's Budget: Slash Your Spending, Pay Down Your Debt, Streamline Your Life, and Save Thousands a Year is a money saving read for more than just moms. The sooner you get started operating on these money saving principles, the more natural the habit will become. But the sooner you learn contentment, the sooner you'll be happy — regardless of how much money you ever save or earn.
And, you can even save the price of the book — Crystal is giving two YLCF readers a copy of The Money Saving Mom's Budget for free! To enter the giveaway, comment and share one money saving tip you've learned. (Giveaway extended: ended January 18 at midnight EST.)
Congratulations to Laura and Christine for winning copies of The Money Saving Mom's Budget!