5 Ways to Tell Your Single Sisters Your Love Story
When I signed my book contract, I stepped across the threshold from unpublished to author. It was a transition in several different aspects, none more so than this: I didn't know how to tell people. So I kept it a secret from Facebook for a week and stuttered through the story face-to-face with all my favorite in-real-life people.
The hardest people to tell? My writer friends who have not yet signed a contract. I didn't want to sadden them, feared gushing too much about my dream come true would get on their nerves. It didn't. They were so gracious, so supportive, so loving.
I write this to you, sisters, just in case you have felt the same way.
Have you hesitated to share wedding plans because you've set a date and I haven't yet been on one?
Have you held back from showing me your ring because you fear your newly-engaged status will sadden me? Have you closed your mouth when you wanted to talk about your marriage, because how could I possibly relate or want to pray for you in that?
Please, stop. Don't hold back or hesitate or bite your tongue. I want to hear it. I want to hear all about it.
Look around you. There are those single sisters who need to hear what true love is–not just the wedding cake you're picking, but the covenant you're making.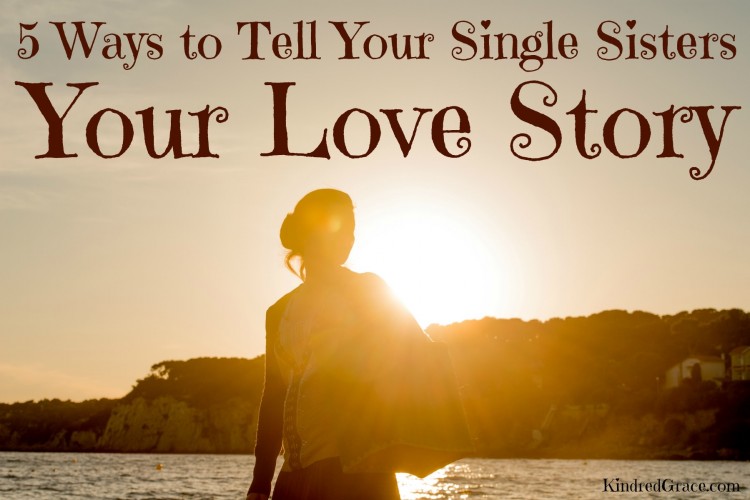 5 Ways to Gently Share Your Love Story
1. Tell us the story of your first meeting or first date or first kiss.
We girls love romance, don't we? But even more so, we love real romance. So tell me how you tripped on the stairs to the restaurant, how you garbled his last name, and how none of those things mattered.
2. Share with us what you admire about your man.
I just may need the reminder there are good ones out there like him. But don't be afraid to mention that he messed up the movie time and you both arrived for the ending credits!
3. Take us with you when you go to pick out your dress–or just show us all the Pinterest pictures of the dress you want.
I'll probably give you either too much opinion or too little, promise.
4. Answer us honestly when we ask how we can pray for you. Because we do.
Oh, how I pray for you. Because I'm both so elated and happy for you. I'm so blessed to be able to walk through this time with you. And since I'm bringing you up to Jesus, anyway, I might as well have your requests ready!
5. Be gracious with us when we do sigh and slip in a comment about our own Someday. We're not necessarily feeling jealous; we may just want to hear more.
Sure, there will be single women in your life who may cringe when your diamond catches the light. When that happens, look for the sister whose eyes are dewy, whose smile is just a little wobbly. I am happy for you, so happy.
And I want to hear it all. I really do.
Stories are powerful. That's why we gather here at Kindred Grace, to talk about His faithfulness and how to find it in the not-fun moments. So never hesitate to tell me your love story.
Take it from one who knows. You encourage us, your single sisters, when you share how Jesus has written your love story uniquely for you. You inspire us to know what we're waiting and praying for.
Tell us your story.
Photo Credit: JenniMarie Photography