Sweet Sadness and St. Valentine
For any single woman who looks forward to someday loving and being loved, Valentine's Day can probably never sneak by truly unnoticed. Even here in Australia, where the holiday is seriously downgraded in comparison to the high level of cupid activity in North America, it's hard not to see the red and white and adorable heart shapes everywhere.
Last year, I marched into Valentine's Day kind of victoriously. All the pink and the chocolate and the flowers were less a symbol of what I didn't have, and more a symbol of what could be. It was hopeful. I couldn't help but be aware that a special measure of grace had been extended to me so that I could hold equally in both hands two seemingly contradictory ideas – that I could still want to be part of a beautiful marriage partnership with just about every fibre of my being, and yet somehow I could love the rare freedom of this aloneness, too.
Because it was so obviously a gift of grace and not something I was doing on my own (after all, those plans are generally doomed to go up in smoke), I had an inkling that such a gift might have an expiry date. Bliss is lovely, but it's never a full-time thing; at least, not this side of heaven.
Well, the expiry date arrived. This year, there are no victorious marches as February 14th swiftly approaches. I might even be dragging my heels a little. I still love this season of life and I still cherish the cool things about being on my own, that's true. But I also feel more willing than ever to tuck that all away at a moment's notice and let it be part of my backstory. And in a culture – nay, in a creation – which is designed for marriage, being alone feels less natural, less desirable, less good. So this year I am finding the unnaturalness more, the aloneness more, than it has been at other times. I have known it to hurt, of course. But lately it hurts more.
When my sisters and I were heading out of our teen years and into adulthood, we occasionally talked about how we didn't want to be girls who were desperate, girls who were so eager to be married that we'd chase after the slightest wisp of love, girls who'd do anything to attract the flickering attention of any male who stood remotely near the border of 'possible'. We'd seen it happen; we saw girls become less than who they should be for the sole purpose of attracting a mate, and as kids we watched that and decided we didn't want it for ourselves. In our personal vernacular, 'desperate' became a synonym for throwing everything into the chase – a chase that was self-serving and faithless, which made 'man' equal 'happiness.'
That's what 'desperate' meant to my sisters and I.
This year, though, I do feel desperate. But it's a whole different kind of desperation: not a frantic clutching after what might be, but a sort of aching hollowness where the thing I've hoped for is missing. I am lonely, sometimes, which seems ridiculous because my world is full of people. But in a society of couples, there is not much room for the party of one. And friends are all very well – mine are the best, in fact – but I crave companionship. I'd like to do life with someone who doesn't have to go home at the end of the day. I may shrug as I admit it, but I'd like a man to find me lovely, and I'd like to be able to pour my energies into loving him. And even while I get – in a small, inexperienced way – that as much I love him I will also drive him crazy, I still want to give it a try.
All of it – the 'desperate' surge of wishing, longing and hoping – makes me wonder why the timer on that dispensation of rare contentment had to suddenly run out, why the gauge is now on empty. That rare grace was good while it lasted, but I'm just not feeling it now.
And there's the thing: I'm not feeling it. I don't feel the grace, so it must be gone. It's only logical, isn't it?
Of course it's not logical. Since when has grace been contingent on feelings? And since when have my feelings been an indicator of the presence of grace?
Since never.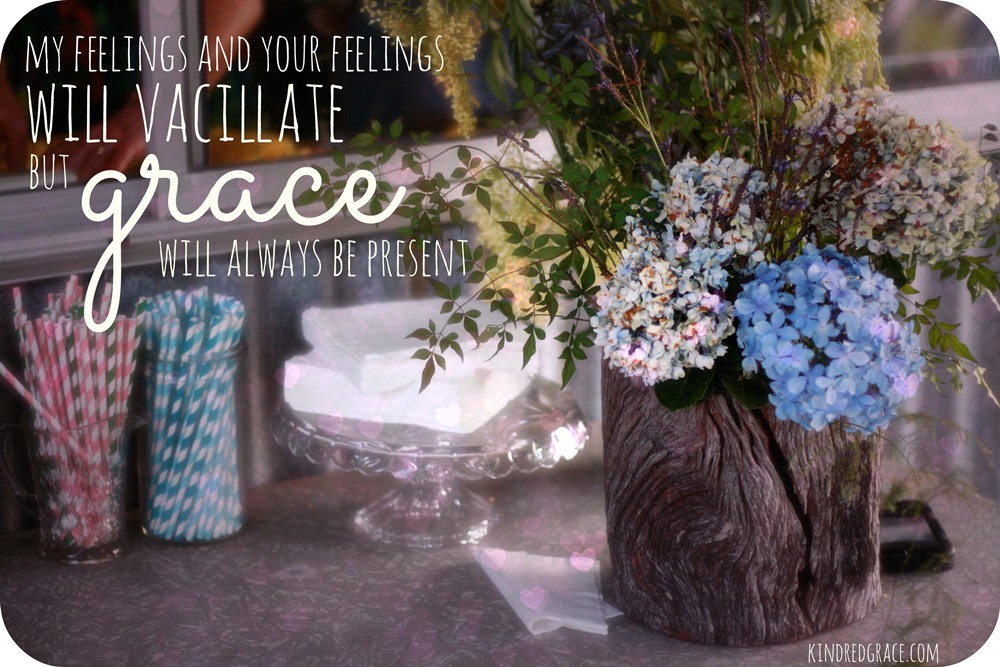 It is part of the intrinsic nature of grace – a free gift, given freely – that it does not come with an expiry date, that it is not reliant on my holiness or my confidence or my good humour. Rather, the truths that were evident during my season of contentment remain true even now when they feel less evident. Though the truths feel less true, they are no less true. I am still given all that I need for life and godliness (2 Peter 1:3). I am still complete in Him even when I am incomplete romantically (Colossians 2:10). He will never leave me nor forsake me (Deuteronomy 31:6). He still knows the desires of my heart. His Spirit prays for me when my prayers aren't enough (Romans 8:26). And He will complete the work that was begun in me (Philippians 1:6). And when I say 'me', I also mean you – you and every other woman who is clutching her hope to her chest and clinging to it with an intensity that hurts.
There is as much hope as there is hurt at Valentine's Day.
Here is the truth for this Valentine's Day and those that may be yet to come: my feelings and your feelings will vacillate, but grace will always, always be present. The ache will come sometimes, but when it does, consider God's cruel kindness to the Israelites, a kindness which seemed to withhold, and yet only gave: 'He humbled you, causing you to hunger, and then fed you with manna which neither you nor your fathers had known' (Deuteronomy 8:3).
Sometimes even the hunger itself is God's strange, unasked-for provision. Such sweet sadness is a mystery, but His grace offers us manna – even when we cannot see it, littering the ground about our feet.