I feel my strongest when I'm at my weakest. I was at the gym, proud of my just-finished strength-training routine. My legs were so fatigued, I barely made it down the stairs to the parking lot as I fought through the trembling muscles. Yet in the weakness, there was the underlying reality that I knew I was strong. And no one could deny it, because of the strength I had just exhibited with the weight machines. Although my muscles felt weak, I was proud of my strength.
I felt a little smug. A little proud. Such profundity is rare in my world and I felt witty, pithy, and poetic all at once.
I feel my strongest when I'm at my weakest.
I believe that we are called to take care of the body that God has gifted us to steward. For me, that means hikes and bike rides and jogging and strength-training. For others, it means fully organic diets. For some, it's carefully limiting caloric consumption to lose excess weight. For still others, it translates into training for a half marathon.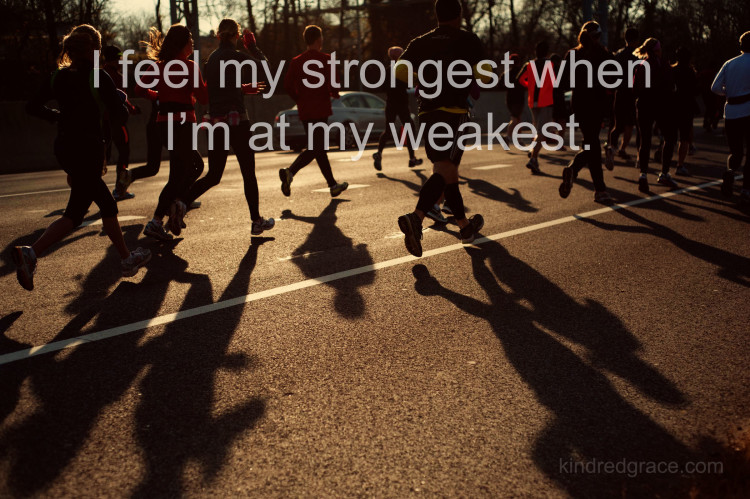 Objectively, stewarding my body is a noble aspiration. It's good for my health. It's good for my quality of life. It's good for my doctor bills (or lack thereof, ideally). But if my health and/or my body and/or my strength becomes an obsession, and if it's an obsession based in pride, then the nobility of it diminishes.
I believe that everyone on earth is distinctly and impeccably beautiful. Created in the image of God (Genesis 1:27), we are all fearfully and wonderfully made (Psalm 139:13 – 18) . In fact, I've built my entire business around the philosophy that everyone is beautiful. Even if Hollywood doesn't think me beautiful, even if mass media would never laud my face as the epitome of feminine beauty, even if I'm never the coveted size 2 with perfect proportions, I am distinctly beautiful.
I don't always believe my own mantra and sometimes I even blatantly disagree with it. But it's a fact: I'm created in God's image. Since I have purposed to steward my body wisely, I can live in strength and with quality and can take care of my body as an act of worship. "So, whether you eat or drink, or whatever you do, do all to the glory of God." (1 Corinthians 10:31)
I feel my strongest when I am my weakest.
Such profundity is not uniquely mine. In fact, it's credited to the Ultimate Authority: the very One who created my brain, is quoted in Corinthians: "'My grace is sufficient for you, for my power is made perfect in weakness.' Therefore I will boast all the more gladly of my weaknesses, so that the power of Christ may rest upon me." (2 Corinthians 12:9)
My God's strength is not merely a physical strength (though I still think the gym-based object lesson is a good one). His strength is also a strength of spirit. There's a power in recognizing my own weakness, and not trying to do life on my own. There's a power in recognizing the Ultimate Strength and letting Him show His might.
"I can do all things through Christ who strengthens me." (Philippians 4:13)
So why don't I live in that strength in daily life? Right now, I feel weak. Not just a weakness of body. I am in an ongoing season of transitions and new challenges and I'm utterly depleted emotionally and mentally. Weak in spirit. I find myself perpetually discouraged and overwhelmed, convinced I lack the strength to take even one more step.
I am my strongest when I am my weakest.
I don't always feel my strongest when I am weakest, but I am strongest. It's a fact. It's a reality. It's a promise from my Savior.
Give me an hour in the gym, and I can fill it to the brim with a varied, interesting, and often unique workout. Give me a specific set of muscles you want to target, and I can probably come up with something you've never tried before. Plunk me down in a life scenario and tell me to thrive? I'm not so good at it.
But I know Someone who has the strength to see me through.