Disclosure: This post contains affiliate links which won't change your price.
I crave real simplicity.
I'm not really a minimalist in the true sense of the word. I could never get rid of my shelves (and boxes) of books and I think it's okay to have more than three or four completely mix-and-matchable outfits in my wardrobe.
But I know how full and crazy life is. I have a home, a husband, and (soon!) a tiny baby to take care of. I have a dream business I'm developing. I try to write. I have commitments and obligations and relationships I want to cultivate…and I'm not always very good at juggling it all.
What I want is to streamline and simplify whatever I can in life to make it easier to focus more on the things I love and less on the things I do just because they need to be done.
I love order, but I'm not very good at maintaining it. I need a little help sometimes. Keeping life simple is key for me, but I'm not always sure how to get there from where I am right now.
That's one of the reasons why I have a thing for books about organization, minimization and efficiency. I may never be Martha Stewart. I know that I have to find out what works for me — for our life — on my own. But I sure can pick up some tricks of the trade by absorbing what works for others who are better at this than I am!
So I picked up a book.
I started reading Simple Living by Lorilee Lippincott while waiting (and waiting and waiting…) for one of my prenatal appointments a few weeks ago. I'd snagged it from Amazon when it was available for a free download months ago, and since we were currently in the process of completely rearranging our bitty home and our schedules to accommodate our little addition on the way, it seemed like a good pick. It was!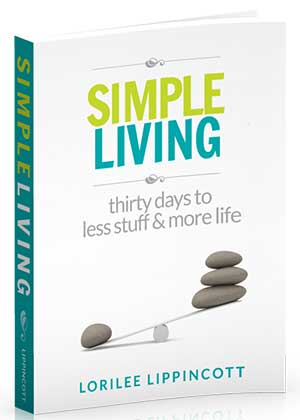 The fact that it is broken down into thirty days of simple, easy and helpful chapters really helped me stick with one of my newly re-discovered disciplines: focus on one new thing at a time and stick with it.
And I loved that she starts out the book with taking time to chart out our dreams. Knowing where you want to be makes knowing how to get there so much easier.
Simple Living covers everything from your incoming and outgoing "stuff", to quick closet order, to learning how to simplify your social media without cutting it out completely. But one of the the things that really stood out to me was the section about "Dead Plants".
Most of the time, I'm okay with keeping my real plants alive. But the dead plants of obligations, projects I'll never finish, and even books I'll really never read do tend to clutter up my life. The idea about making it a regular routine to take time to clear out those "dead plants" from my life and schedule was perfect for me.
That afternoon, I went through our bookshelves and pulled all the duplicates and books I just knew I wasn't going to read again or ever. I took a (very) deep breath and made the decision to sell my quilting frame. I am going through my obligations and commitments and freeing myself from the ones that I know don't belong in this season in my life. Scott and I aren't big collectors (with the exception of books, that is!), so we don't have many piles of useless stuff laying around. But both of us know our wardrobes and closets need some attention. That's our next project from the book, and I'm looking forward to it!
It isn't easy to cut out things that feel like they might be good or important. But it is so freeing to have more room for what really is important, not just what might be.
You should read it.
I know we'll never be minimalists like Lorilee and her family have chosen to be. And maybe you won't be either. But if you think you'd like to simplify your life so you can live it a little more fully, picking up a copy of Simple Living is a good idea. Whether it is your budget, your closet, your email or your relationships, these little 30-day steps are a great place to start to as you work towards adding disciplines and simplicity back into your life.
What's one of your keys for simple living?
I'd love to hear it!
The Giveaway
Want to read Simple Living for yourself? Leave us a comment telling us your key for simple living and use the Rafflecopter form below to be entered for a chance to win one of three digital copies of Lorilee's eBook. (Many thanks to Lorilee for being so generous to share her books with us!)