stepping forward in grace
There is a Mission style antique chair that sits in our living room. The legs are marked up, the corners worn. The stain has been rubbed off the arms and back from use.
I want to be like that chair. Standing firm without giving anyone splinters. Transparent enough to show the wear without wearing a mask.
I've grown up with you, through this blog and the newsletter that was before it. You've been an integral part in the Father's gentle wearing off of my rough edges. But I know He has so much more to do.
Too often I've published a post in pride rather than with grace. Too often I've written as if I had all the answers when He is the only answer, one I should always be ready to give.
I beg your forgiveness for the words that have hurt you. And I thank you for your grace, because I know I'll need it again.
Behind that chair, in pencil scratches and dates, a stub wall tells the story of the growth of each of our children.
In the same way, this website is the growth chart of a group of young women. When YLCF first went online in 1998, there were few blogs or sites for Christian girls. We compiled every encouraging email forward or pithy quote; the blog posts were the length of Facebook statuses. As a team of writers gathered here, the posts became longer and more personal in nature; they told of love stories and journeys in contentment. It was a time of much personal growth for many of us, and our writing reflected our stages.
The Team has spent the last month praying over each page and post of YLCF. It seemed we could not step forward in grace without leaving part of the past behind.
We've tried to keep the milestones that stood out on our growth chart. We pray we've been able to eliminate the chaff, while keeping the grain.
Our archives are lighter now, as are our hearts. And we have taken a new name, for a new season.
Because we are kindred sisters in and because of His grace, the Young Ladies Christian Fellowship is now Kindred Grace.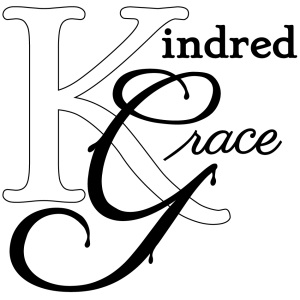 Kindred Grace is a community of women who are dedicated to fellowship through words, in order to glorify God and encourage each other. Our desire is to provide a grace-filled space for conversations between sisters in Christ. Kindred Grace is a haven for hearts in all seasons of life, where women young and old can gather to tell tales of His goodness, to share stories of His love. We meet each other here in our imperfection and brokenness to bask in His grace.
We would love to have you visit us at our new home at KindredGrace.com and join in the conversation! (Your subscriptions and favorite links should redirect. But if you find an error, please let us know.)
Thank you to my family for their grace as I've been preoccupied with plans for Kindred Grace these past weeks. Thank you to the kindred team members who have worked tirelessly sorting through archives and creating new text, praying and brainstorming along with me. And thank you to Jeremy and Trina Holden for their combined talent that has resulted in our new logo.
To each of you reading here, I say again: thank you for your grace as you read the words of this imperfect woman. And most of all, thanks to my Lord and Savior for His never-failing grace.