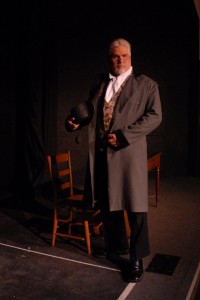 Words: they have so much power. Simple words – mere sounds or tiny print – yet they define and describe who we are. They can bring life or death, healing or destruction, clarity or confusion. Words are conduits of identity that we have the power to breathe.
As an assistant costume designer I am visually reminded of this all the time. In theater, actors assume a new identity the moment they walk out on stage. As a costumer, I have the privilege of watching how much the right clothing expresses the character in ways the audience is not even aware of. It also helps the actor "feel" the part when they are literally "walking in someone else's shoes".
When something is created, the creator has a specific vision and purpose in mind of how their creation will be seen, used, or worn. You can design the most beautiful masterpiece in the world and if it is misused, under-valued or incorrectly worn, it completely changes the purpose for which it was created. For instance, stockings can be worn as hats, but when they are, they send a completely different message than what they were created for – like robbery!
Part of being the creator (or representing the creator) is instilling your intended identity for your project into your consumers. Sometimes it's breathing life and being into them. Other times it's standing on tiptoes and grabbing the lapels on the jacket of a Southern gentleman and telling him he is a retired general – and then watching him walk out on stage with authority, his identity, meaning and purpose completely changed.
Spoken identity is changing the perception of someone from an under role to one of great importance.
Is this not what the Lord does for us? Breathes life, character, identity, being, and importance into us – HIS creation?
As representatives of the Creator, can we do this for others? Do this outside of the costume room – from life's backstage? We are all backstage in someone's life – a spouse, or a friend, brother, sister, mother, father.
The Lord created and designed each of us with a unique identity. Words are the most tangible way for us to grasp that identity, and yet most of us never go beyond a "You look nice today!" or "I love your hair! Is it new?" Compliments are wonderful, needed, and appreciated, but should they be it? Words clothe or costume us, and people live up to the expectations placed on them. How much more could we encourage others if we spoke identity into them as well as complimented them? What about "You are beautiful because I see the love of Christ shine through you," or "I just wanted to let you know I noticed the way you handled the situation with the kids and you are a great dad." People always respond to "you are" statements!
How much could we empower those around us if we spoke encouragement, not discouragement? How often do our cruel and thoughtless words steal and rob identity from the ones we love?
As His image bearers we have the power to breathe life and encouragement into each other. "Anxiety weighs down the heart, but a kind word cheers it up" (Prov. 12:25) and "Gracious words are like honeycomb, sweet to the soul and healing to the bones" (Prov. 16:24). Proverbs also says, "death and life are in the power of the tongue" (18:21). Is your tongue producing life or death? Take the opportunity today to remind someone of who they are in Christ. Speak identity into them!