I wasn't always the positive person I am now.
There for a time in my life that I was actually rather critical. I didn't intend to be cruel or anything, I was just very observant of the flaws in those around me. Thankfully, since I'm a bit of an introvert, I wouldn't speak most of my snide comments aloud. However, they would still simmer in my heart, tainting my view of the world around me.
I clearly remember the day that began to change
As a teenager, being quick-witted was one of my most prized talents. I was very skilled at bantering back and forth with others, especially my peers. Then one day it went a little too far. I offhandedly spouted something rude off to a friend, and watched in astonishment as he melted into hurt mush. I hadn't meant to hurt his feelings. But still, somehow, my ill-spoken words struck true and pierced his heart.
Things were never the same after that. I purposed to always think before I spoke, and as a result, I didn't say much at all for awhile.
I'm only just now starting to open my mouth with frequency again, and that's because I want to do the opposite of what I used to do. I want to build up instead of tearing down. I want to heal instead of hurt. And that's why I loved Speak Love.
Speak Love: Making Your Words Matter is a book that is both friendly and convicting. It's written primarily for teenage girls, but older women (and even guys) can glean just as much from Annie Downs' wisdom. She describes some of her personal back-story so that you can understand where she's coming from, then she continues to build a case about why we need to speak love. It's all God-centered and Scripture-based. The idea is that "God . . . speaks love. From creation to the promises for what is to come in the future." And according to Annie, we are supposed to follow God's example. We are supposed to emulate Jesus, because we love Him, and because He "changes our labels".
The first half of Speak Love is about our relationship with God: how God speaks love to us, how we should speak love back to Him. Then it moves on to our relationship with other people, how we should speak love to our families, friends, and even enemies. Annie concludes by helping us see ourselves the way that God sees us, and how important it is that we speak love to ourselves, too.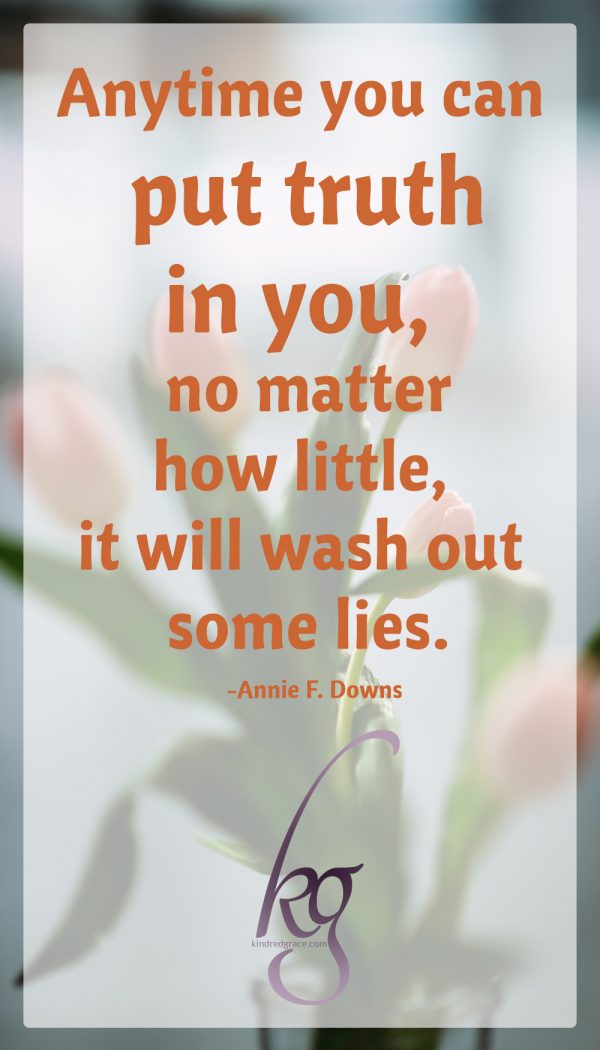 I think my favorite part of the book is all the awesome quoteables that make me think.
My second favorite part of the book is the practical illustrations and advice concerning bullying. Annie speaks with compassion and conviction, straight to the heart of those who are considered "mean girls". She compares bullying to a grease fire.
"It's like the mean girl . . . is burning like a grease fire and she thinks that belittling other people will put out the fire of hurt inside of her. Instead, it's like adding water to the fire, it makes it worse and the flames of hurt lick up at her heart and mind all day."
In Annie's own words, she calls Speak Love an "offensive book", but not offensive in a bad way; it is offensive in a good way! The intent of the text is to teach about the power of the tongue, and to inspire you to take the loving offensive in your relationships.
I'm thankful I read this book, and I sincerely recommend it to anyone who has been hurt by critical words, or who struggles with "speaking love".
Comment and tell us–what topic do you think Annie should write her next book about?
(After you've commented, you might want to check out our reviews of Annie's book Perfectly Unique, originally titled From Head to Foot. Watch for an interview with Annie, too!)
Photography: JenniMarie Photography