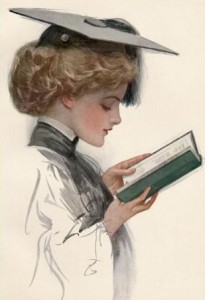 by Betsy Castleberry
The grass has turned green, tulips and daffodils are blooming, and the class of 2009 is graduating! My brother is among the graduate pictures on our refrigerator this year. It's an exciting time, as you close a chapter and turn a new page, wondering what the next season of life will hold.
Yet with the graduating comes the age old question – "What are you going to do now?" Everyone asks you the same question, from friends and relatives to the cashier at the grocery store. It can be hard to know how to answer, especially for those of us who want to get married and don't really desire a career.
You've finished high school, and now you move into the transition period between graduating and marriage. How should you use your time while you wait? It seems everyone but you knows exactly what you should do. You should go to college – you're smart and should use your talent. Or you should get a job. How about a mission's trip, or volunteer work? Maybe you should work in the home. It's enough to leave your head spinning, but can I add my small word of advice?
Don't do something simply because someone pressures you, or because you feel if you don't decide on something the moment you graduate, you are wasting your time. It's perfectly fine to graduate without knowing what you're doing next. Isn't that freeing? Why is it we want God to be on the world's time line and to show us what we should do the day we turn eighteen? There is nothing wrong with telling everyone that you're waiting for the Lord to give direction. It shows wisdom and a heart that truly wants the Lord's will instead of satisfying the world.
Perhaps God has opened doors and shown the way ahead already, so that you know what you'll be doing after you graduate. You may face opposition from people who don't think you're making the right choice, or try to persuade you otherwise. Yet if you truly feel God is leading you, follow Him with all your heart! I love what Chuck Swindoll says. "My job is not to defend or explain the will of God. My job is simply to obey it." We don't have to worry about others understanding or supporting us in what we do. If it's His will, we simply obey.
"In all thy ways acknowledge Him, and His shall direct thy path." (Proverbs 3:6) God blesses the heart that seeks to do His will.