It's been years since I've read The Voyage of the Dawn Treader, but several snippets of the story remain deeply imprinted on my mind. Especially the long, desolate hallway in the magician's house: the gauntlet Lucy had to run, in order to rescue those silly Dufflepuds from their inconvenient invisibility. Of course she could imagine all sorts of things peeping out of all those doorways. (I can just imagine doing the same thing!)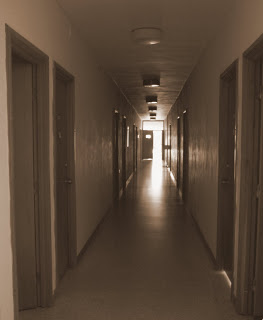 But somehow she kept on, and found the book – only to wrestle with the temptation to use it wrongly. At first she fell, but at last she resolutely did the job she came to do: making the invisible visible.
And came face to face with the Lion himself.
There is nothing covered up, that shall not be revealed;
and hid, that shall not be known.
Your eyes shall see the King in His beauty.
But as for me I know that my Redeemer lives,
And at last He will stand up upon the earth…
Whom I, even I, shall see, on my side,
And my eyes shall behold, and not as a stranger.
For now we see in a mirror, darkly; but then face to face.