simple is beautiful: 9 ideas for devotions
Disclosure: This post contains affiliate links which won't change your price.
Sometimes I make my life unnecessarily complicated.
Okay, let's be honest, sometimes I make my devotions unnecessarily complicated!
But what if simple is beautiful for devotions as well as the rest of life and faith?
The dictionary explains that devotion denotes affection and loyalty to an individual or cause as well as piety – and piety means devotion and reverence to God. Moreover devotions is an ecclesiastical term describing religious observances or prayers. Devotions, therefore, can be understood as expressions of affection and loyalty to Christ, as acts of piety (devotion and reverence), as observances we keep and prayers we offer in the context of our relationship with God.
Devotions are our regular meetings with the Lord that flow from our love for Him.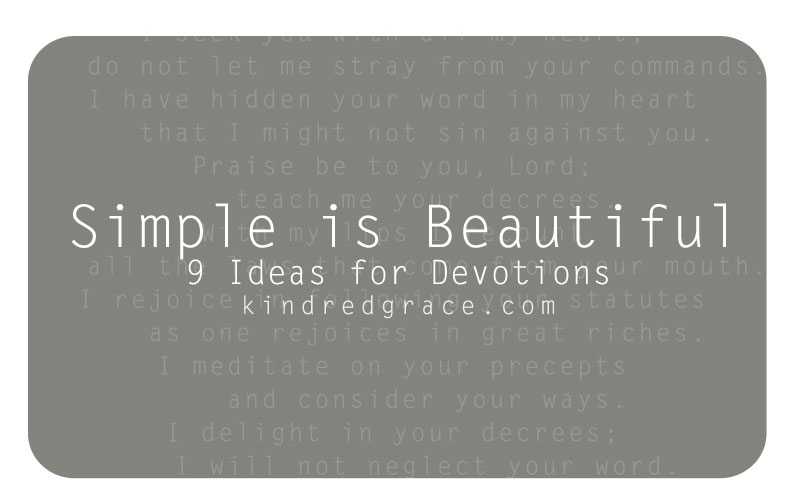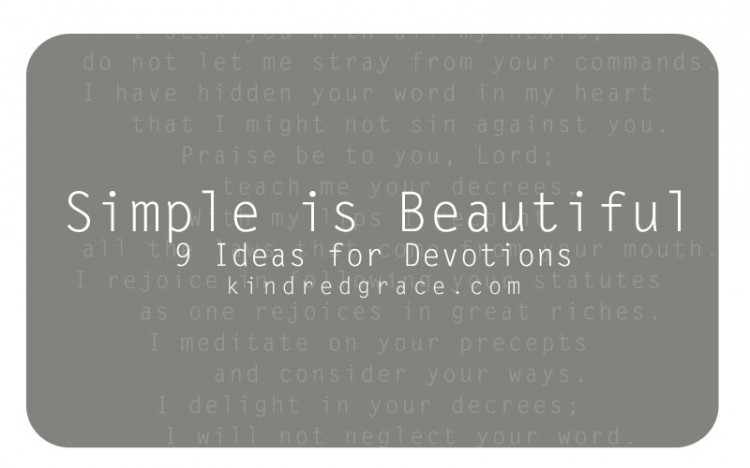 I'm always fascinated by ideas for keeping devotions simple and beautiful, but interesting. I thought you might too. So here's a list of nine simple-but-interesting ideas for devotions. None of them are prescriptive. All of them are offered in the hope that you might be blessed by meeting with the Lord in a in a new way!
1. Read one Gospel five times.
Read it…and then read it again…and again…and again…and again. You can read a section or a chapter a day — or more if you like. Each time you read the Gospel you've chosen, the stories and the choice of words will feel more like old friends. And every time you read the Gospel, you'll notice things you haven't noticed before now.
2. Read and mark the Bible.

When you read and mark the Bible, you remember more. You remember, especially, the characters and stories who touched your heart and the verses that changed your life. Sometimes I read and mark the whole Bible and sometimes I read and highlight one book or a selection of books. I can't, personally, bring myself to mark my Bible — the one I read almost every day — so I buy a cheap paperback copy to read and mark. Buying a copy in a different translation from the one I usually read is interesting.
3. Read the Bible with a commentary.

Whatever book of the Bible you're reading or whatever theme you're studying, you can always read a commentary with the Bible. The commentary is never meant to replace the truth of the Bible, but charts and maps or timelines can give us insights into the lives and times of biblical characters. I personally find that knowing what Jesus and His disciples ate and wore and what sort of houses they lived in helps me understand the context of the stories and teaching better.
And, of course, commentaries don't just offer insights into the context of the Bible, but the words of the Bible. Sometimes they're about the whole Bible and sometimes they're about a single book. My favourite commentary about a single book, right now, is The Girl's Still Got It by Liz Curtis Higgs which is a verse-by-verse commentary (and exposition!) on the biblical book of Ruth.
Old commentaries have a different perspective to offer from contemporary commentaries. I personally find that they're more devotional than scholarly. I like the faith of the writers which shines through their words. My favourite is a one-volume redaction of Matthew Henry's Concise Commentary on the Bible. Earlier this year I read a psalm a day with the relevant chapter of C.H. Spurgeon's Treasury of David.
4. Read an old devotional.

A new devotional for daily readings can be easy to read and fun, of course, but an old devotional that has stood the test of time has a beauty, strength and ruggedness that encourages my faith. A favourite of mine is Morning and Evening by Charles Haddon Spurgeon. Last year my mother gave me a copy of Waiting on God by Andrew Murray and I was challenged and encouraged by his perspective. I want to read more of the classics by Amy Carmichael and Oswald Chambers, such as The Edges of His Ways and My Utmost for His Highest someday.
5. Read other books devotionally.

Remembering that devotions are simply times for meeting with God and that no book is supposed to replace the Bible, I've been experimenting with reading other books devotionally. I recently read a chapter from the Gospel of Mark and then read a chapter from Primal by Mark Batterson. As I pondered the words of the Gospel, I read the reflections of a man who loves Jesus and is trying to love Him more every day. It was encouraging and provided a refreshing change in my devotion routine. Gospel by J.D. Greear is an en excellent choice for devotional reading.
6. Pray.
I suppose we all pray or try to pray during devotions. Pray in your own words. Pray in the words of the Bible. Pray the prayers of others. You can pray in spoken words, in written words and even in drawn or painted pictures. Try praying silently and aloud at different times. If you choose to read other books devotionally during devotions, you might find a book about prayer is inspiring. E.M. Bound's books on prayer are classics. I enjoyed Wrestling Prayer by Eric Ludy, too.
7. Sing.
I love picking up my guitar and playing a chorus or hymn. Singing to the Lord can add a whole new dimension to your devotions. You don't have to sing well or play an instrument. You certainly don't have to play well. You're singing to the Lord and He listens and loves to hear the sound of your voice raised in praise and worship.
8. Keep a devotional diary.

Keeping a devotional diary sounds intimidating, maybe, but it doesn't have to be complicated. It can be simple. You can write about your experiences with your thoughts and feelings. You can write about what the Lord is teaching you now. Or you can create a record of quotes and verses and more. You can write or — if you're artistic — draw and colour with crayons or paints. You can record, not so much your thoughts and feelings, but simply what you're reading and allowing to influence your walk with the Lord.
9. Take bread and wine.

A practice for devotions that I've never tried, but I've read about often, is that of taking bread and wine and remembering Christ's death and resurrection and the eternal life that is His gift for us today. In some Christian traditions, of course, bread and wine can only be taken in church. In others, however, neither are regarded as sacred and both can appropriately be taken at home. Taking communion can be a simple but powerful way of remembering Christ and recommitting ourselves to Him.
What ideas do you have for devotions? Please do share in the comments!