My story isn't a Hollywood one: I didn't marry my first love or end up with my best friend. In fact, my story is still being written — but I have the best part already. My 'happily ever after' is starting now, right here in the middle of my manuscript.
Several years ago I suffered from an acute broken heart after I ended a relationship with my first love, the man I thought I was going to marry. Not only did my heart break, but my world stopped, my dreams died and I was left devastated. We had what we thought was a God-honoring, Spirit-led relationship – but it felt like failure to me!
It was here I began learning that my version of failure was God's version of success. His ways are higher than our ways and His thoughts than our thoughts (Isaiah 55:9). One of my first prayers was for the Lord to give me new dreams, and in that process He gave me a dream for redemption — though I'm not sure I recognized it at first.
He needed to first redefine redemption for me. I'd always thought redemption meant a replacement for what had been lost. But I've learned that redemption is more like a trade in for something better. I assumed the Lord was going to redeem my heart with marriage to someone else, and while that might be part of the redemption some day, the Lord redeems in the process – redemption is not just an end goal.
My greatest passions, biggest ministry opportunities, and now life's greatest joys have all come from the things I have learned through my broken heart. God's redemption always includes showing us more of Himself.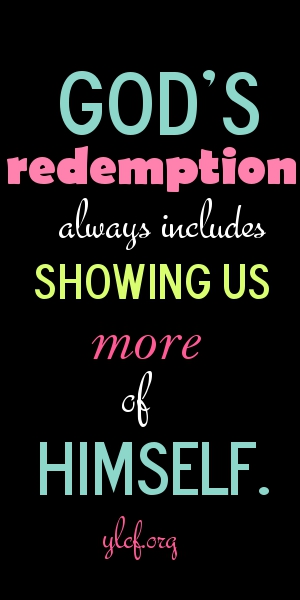 Redemption isn't a realized dream, but the very process of letting the Lord redefine our dreams. One of my favorite songs is "Unredeemed" by Selah (it's the inspiration for my personal blog, Not Unredeemed, which is part of the ministry and redemption the Lord brought me). The chorus says:
"It may be unfulfilled, it may be unrestored, but when anything that's shattered is laid before the Lord, just watch and see, it will not be unredeemed."
The Lord's very heart for us is redemption. Redemption redefined is more about our hearts and less about what's been lost.
"God is not as concerned with the fulfillment of dreams as He is with the transformation of hearts."
–Natasha Metzler, "A Tale of Two Girls" on ylcf.org
Heart transformation happens when we embrace acceptance. Not resignation of the pain the Lord has allowed in our lives, but acceptance of it. Acceptance says, "You are good. I trust You, Lord." It is a distilling act of faith to walk in acceptance. But in that walk is where redemption begins, where grace starts. And the grace is SO amazing!
Redemption is like a staircase on the side of a mountain. Each step is uphill, but when we turn around we see how far we've come – the vista is worth every leg (or heart!) cramp. Psalm 84:5-7 says,
"Blessed are those whose strength is in You, who have set their hearts on pilgrimage (a journey with a purpose – usually towards holiness). As they pass through the Valley of Baca (Hebrew – literally a place of tears and weeping) they make it a place of springs; the autumn rains also cover it with pools (places of refreshment?). They go from strength to strength, (Hebrew – picture of a winding road switch backing up a mountain) till each appears before God in Zion (Heaven, our final redemption!).
Jesus is the redemption process for our broken hearts. He holds us up while pushing us onward towards healing and purpose.
My 'happily ever after' starts now, because of who He is. The transformation process is difficult and each stair is its own challenge — but it is worth it for the joy of knowing Him more! The Lord is jealous for me, and for you. You see, God's purpose for our relationships isn't just marriage – His purpose is for our holiness over our happiness. Does God want our happiness? – yes! Does He want marriages? – yes! But overarching these – God is after our hearts. When our hearts are fully His – that is redemption.