My friend's back yard garden is a slice of calm, natural beauty and peace in the midst of an otherwise busy neighborhood. When you walk through her back gate you have found a secret garden of sorts, with chirping birds, cardinals and blue jays swooping in for a visit. The aroma (largely gardenia at the moment) is intoxicating. I adore this place.
However, my perspective on it changed greatly late last week when she gave me instructions on how to water everything one day in her absence. Suddenly the seven window boxes and dozens of containers that blend so beautifully would require my individual attention. The whole process of watering takes 45 minutes — and she does this faithfully multiple times each week.
As I took my turn at the task I had all sorts of insights. This thriving, peaceful slice of heaven didn't just 'happen' — it was cultivated. In addition to the watering time (and mess — I was soaked!) she single-handedly plants, prunes, weeds, and otherwise maintains this space.
When she moved in a few years ago the yard was nothing to speak of. An evolution has occurred through her time, attention, effort and commitment. What a transferable lesson to so many other 'living things' in my life!
I envied this place when it appeared to just be her possession. Reframing it as her passion — her hard work, her responsibility handled with commitment and care — changed my feelings of envy to those of respect and appreciation.
God reminded me of other people and things that I might need to reframe: that marriage, those kids, that ministry, those friendships. Is it possible that many of the things I see from afar and think of as such an easy 'blessing' for others started with a blessing and flourished as a result of the work the recipient put in? Am I not often seeing the fruit of the care they took to be good and faithful stewards of what they had been entrusted?
Lord, give me the patience I so lack! Grant me the desire to receive from You and then cultivate with commitment and hard work — whether it be into the lives of my children and husband or in the love You call me to have for those I encounter. Forgive me when I get so focused on fruit that I miss Your plan for getting there. Give me the the wisdom to prune, the courage to get messy when my assigned area requires it and, above all, the faithfulness to keep investing.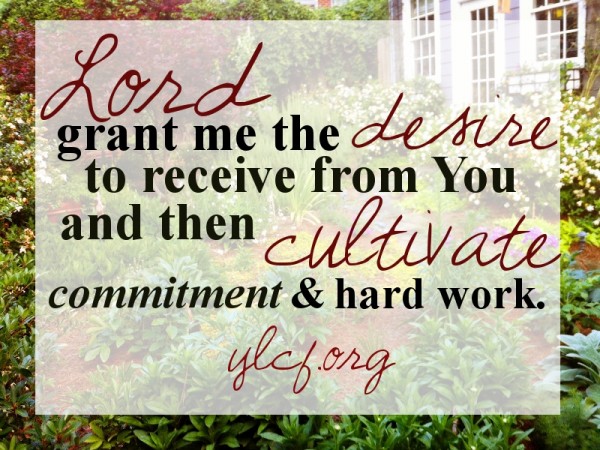 Jennifer Scott is a wordsmith, wife to a busy doctor, and mother to eight-year-old triplets. This post originally appeared on her blog, Lots of Scotts.