Real life isn't always like the courtship books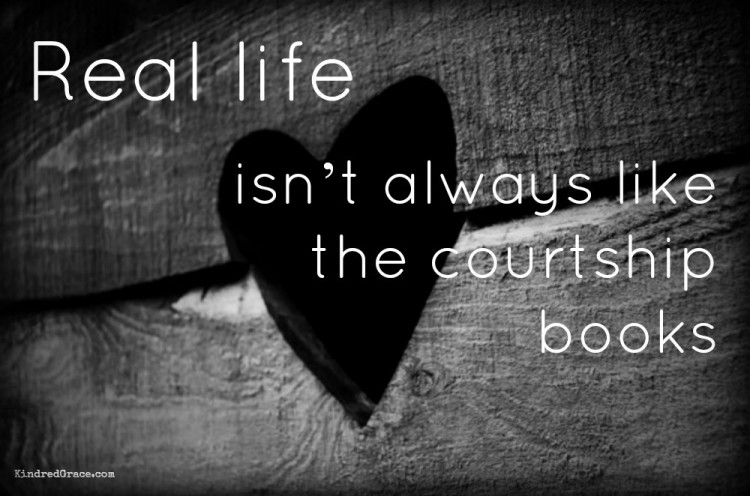 During my teenage years, I read a lot of courtship books. Joshua Harris. Eric and Leslie Ludy. Elisabeth Elliot. You name it. If it was about courtship, I probably read it.
In and of itself, reading those courtship books was not a bad thing. Even though I already knew beforehand that I wasn't going to "date" casually, and that any relationship I would get into would need to be moving the direction of marriage, reading and knowing that there were others out there who believed the same as I did was encouraging.
However, a steady diet of those type of books during the years when I wasn't courting — and therefore had nothing to apply what I was reading to — ended up not being a good thing. It essentially caused me to put God in a box in regard to what makes a relationship that is glorifying to Him.
My courtship was not at all typical. When I was living in New Zealand, my husband, Aaron, came across my blog via a homeschoolers' networking site. He wrote me from California and we communicated online for two weeks before he officially asked to court me. A month later, he flew to New Zealand, and we met in person for the first time. He stayed ten days and flew back to the States. Seven weeks later, I flew back to the States to spend several weeks getting to know him and his family. About two weeks after my arrival, he proposed and I said yes (four times!). We were married three months later.
Now, according to my little personal theory, after reading all those courtship books, I should have been ready and known how to handle any courtship that came my way. However, by God's wonderful and amazing grace, my courtship didn't fall anywhere near the formulas I had planned out in my head. Most courtship books don't talk about what to do if you start to fall in love with the man courting you even though you haven't even met face-to-face yet. As Aaron told me when we were chatting online before he came to New Zealand, "This is not an emotional trajectory recommended in our circles!"
I'm not saying that all courtship books are bad, inaccurate, or entirely unhelpful. I know of many cases where such books totally changed the way young men and women view their relationships, causing them submit that area of their life to God. (And I still recommend Elisabeth Elliot's Passion and Purity and Quest for Love to any young man or woman…for repeated readings.)
However, for this girl who had already decided to submit her romantic relationships to God and all that entails, reading book after book on courtship was not at all helpful. I was not currently courting anyone and therefore had nothing to apply it to. Yet in order to somehow process and store away what I was reading, I ended up subconsciously building ideas and formulas in my head of how a courtship should work. Thankfully, by my Father's mercy and grace, I recognized my courtship for the beautiful and God-glorifying process that it was and didn't reject it just because it didn't line up with my ideas.
But even though I didn't reject it, I still struggled with the fact that my courtship wasn't anything like the ones in the books. Does that mean it's wrong? Not at all! It just means that our Father has a much bigger imagination than any of us ever will…and He loves to use it!
From this vantage point, I wouldn't have changed anything about my courtship…in every way it was perfect for us. But I do wish that I hadn't doubted that it was the Lord's plan for us, just because it didn't line up with the formula I had made up in my head.
Be careful. Be careful that your efforts to "be prepared" for whenever God brings you into a courtship don't leave you with a narrow view of how He will work. Be careful not to construct a formula in your head as to how a courtship should look. And above all, be careful to submit every aspect of future romantic relationships to our Father…including how you think they'll look and play out. Because as many courtship books remind us, God really does write the best love stories.