Random, late-night musings on the sovereignty of God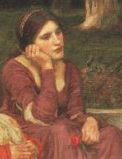 The absolute sovereignty of God. What an amazing, grand and glorious truth. A truth I whole-heartedly believe, and a truth that, at times, was all that got me through the day. I believe that God's sovereignty should be an fundamental part of every Christian's life, and in some areas, I take that to a degree that I know some people think is ridiculous and impractical. If anyone asked about God's sovereignty in my life, I would probably reply to the affirmative: that He is in total control, His ways and timing are good and perfect, Romans 8:28, etc. I know and believe all this in my mind, but I'm slowly and sadly realizing I don't yet know it "in my heart", with every part of me, every fiber of my being. But I so want to.
Since I have no friends here, and am limited in acquaintances, I call people on the phone a lot! And at some point in the conversation, after listening (usually interestedly) to what a particular person has lately been up to, etc., they ask what I've been doing. After making some comment about cleaning, cooking and watching kids, I usually end up saying, while laughing apologetically, "I really don't have much of a life."
Translation: I don't do much exciting, have many interesting interactions with people, etc. But my wording: "I don't really have much of a life." That is a lie! I do have a life, a glorious and wonderful life! And it is an abundant life. In the last part of John 10:10, Jesus said "'I have come that they may have life, and that they may have it more abundantly.'"
Yes, my life may be quite boring and mundane at the moment, but that doesn't matter — because do you know what "abundant" means in that Scripture? In the Greek, it literally means, "superabundant (in quantity) or superior (in quality)", it implies a sense of going beyond.The word used for "life" in that Scripture is zoe, which, of the two Greek words for "life" (the other being bios), is "the nobler word, expressing all of the highest and best which Christ is (John 14:6; 1 John 1:2) and which He gives to the saints." (taken from the "Lexical Aids to the New Testament" part of my Hebrew-Greek Key Word Study Bible)My life is a life that is beyond just simple existence and toil on a piece of dirt.It is a life in which I can "…learn to sing, glorifying Him even in the ordinary days and ways of life." (from the June 4th entry, "The Never-Forsaking God" in My Utmost for His Highest by Oswald Chambers)
A couple nights ago, I stayed up past one in the morning, re-reading The Hiding Place by Corrie ten Boom and my mind was a jumble of thoughts on the Lord's complete sovereignty in everything. If you don't know the basic story-line of the book…it's about an elderly father and his two spinster daughters who hide Jews in their house and operate part of "the underground" in WWII Holland. The family is eventually found out and after being in prison for awhile, the sisters are put in one of the most horrible concentration camps in Germany.
I've read The Hiding Place several times before, and but hadn't in awhile, and now I once again stand amazed at what an incredible book it is. One incident in particular stood forefront in my mind as I read — one time during the period Corrie was in solitary confinement, the prison guards were all at a party and so the prisoners start shouting messages to each other. And eventually a message is relayed back to Corrie about her sister."'Betsie ten Boom is in cell 312.She says to tell you God is good.'" I read that and just started crying — she is stuck for weeks on end in a cramped prison cell with several other women and yet…"God is good".
And He is good, I know that.But I want still to have that knowledge that, even in trials and hardships, He is good — that He is completely in control of every situation and His plans are perfect. I want that knowledge to pervade my mind, shape my every thought. I want this jumble and muddle of thoughts to be transformed into a gloriously clear truth that becomes a part of me. And it will — He will "perfect that which concerns me" (Psalm 138:8a). I feel like such a small, stumbling child — and I am — but I can fall into His arms and He holds me and then sets me aright yet again.
"But now, thus says the LORD, who created you, O Jacob, and He who formed you, O Israel: 'Fear not, for I have redeemed you; I have called you by your name; you are Mine. When you pass through the waters, I will be with you; and through the rivers, they shall not overflow you. When you walk through the fire, you shall not be burned, nor shall the flame scorch you. For I am the LORD your God, the Holy One of Israel, your Savior…'" ~Isaiah 43:1-3b