Disclosure: This post contains affiliate links which won't change your price.
My year ended softly, gently. A welcome respite from the past several months of turmoil and emotion and change and adjustments, I spent the first day of the new year with one of my dearest friends reflecting on the past year and preparing (bracing, really) for a new one. During the season of refreshment, she gave me a book. One Thousand Gifts by Ann Voskamp wasn't just an obligatory Christmas gift, though; it was a gift of her heart, a generosity that comes from knowing God would use the book in my life.
I didn't want Him to, though. I read it haltingly, skeptically. I put it down more often than I picked it up. It took me over two months to read a short book I would normally devour in two days. I resisted God, reading it piecemeal. I squirmed every time my friend asked me if I'd been reading it; I hated to admit I hadn't, yet knew she was asking out of love and concern and didn't want to appear ungrateful by not reading the gift she'd given me.
In short, I didn't want to read One Thousand Gifts because it was too real and I was too raw. Ann describes the turmoil of her young sister's tragic death with a raw ache and surging pain that made it a tangible pain in my heart. And then she finds God in it. Ann wrestles through her brother's loss of two infant sons with the very questions I ask each time I face one of life's painful dilemmas. And then she finds God in it. With each new heart-rending life experience, I put my own life's pain (miniscule in comparison, but painful nonetheless) into those stories and wrestled, embarrassed that she could be thankful and I wasn't.
"I wonder too…if the rent in the canvas of our life backdrop, the losses that puncture our world, our own emptiness, might actually become places to see. To see through to God."
Along with Ann, I wondered. But unlike Ann, I tried to deny the truth that was staring me down. It took reading the entire book at a snail's pace (two or three pages at a time) for me to even remotely grasp the truth she so poignantly shared.
"Emptiness itself can birth the fullness of grace because in the emptiness we have the opportunity to turn to God, the only begetter of grace, and there find all the fullness of joy."
Ann's writing style is not normal. Then again, neither is her message. Maybe it fits, then? At first, it's hard to understand her rhythm and flow; its seems stilted and overly flowery. Her descriptive paragraphs are mindblowingly unconventional, but still completely accurate. However, the stream of consciousness style is what made her book so vibrantly real and drew me in to fully relate to her message of gratitude. Ann writes the way I think.
It's a basic challenge, this book of hers. Yet so deeply fundamental. She quotes Saint John of Avila:
"One act of thanksgiving, when things go wrong with us, is worth a thousand thanks when things are agreeable to our inclinations."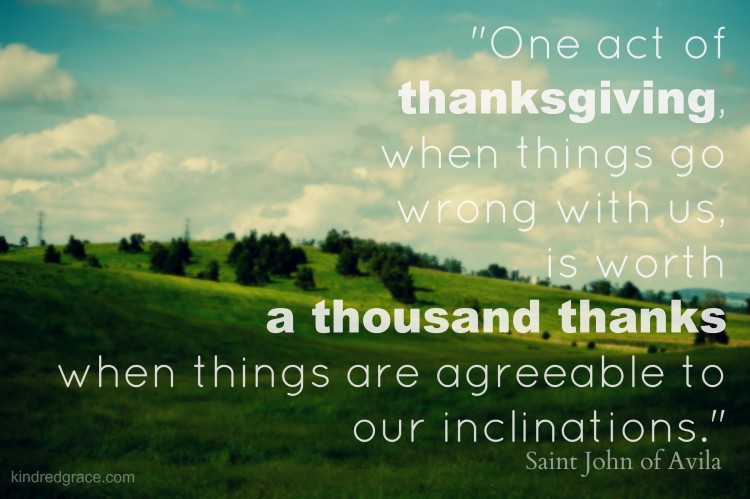 As I read her story and her challenge, I eventually accepted it. I thanked God for sunshine on the day I was braced for gloom. I thanked God for company during my morning cup of coffee, when I'm used to sitting alone. I thanked God for classical music in a quiet and empty house. I thanked God for an unexpected phone call of unexpected support.
These are my baby steps, my beginnings of what I hope will be a lifestyle of gratitude. I look to the past, reflecting. I look to the future, hopeful.
"Trust is the bridge from yesterday to tomorrow, built with planks of thanks. Remembering frames up gratitude. Gratitude lays out the planks of trust. I can walk the planks — from known to unknown — and know: He holds. I could walk unafraid."
I am thankful that God uses friends to give me a book that has (and will) change my perspective on life.
Giveaway
Thanks to Zondervan for providing a giveaway copy of One Thousand Gifts!
a Rafflecopter giveaway