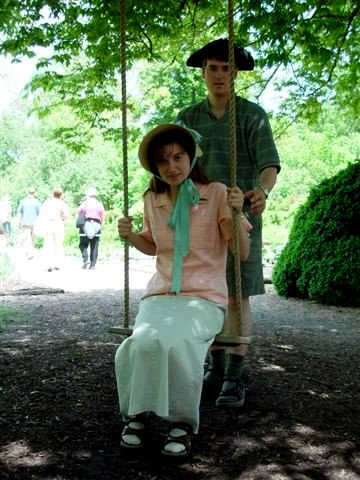 by Eleanor Hunter, late 1800's
Think a minute. Do you never snub [your brother] or criticize him or make fun of him? Do you never dispute with him? Do you constantly think of little things to do that will please him? Are you gentle and sweet in all your ways with him always? If you are not, you do not love him enough, for it is in such ways that sisterly love is manifested, and I do not think the boy ever lived who could resist a kind and gentle sister.
You [could be] at least partially responsible for your brother's manners and also for his morals. If you talk and laugh loudly…if you are rude and indifferent in your manners, so will he be. If you do not lead a true and noble Christian life, neither will he be apt to; and what is very sad, if your standard of morals is not high, he will measure all other girls by the girl he knows best. He will think they are no better than you; and one of the worst things that can befall a boy is for him to lose his respect for the character of women; and if your brother does not revere women, you could be responsible for it.
It is not every girl who thinks seriously of these things, nor every girl who is unselfish enough to win her brother's affection; but those sisters who are loving and kind and true are more than repaid for any sacrifice they may make, for there is no blessing greater than a loving, manly brother.
A girl has a great influence over a boy, and every girl should realize that fact, and she should always try to use it rightly.
[Games] are just as good for girls as for boys. But be sure in all the fun never to do one deed or say one word that shall lessen a boy's respect for you.
Never let a word of slang soil your lips, and keep the gentle manners of a lady always. Take for your model the lovely lady, Elizabeth Hastings, who, in the midst of a court where she had every temptation to do otherwise, yet she behaved so beautifully that she won this rare compliment from a gentleman who knew her. Said he, "…To behold her is an immediate check to loose behavior, and to love her is a liberal education." That is the way your boy friends ought to feel about you.
A girl ought to be more to her boy friends than simply someone for them to have a good time with. She ought to be a positive force for good to them; but a girl is often afraid to speak to a boy upon a serious subject for fear he will laugh at her… That is a mistake. If you have a boy friend who is in danger from some bad habit, sometime, when you have a good chance, speak to him frankly and kindly upon the subject.
Girls have a great influence over a boy's religious nature. Do not be afraid to use it.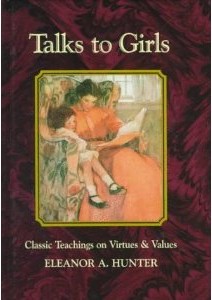 Excerpted from Talks to Girls:
Classic Teachings on Virtue and Value,
by Eleanor A. Hunter.
Originally published in the late 1800's by American Tract Society,
©1996 by American Tract Society.
Used in the YLCF Journal #22
by permission of NavPress Publishing Group.