Oh Jerusalem, you've given me so much this weekend: adventure, good fellowship, a sun-burned nose, and a heart-full for pondering.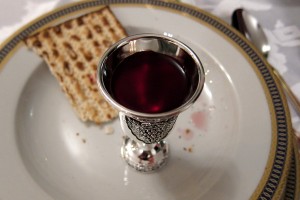 This Good Friday was also the night of the Passover Seder meal. There I saw the echoes of the Last Supper, with Jesus as our Passover lamb, who hides us from judgment — if we only abide in Him, safe behind the blood-daubed door. At this supper, Jesus showed Himself as the humble bread of life, soon to be pierced and broken, hidden, then revealed.
And today: What day is it? Depends on who you ask. It's the second day of Passover for the Jewish people. It's Palm Sunday for the Eastern Christians, and for the West, it's Easter. All these holidays make for a very full city, giving me a much keener feeling of what it must have meant for Jesus and His disciples to encounter "the multitudes" who were part of His life, day after day after day. And especially in Jerusalem.
I wonder: why did the women who went to anoint Jesus go out at dawn? Did grief disturb their sleep, and they simply decided to do something good with their wakefulness? Or did they want to avoid the crowds?
I left home this morning when the streets were empty, and the moon was still big in the pale, pale sky. But I was not at the Garden Tomb alone. Believe me, it was packed with guests from six continents, celebrating what the women found: their risen Lord. There's something strange and wonderful about worshiping in a garden, with benches in every open space, and only trees for a roof.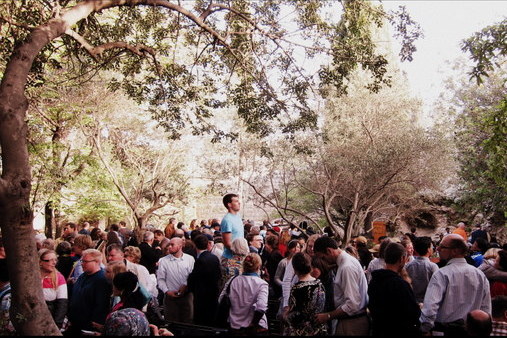 It wasn't even 8 o'clock when we were done, and the Old City was still empty, most shops still boarded up. I stopped for a moment at the other, more ancient site for Jesus' tomb, where a quiet service was in progress. But by 11 (when I returned after breakfast) there were multitudes!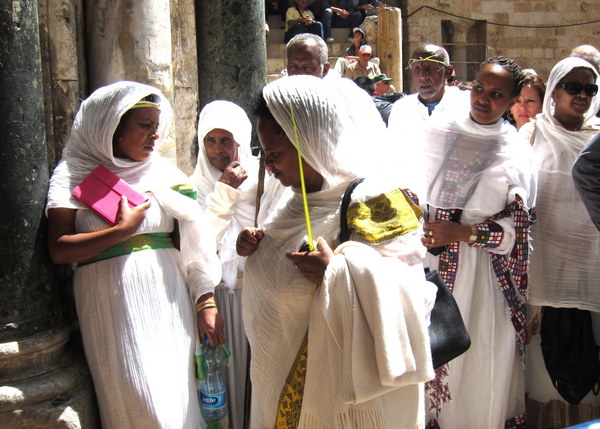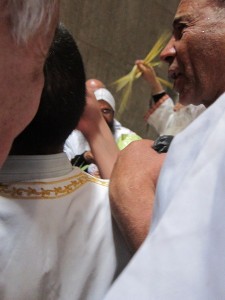 Do you think crowds have personalities of their own? I'm beginning to suspect they do. On other Easters, I've sensed an attitude of devotion. Today I was reminded of the crowds who pressed roughly in on Jesus, each person intent on getting a miracle. The kind of crowd that sweeps you along like a leaf in a river, and makes you just a little afraid. The kind where it seemed crazy to the disciples when Jesus asked, "Who touched me?" Yet He recognized the slightest touch of faith.
Outside the church, the human river ran happier and more freely. I saw an Easter parade (bagpipes, drums, and scouts), and another parade for Palm Sunday (drums and scouts, and palm branches).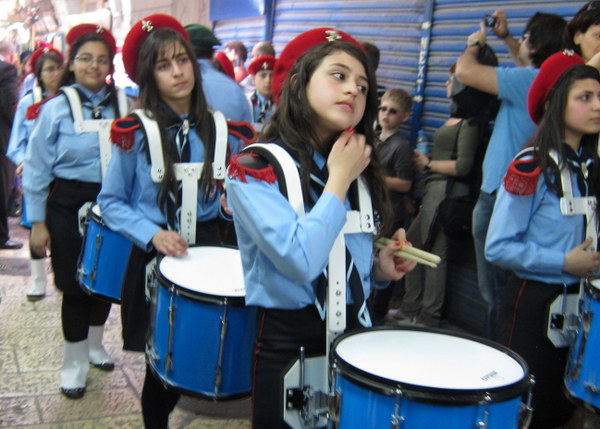 With a heart so full, I understood the disciples who walked to Emmaus on the very first Resurrection Day, talking and pondering about all that had happened in Jerusalem that weekend. I skipped the bus and walked home instead, craving some time to think.
The sun was bright and hot. Wisteria hung down over walkways, and I passed fields of wildflowers: wild mustard, scarlet poppies, and Queen Ann's lace. I heard birdsong and playing children, and saw whole families out walking or picnicking together. I was almost home when I realized a new facet of the Resurrection. Wasn't it a miracle that though multitudes followed Him throughout His entire story, Jesus greeted Mary in the garden by name?
He knew her. He knows me. And He knows the merry, solemn, anxious, desperate, joyful crowd I saw today as a galaxy of unique individuals — each of them by name.