Nurturing Intimacy in a Facebook Generation
Disclosure: This post contains affiliate links which won't change your price.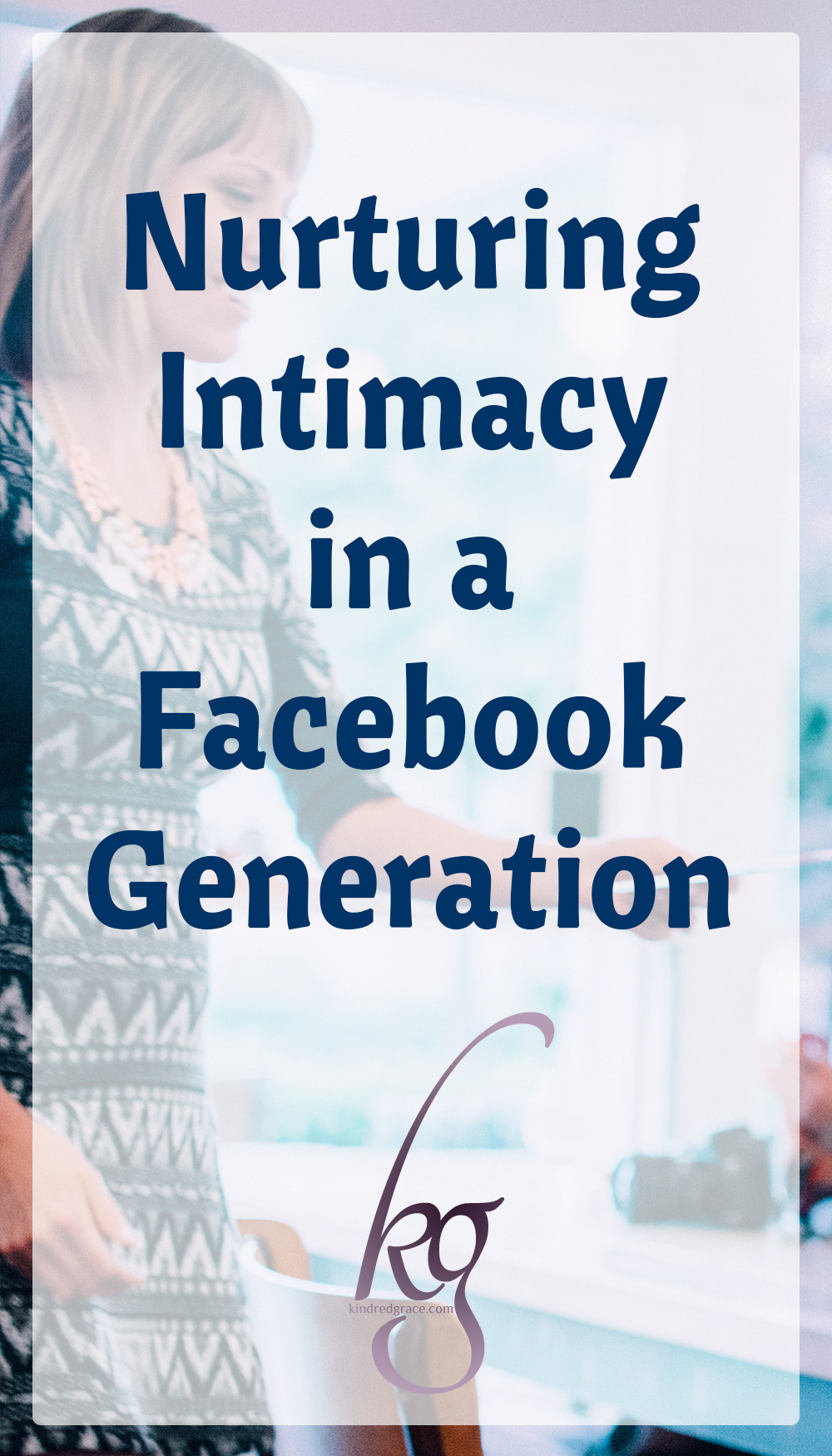 Our generation is in danger of forgetting the depth and quality of relationships, all in the name of instant communication, "efficiency," and networking. While the rest of the world texts, pokes, relates in thirty second intervals, let's not go along with it. Let's live for something better.
"It is now simpler to multi-task with a virtual friend, rather than go to the bother of going to see a real friend . . . who will demand that I pay attention and not do five other things while talking to him."
–J.M. Reynolds
Perhaps it is the romantic, day-dreamy, lover of all things old-fashioned in me that balks at hearing of a friend's engagement on Facebook. I do not relish the idea of learning such news from text on a computer screen instead of through the joyous tones of her own dear voice.
What happened to the days when a couple would call, write, or visit their family and friends, celebrating their engagement and upcoming marriage through many evenings of talk, food, and laughter? How old fashioned. How…satisfying. Engagement announcements on Facebook are just one example of the instantaneous, information-overloaded culture mediums such as the internet promote.
Behold the day in which the Lord has placed us. Whether typing on a website or in a word processor, every misspelling or grammatical error is pointed out with red lines and suggested corrections. (Is spelling even taught in schools anymore? What about handwriting?) Instead of unique facial expressions, mannerisms and tones of voice, everyone is restricted to the same smiley, black and white text, and the attempt to communicate in cold silent words when 90% of communication is nonverbal.
"The newest computer can merely compound, at speed, the oldest problem in the relations between human beings, and in the end the communicator will be confronted with the old problem, of what to say and how to say it."
-Edward R. Murrow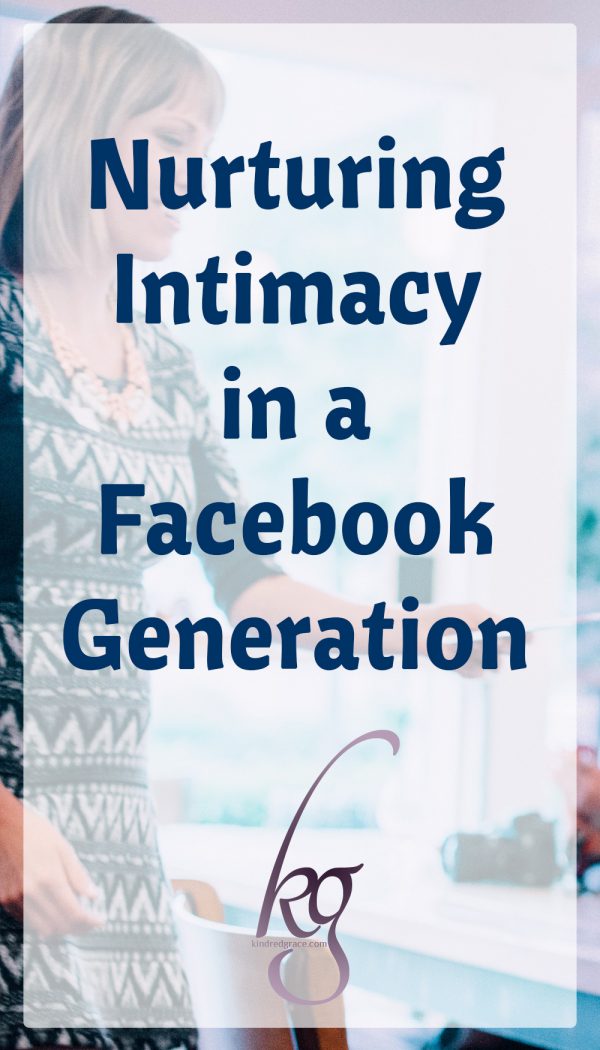 Effort is required if one desires to nurture authentic intimate relationships in our culture.
It does not come about as naturally as in ages past when life centered around the family unit. We are better connected than ever before and yet…perhaps more disconnected than ever before from what really matters. What might those things be?
We are disconnected from
others

.

It may be ironic that an article on the limitations and hindrances of the internet will be published online and distributed via RSS feed to thousands of readers. In this day and age one of the most powerful methods of communication is an online blog post. People often do not have or take time for full-length books. How many today would sit down to read Shakespeare or Dickens or Hugo? Is it really too hard to understand or are we just indifferent to anything requiring more effort than skimming a website?If ever the phrase "too much information" were true, it is now. We are daily slapped with way too much information. In the 1600's a well-read individual had worked through all of the great literary works in history. Even if I sat down and did nothing but read the "best of the best" I could not hope to finish that list before I was 100. I am reminded of the disconcerting fact once heard that one daily issue of today's New York Times contains more information than a person of the seventeenth century would be exposed to in a lifetime. Too much information.Are we better off because we know so much? We can share articles, ideas, pictures, and videos–but do we purposefully, sacrificially share our lives with one another? Do we have better, deeper friendships because we can text, email, instant message, and poke our friends 24/7? Hardly.

While knowledgeably implementing and appreciating the good things our advanced communication systems bring, we must remain aware of the dangers. Instant communication can breed impatience and encourage relationships to remain in shallow territory. I wonder…what affect might be wrought on friends or a family who endeavored to read David Copperfield together? Or even The Voyage of the Dawn Treader? Even something as short as Ephesians would bring great blessing.
We are disconnected from
creation

.

I'll be candid. Facebook overwhelms me. The other day I clicked on my "Friends" page to see what updates my relatively small number of "friends" had made and felt my brain freeze. Too much information!

All I wanted to do was take a pen, paper, and book written before the invention of light bulbs and disappear into the woods where there was no sign or sound of anything made by human hands. So I did. Oh, what about my cell phone? Just kidding.

It felt…good. The pleasure of sitting in His creation enjoying some of the finest writing of all time beats surfing blogs hands down. I mean really, this experience is on a completely different level of classification!

Granted, one can take a laptop outside and enjoy nature while doing work online, but most of us who do not live on a farm spend too little time outdoors. Our bodies would be healthier, our minds sharper, and our hearts more at peace if even ten minutes a day were spent enjoying His creation. Just a thought….
We are disconnected from ourselves.
My friends, my profile, my extended-info video-voice-chat Mp3-player list of favorites. It's all about me. Does anyone need to know what my favorite music or interests are? If they do not know me as a person well enough to remember or learn what I enjoy, is this the solution? Does anyone read those things anyway (I don't)?
Let's be vigilant to not waste time updating things about ourselves and focus on improving and understanding ourselves. Digging beyond favorite movies, what have you learned and believe about bioethics, or the recent events overseas? What you studied in devotions yesterday? What do you know and believe as Truth? What are your non-negotiable convictions? How can you be actively pursuing growth intellectually, spiritually, physically? To learn this of oneself and others is to find significance.
We are disconnected from peace.
Peace and quiet are not optional luxuries. They are not simply indicators of inefficiency and repose. They are vital to our being complete as human beings. When is the last time I did not have five things needing to be done–or were trying to do five things at once? When did I just sit, without music or talking or reading and just be for a few minutes? When did I seek His peace for the day, His guidance for the next moment?
Seeking Intimacy
Despite my tongue-in-cheek criticism of the website, I'll likely keep my profile on Facebook. And yes, I use an RSS reader to keep track of important websites. Of course, you obviously know that I am a blogger. None of these things are wrong in moderation. It's just that when I experienced an assault of meaningless trivia, I wondered if others are fighting the same battle.
Are you? If so…what can we do about it? What will you do about it?
I for one shall drink tea and read Plato during a cold November afternoon. I will pray and plead with the Lord to guide me in the way I should go. I will put down the cell phone and pick up pen and paper. I will invest in my relationships in ways that will have lasting value.
Let's not forget to nurture intimacy. Let's fight for authenticity and quality. Let's redeem the time for the days are evil.
Photography: JenniMarie Photography